Brand New Ice Cream Bikes for Sale are Ready to Roll Your Business.
Ferla Bikes – Electric Ice Cream Bikes for sale.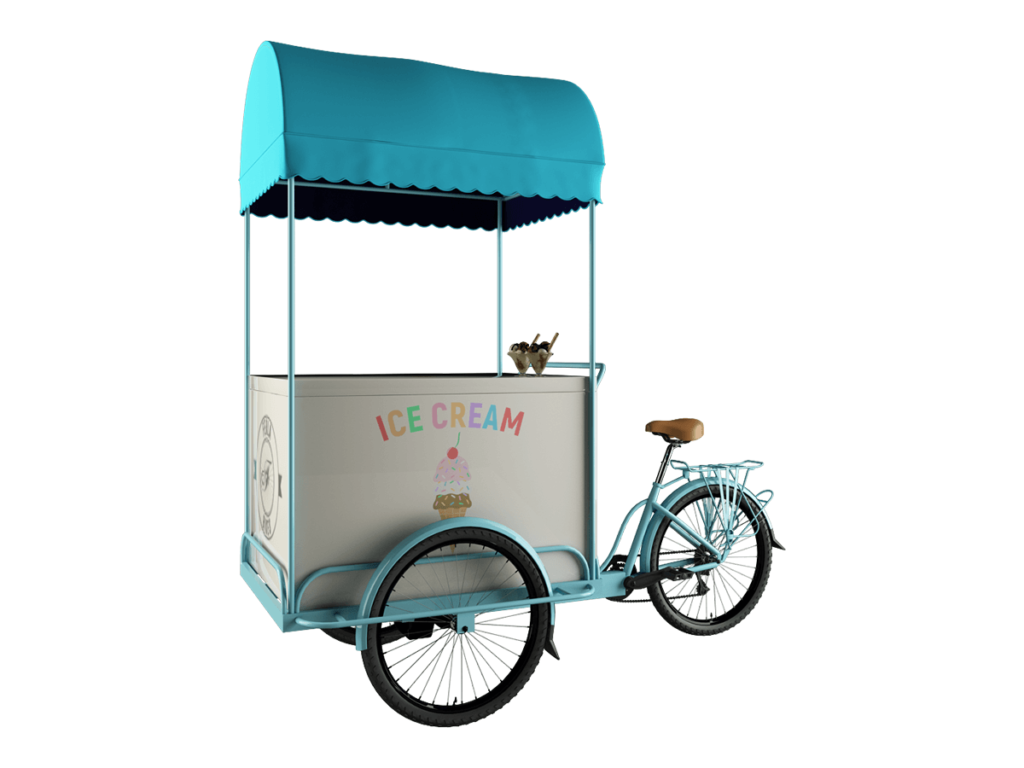 Howard Moskowitz once said that between the good and the bad you have to find the middle ground. Ferla Ice Cream Bike is a small miracle, which can strike a balance between bulky and expensive ice cream trucks and ugly push carts.
Tags:
ice-cream bike, ice-cream cart, pre-packed ice-cream, popsicle bike, gelato, cold-drinks, beverages bike.
Heavy Duty Metal Frame
Commercial Multi-Purpose (Refrigerator/Freezer)
Heavy Duty 12V Battery to Power Refrigerator
Personal/Cash Lock Drawer
Ventilated Disc Brakes
Cup Holders/Bar Table
Stationary Lock System
Original Shimano Equipment
Electric Motor/Pedal Assist (Optional)
Hand Brake
Canopy (Print Your Logo)
Ferla Ice-Cream Bike
Finance your ice-cream bike from $110/month
Photo gallery
Selling ice-cream or homemade gelato on an Ice-Tricycle is so much fun! Isn't your childhood dream – to ride a bike full of pre-packed ice-cream, cold-drinks or beverages in your favorite block? Sometimes people stay true to their dreams until the end, like you do, if you are here. If you have longed for the interesting business and financial independence of your own business. If the answer is yes, continue reading …
Imagine working hours according to your own biological clock, and at the same time to get rid of the everyday office stress, then our electric ice cream bike is exactly what you need!
Moreover, only Ferla Bikes can give you the perfect ratio of quality, service and pricing. Exclusive highquality materials, stable suspension, electric motor, as well as the possibility of individual design can pleasantly surprise you. Hurry up, there are not so many bikes left!
You can leave your application simply by filling out the form below.
So, what exactly makes our ice cream bike so special?
Ferla Ice Cream Bike was developed to complement the environment by reducing the amount of CO2 unlike traditional cars or motorcycles and offering a battery powered Freezer to ensure your Ice Cream Cart will stay cool during operational hours.
First of all our Ice Cream bicycles are Self-Powered & 100% Sustainable Machine.
They are:
Easy to park
Extremely Attractive
Innovative
Noiseless
Cause no pollution to the environment
100% Sustainable
They have:
Personal/Cash Lock Drawer
Ventilated Disc Brakes
Cup Holders/Bar Table
Stationary Lock System
Original Shimano Equipment
Hand Brake
Canopy (Print Your Logo)
With Ferla Bike pedal assist Package you will always feel young and fit!
Our Ice Cream Bike has some special benefits:
A Heavy Duty Metal Frame.
With this feature Ferla ice cream bike can hold up to 300 pounds of products, and of course You.
Our customers can order it in different colors: white, black, milk, green, yellow, blue, red, orange and many others. You can make your future trike look old-fashioned or even vintage with the designer package. Contact us and we will figure out how to help you with the color of your dream!
Commercial Multi-Purpose Refrigerator/Freezer.
The refrigerator has a cooling feature, equipped with a freezing controller. It allows you to adjust the temperature in several positions between cool and deep freeze. The tricycle refrigerators is of standard size, but if you have any requests, please, feel easy to contact us and we will see what we can do for you.
A Heavy Duty 12V Battery to Power Refrigerator while you pedaling.
The battery of the refrigerator is charged just like your Iphone, and with a standard load it is enough for a two full-working day – that is 16 hours. How cool is that?
An Electric Motor/Pedal Assist (Optional).
The pedal assist has a switch mode from slow torque to high torque. The electric motor assist has a 250W rear-hub mounted electric motor, and a 36V rechargeable Lithium battery that will run for 20 miles at 20MPH on full charge. These features are installed under the passenger seat, so it does not take any additional space and does not interfere with the customers. And most importantly – with such an electric motor, our ice cream bike remains an environmentally friendly vehicle. Moreover, the bike is equipped with a monitor that shows the mileage and other details of your movement. The cost of the package is 700$.