Coffee Carts
The Benefits Of Owning A Ferla Coffee Cart
Mobile vending is an incomparable method for building an existing brand, getting a new business off the ground, and bringing quality products to public spaces. Across our line of rolling cafes and shops, entrepreneurs and business owners can explore bikes and carts.
Here we'll discuss the many benefits and potential uses of our portable coffee carts, portable barista cart and espresso carts. Built with the same aesthetic and superior quality as our vending bikes, Ferla Coffee Carts have functioned as sales and marketing solutions for countless brands. To see how, it's important to get acquainted with our two signature models coffee carts.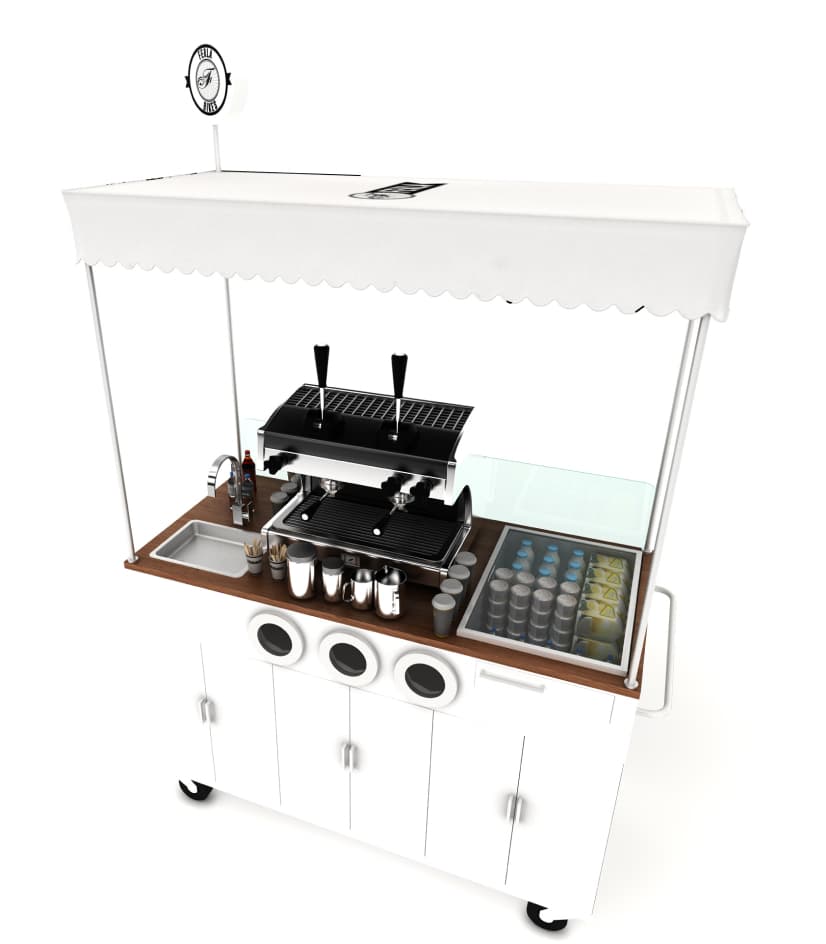 Restaurant-Grade Sanitation Features such as the included five-gallon clean water tank, and five-gallon gray water tank ensure above-the-board service.
Highly Mobile with heavy-duty Caster Wheels in the front and rear. This heavy-duty steel frame with a fine wood table top is easy to move.
Built For Baristas & Beyond, this cart can come with a temperature-controlled freezer and cold brew taps. Add on a cappuccino machine from the business owners — and this is one versatile cafe.
Spacious Counter Space makes the industrial coffee cart ideal for businesses with hefty inventories, shorter commutes, and who simply prefer the grandeur of our most sizable coffee cart model.
Fully Customizable with LED logo signage, full-wrap paint jobs, and a number of other services to make the cart a mobile advertisement.
Practical Build with key features such as lockable cash drawers, extensive storage space, and a protective canopy.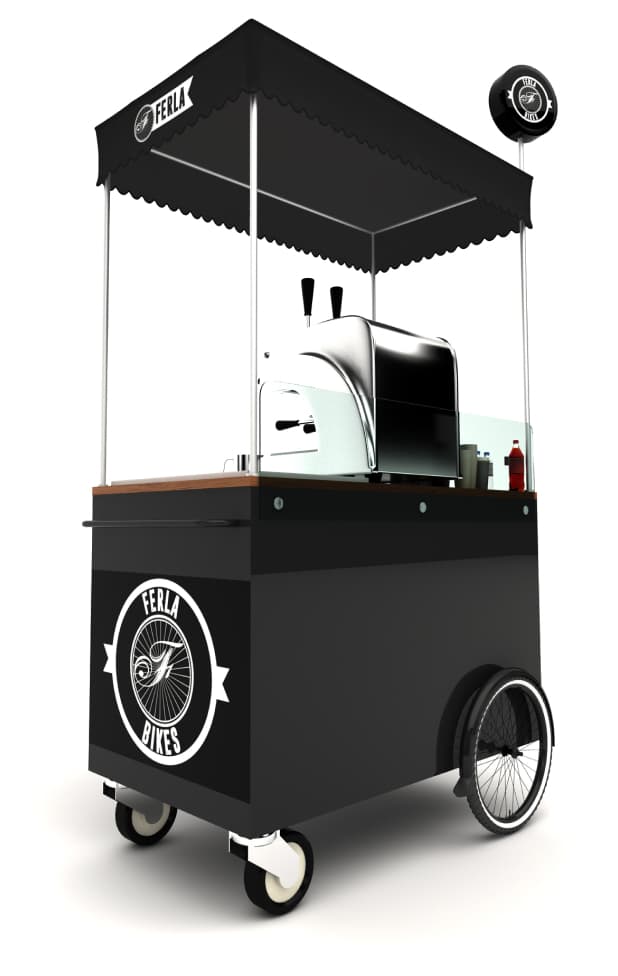 Industry-Leading Sanitation Features such as built-in clean-and-gray water tanks help keep equipment clean and serve fresh products.
Advanced Mobility from heavy-duty Caster Wheels on the front and back, as well as an efficient, compact build making it lighter to push.
Outfitted For The Modern Mobile-Vendor with optional add-ons like a temperature-controlled freezer and cold brew taps. The simple counter space can accommodate an espresso machine

and you get a portable espresso cart

.
Customizable For Any Business with add-ons such as LED-logo signage and full-wrap paint jobs to showcase a brand to the world.
Built With Practical Features such as lockable cash drawers, extensive storage space, and a protective canopy — the Ferla Mini delivers everyday in every way.
Efficient & Affordable Design on the smallest of our coffee cart models allows for businesses to get up and going with less startup capital and smaller inventories. The small size is also preferable for more focused brands with less variety of products.
The High-End Pieces Of The Ferla Coffee Carts
In line with the rest of the Ferla Fleet, our mobile coffee carts are constructed with only the most high-end components available. We prioritize the upscale to ensure the performance, safety, and beauty of every cart for any discerning business person who wants to mobilize.
The capabilities of each piece, such as the water resistance of the Table Top Commercial Grade Fine Wood, are curated for the modern vendor. Add-ons from a Temperature-Controlled Freezer, to custom paint jobs are available to make Ferla a solution to every possible client need and ambition.
For some specific examples, check out these coffee mobile cart specs: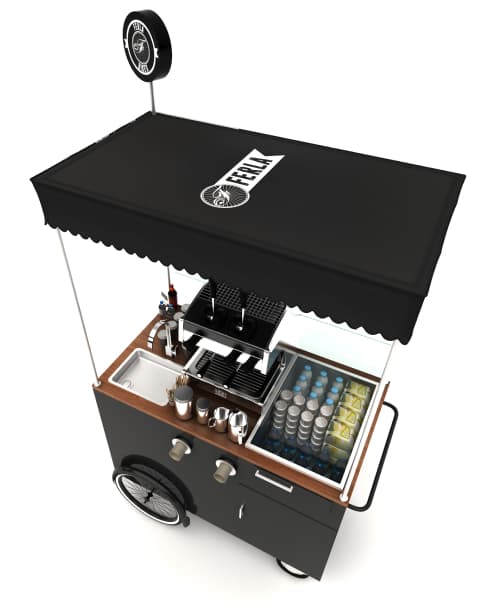 Customize Your Commercial Coffee Cart
For those who are looking to maximize the benefits of owning a Ferla Coffee Cart — our various customizations services offer a wealth of capabilities and effects.
Performance-Based Add-Ons
Beginning with functional add-ons, opting for a Temperature-Controlled Freezer opens up a world of possibilities for serving ice cream, gelato, cold drinks, and endless foods. We can also install Cold Brew Taps to any of the Ferla Coffee Carts to put baristas and experiential marketers in touch with one of the world's most popular caffeinated beverages.
Branding & Experiential Add-Ons
In addition to adding components to improve the performance of Ferla Coffee Carts, we also offer customization services to help distinguish each build for the client.
Among the many choices, discerning business owners can opt to add an LED-logo sign to their branded coffee cart, and to curate a custom-wrap paint job. We can also brand the cart's canopy with a company's logo, lettering, and colors.
Gallery
Ferla Cart Grande
Attractive Business Opportunities With Ferla Mobile Coffee Carts
Each Ferla Coffee Cart represents a potential, affordable business venue for anybody with a product. Each cart brings a blend of mobility, attractiveness, and accessibility that goes a long way.
Startup Opportunities
Popular with baristas, let's look at how building a mobile cafe with a Ferla portable coffee stands sets a good example for upstart business opportunities. Founding a business from scratch is daunting, and startup capital is both crucial and tough to come by.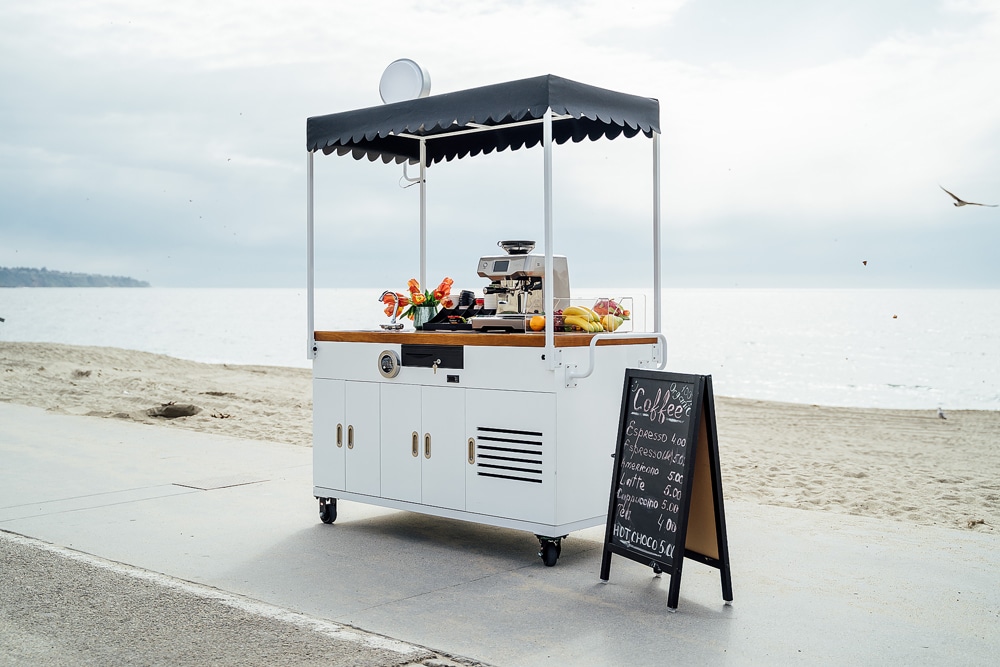 Each signature model of Ferla Coffee Cart is available for under $5,000, so an aspiring barista can be up-and-running for far less many than a security deposit at a brick-and-mortar in a desirable location. The cart can frequent almost anywhere.
Sandwich makers, florists, artisans, ice cream makers, you name it — this simple start-up model makes outdoor coffee carts ideal for all varieties of modern, independent startup.
For a more detailed explanation on how to get a coffee business off the ground with a Ferla Cart, check out this Guide To Starting Your Own Business On Wheels.
Experiential Marketing Opportunities
In addition to those who wish to start a business, existing brands have long sourced Ferla Coffee Carts for experiential marketing campaigns and events. Riding a logo around town, pairing it with delicious or attractive products, and utilizing it for fun gatherings are all ways to generate positive attention and enthusiasm.
Iconic jewelry brand Tiffany & Co., for example, took advantage of our customization packages to build branded Ferla Carts for a pop-up. Other such brands that have taken advantage of the experiential benefits of a branded vending cart or bike with Ferla include: Sugarfish, Google, Lululemon, among many others.