Ferla Mini Cart
Compact. Gorgeous. Premium.
Among Ferla's most popular and versatile vendor options — the Ferla Mini Cart on Wheels is built to play host to a variety of mobile businesses with class and functionality.
Low start-up costs, extensive storage space, and a lighter overall build all add up to make this vending cart valuable to a variety of entrepreneurs. Food and beverage ventures serving things like coffee and ice cream can opt for a temperature-controlled freezer, and sink with a five-gallon clean water tank.
Everything considered, this compact gem is as ideal a mobile workspace as any.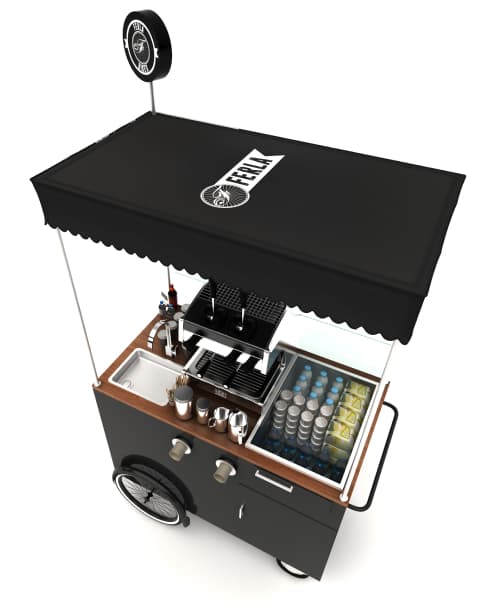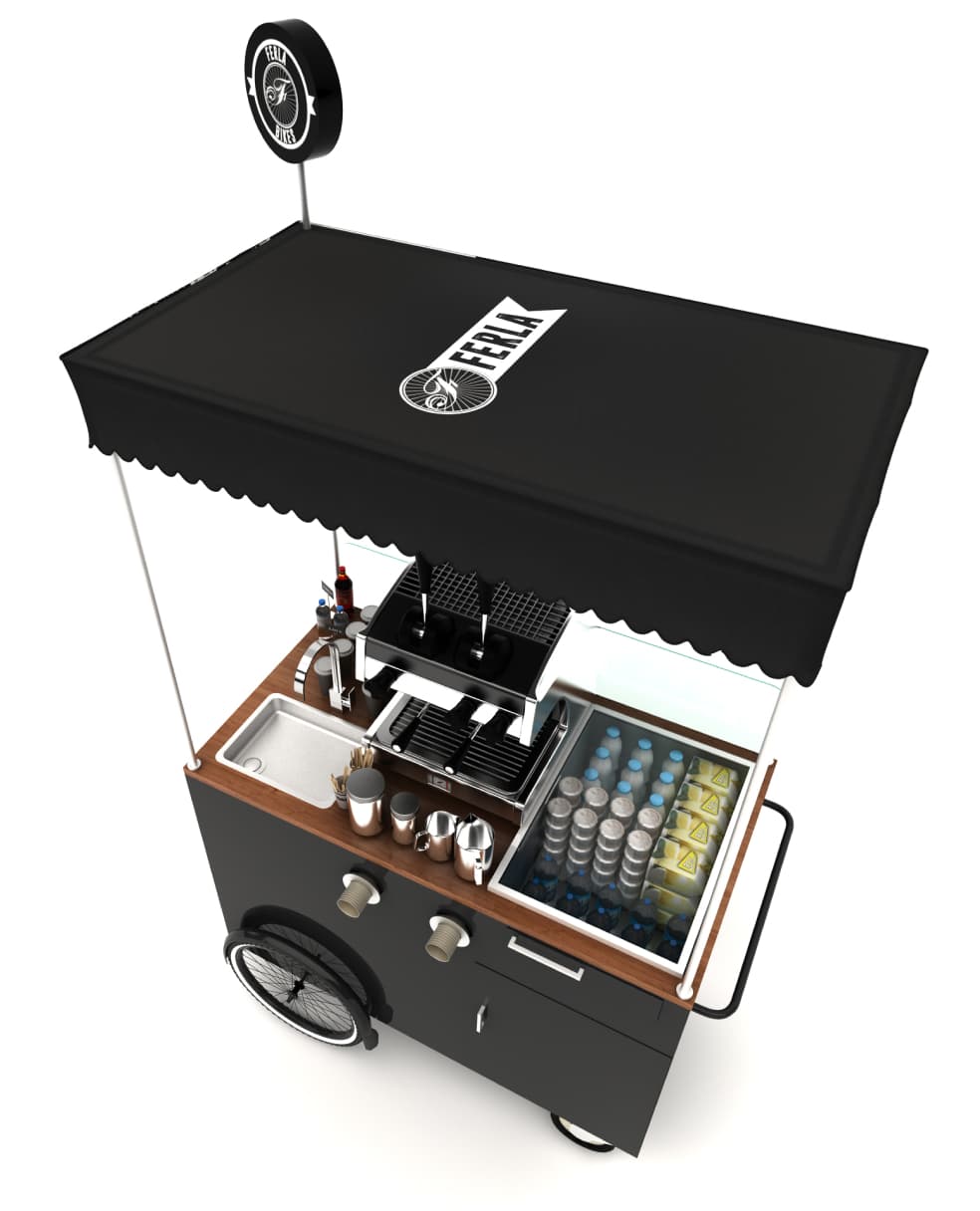 Ferla Mini Cart Design
Maintaining the classy, simple aesthetic consistent across Ferla's line of vending carts and bikes — the Mini Cart is designed to showcase any product without distraction. Its deceivingly large amount of storage space encourages vendors to leave their most attractive offerings on display, while keeping extras, personal items, and various office-keeping items out of sight. The big wheels in the rear, small wheels in the front offer practical help with moving around, and a pleasant visual appeal.
Ferla Mini Cart Features
Make A Big Splash With A Small Cart
Sleek, compact design complements a number of spacious, hidden compartments, and the commercial grade fine wood table top. This useful yet minimal build all comes together under the shade of a tasteful sun and rain canopy. In addition to its sleek exterior, the Ferla Mini Cart on wheels is technically sound and advantageous with lockable cash drawers, and a heavy duty steel frame.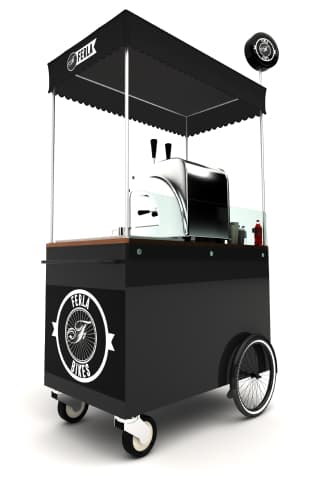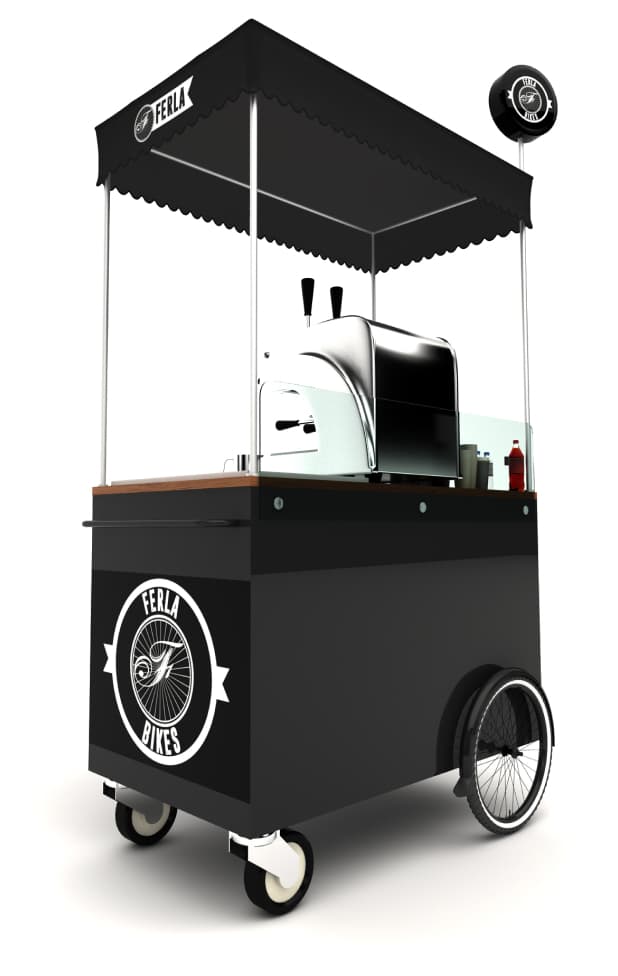 Temperature-Controlled Freezer, Working Sink, & Ferla's Finest Mini Cart Add-Ons
Exercising the option to add our signature Temperature Controlled Freezer, and the Water Package With A Sink to a Ferla Mini Cart makes the world of difference for food and beverage ventures.
Vending carts that maintain the ability to keep frozen items maintain a vastly larger number of potential dishes, drinks, and products. Freezers are also fantastic for keeping cool drinks for workers out on the street or sidewalk on a hot day. Running water is also huge for employees and customers. Sanitation is as important as ever, and the sink's ability to offer running, clean water is massive.
On top of the more necessary add ons, the team here at Ferla also offers full-wrap custom design packages, cold brew nitro tap installations, big wheel trade outs, and an extendable serving table. Learn more about each Ferla Mini Cart add on here.
The Ferla Mini Cart features many high quality components to achieve its premier status among other vending carts. Ranging from heavy-duty caster wheels on the front and back, to commercial grade wood on the table top, quality shines from top to bottom with this fantastic mobile business dream.
Dimensions & Weight
Length:
47.2′′ (120 cm)
Width:
29.9′′ (76 cm)
Height:
25.9′′ (66 cm)
Net Weight:
150 lbs. (65 kg)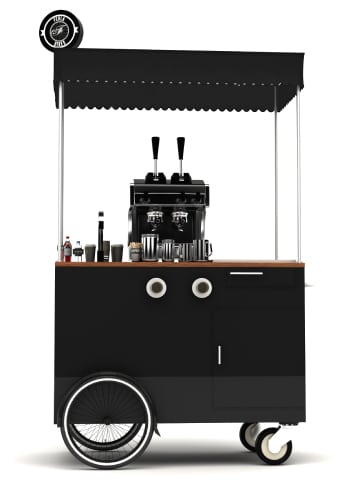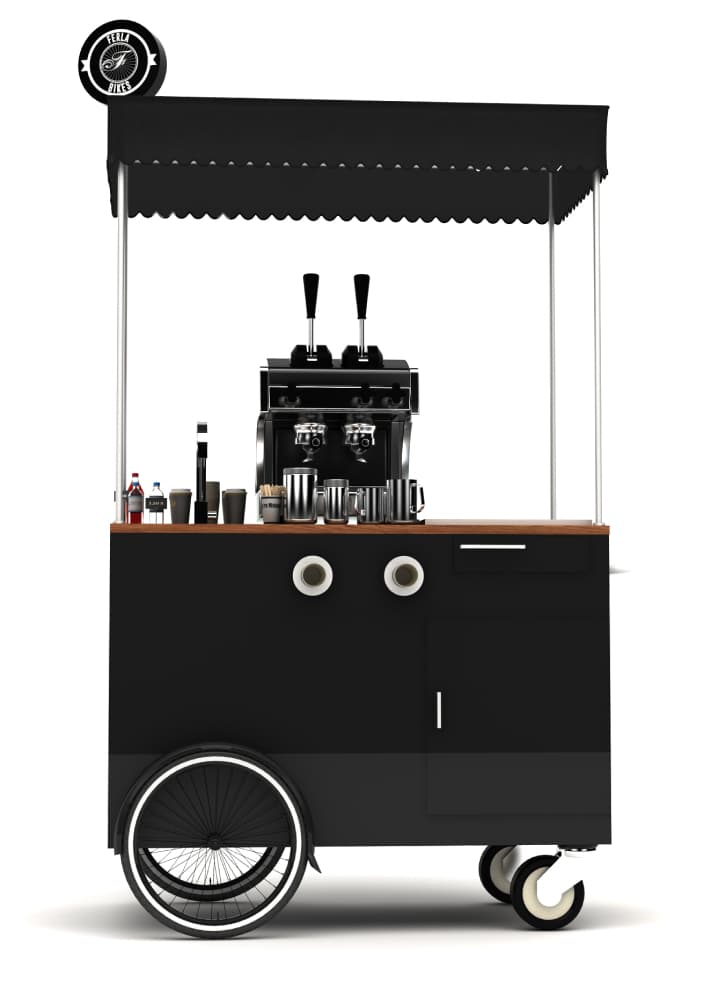 As low as $115/month – Financing Available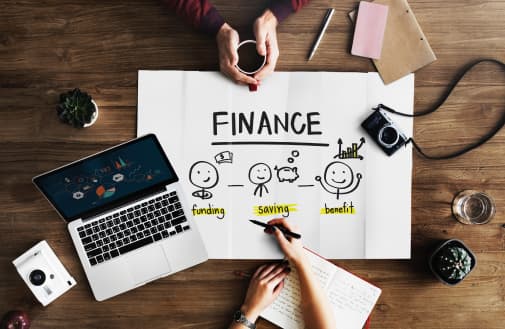 As low as $115/month – Financing Available
Financing Your Ferla Mini Cart
Let Us Help Turn Your Dream Into A Reality
Available at the incomparable base price of $4499 — the Ferla Mini Cart is built for a wide variety of entrepreneurs. Despite the competitive rate, we still understand that start-ups cost a lot of money, and usually start with less than is needed. We don't want large purchases to deter grand dreams, so Ferla Bikes offers financing, providing business owners a chance to pay off their mini cart over time. Financing as low as $115 per month is available with the Ferla Mini Cart. Click here to apply.
For Sale Now!
Order A Custom Ferla Mini Cart Today!
It's time to turn your fantasies of running a business into a reality. Bail on time cards and corporate structures, and treat yourself to some fresh air and pedestrian interaction. Make this valuable, and attainable investment by clicking the order link for a Ferla Mini Cart at your next convenience. This first-in-class, compact vending cart brings with it an endless world of possibilities.