Promo Bike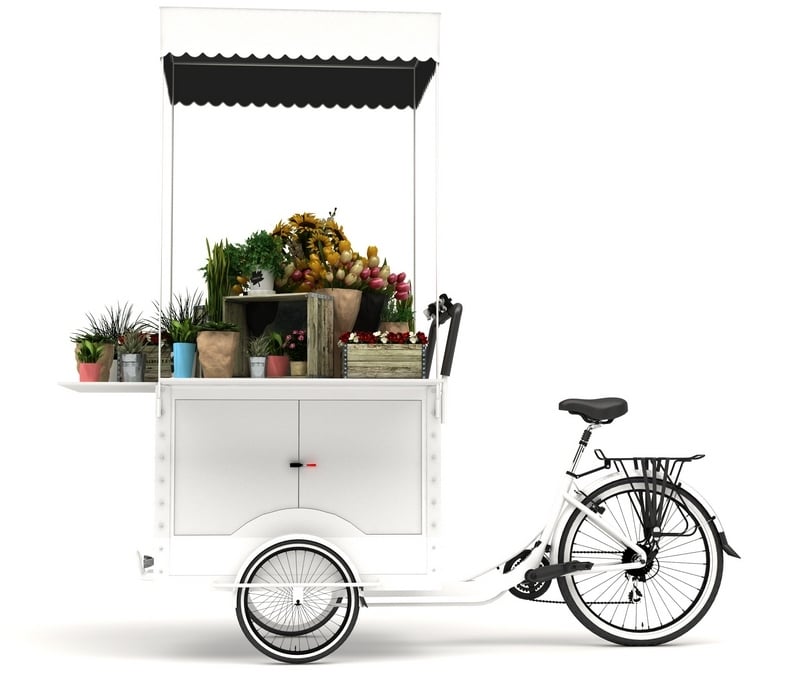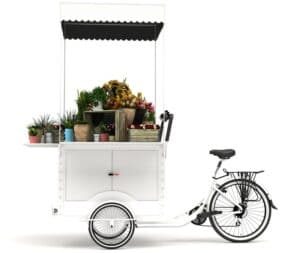 Ferla Promo Bikes were created to deliver high-impact messages to target audiences and achieve affordability to advertise and get your brand out there. Banner ads and print ads can be very expensive and useless. Our mobile promotional bikes (display bikes) will be pedaling through a custom routed routine. Promo Bike is the Advertising Solution.
Showcase Your Brand To The World With Ferla Promo Bikes
Ferla's fleet of promo bikes for sale represents a diverse selection of premier builds, each poised to help move products and amplify brands.
Whether you're an established digital presence, a tried-and-true brick and mortar, or even a storied corporate brand — the benefits of incorporating mobile vending units are plentiful.
By exploring the eclectic catalogue of Ferla Bikes, business owners can discern which one of the premier options is best suited for their needs.
The Benefits Of Ferla Promo Bikes
Each model of Ferla Bike features advanced technology, elegant design, and the capabilities to take any business somewhere it's never been before.
Having helped iconic brands like Tiffany & Co. with experiential pop-ups, as well as countless independent startups ranging from baristas to florists — the Ferla Fleet is beloved, proven, and effective.
Each fully customizable signage and logo features — Ferla Bikes are mobile promotional billboards, which also perform well in experiential and sales environments.
Have a look at some of our featured promotional bikes here, and explore the entire collection to begin crafting your mobile business dreams. 
Ferla X – Glacier Edition — An Advanced, Versatile Promo Bike 
The many features of the beloved Ferla X – Glacier Edition combine to make it a gem for any brand looking to promote itself in a positive, memorable fashion.
Featuring an Extra Large Temperature Controlled Battery Operated Freezer, and a Beverage Draft System, these beautiful bikes have everything a person needs to promote their brand in a memorable, fun way. Ice cream promotions, cold drinks on a hot summer day, vending by the beach — these are all effective, and attainable marketing strategies within reach on a Glacier.
Any ice cream and beverage business could utilize a Ferla X – Glacier Edition to bring deliciousness to people out in the world. It's the most direct, honest form of promotion there is. For brands outside this space, everybody likes a free ice cream, or a free cold brew, or a free anything.
Consider using the versatile Ferla to execute unforgettable experiential marketing campaigns out in the world, and give consumers a reason to remember you with a smile.
Temperature Controlled Freezer, and Beverage Draft System open up a world of possibilities to elevate any cafe pop-up or experiential campaign.
Custom paint, canopy logo, and branding services make each a mobile promotion, just like the one we made for Le Cafe De La Plague.
Available with optional Rear Hub Motor and Green Pedal Assist to take the promotional bike to hot spots like beaches, parks, and city corners.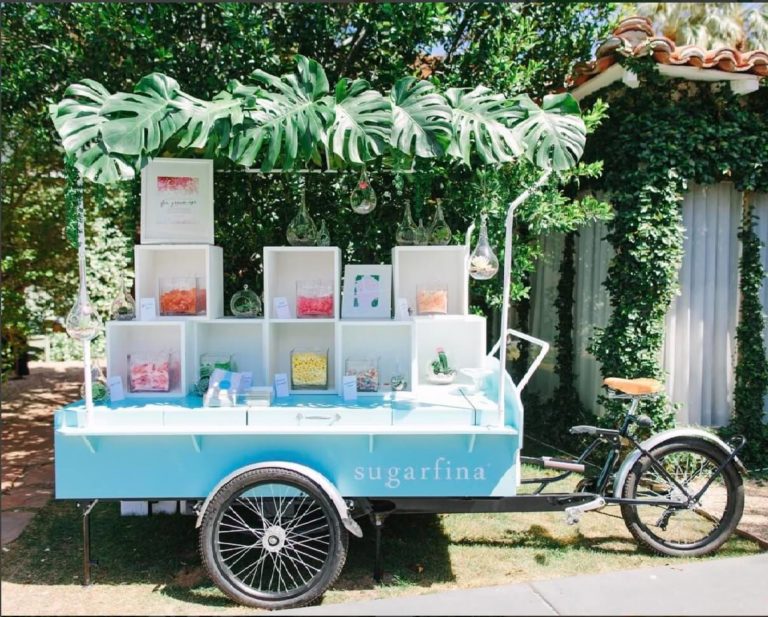 Ferla Grande Coffee Bike — An Elegant, High-Performance Promo Bike
The Ferla Grande Coffee Bike is a gorgeous piece of promotional technology.
Built to serve the best baristas, the bike's cafe capabilities are ideal for those in the java and pastry industries, and they're beneficial to anyone looking to promote their company, new products, and experiences.
Customizable for mobile-catering units such as this Sugarfina with a branded wrap and specialized canopy. 
Color and logo services available for specific, unforgettable branding and promotions. 
Sizeable and mobile with optional Electric Pedal Assist System aid mobile pop-up shops in showcasing products and experiences for any brand.
Ferla Vending Bike
Built to present and distribute with class and sophistication, the Ferla Vending Bike is also built to promote. Equipped with Large Display Boxes and 100% Natural Bamboo Display Baskets, it's designed to showcase promotional materials, and any other offerings to enhance a mobile pop-up promotional event.
Customizable with logo and decal services for mobile-vending pop-ups like this one with Uwila Warrior Boutique.
Designed with front-facing Display Boxes, showcasing promotional products to the world when parked and in motion.
Top-of-the-line Shimano Gear Bike for optimal, promotional travel to and from work, events, and anywhere a company needs it.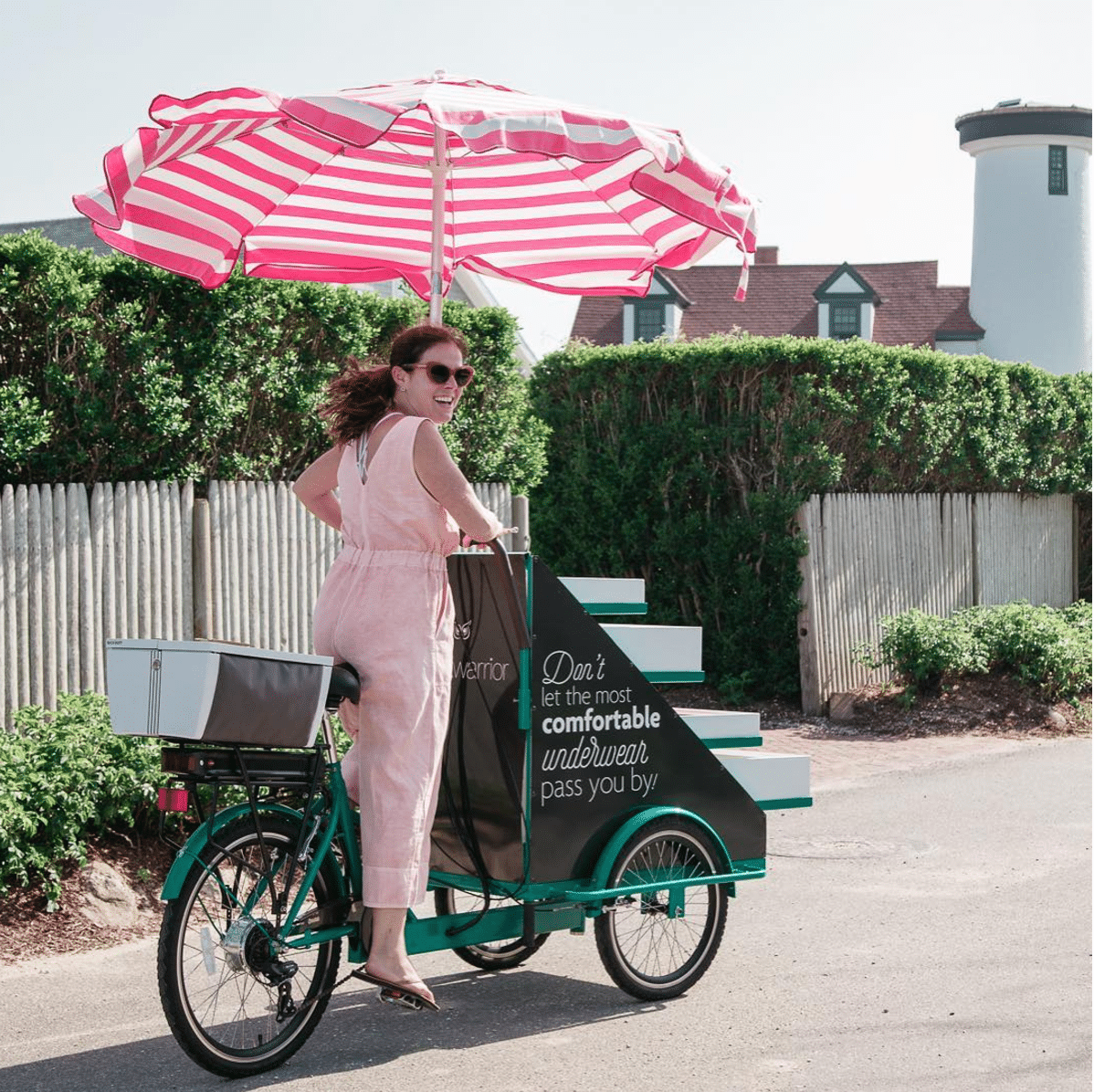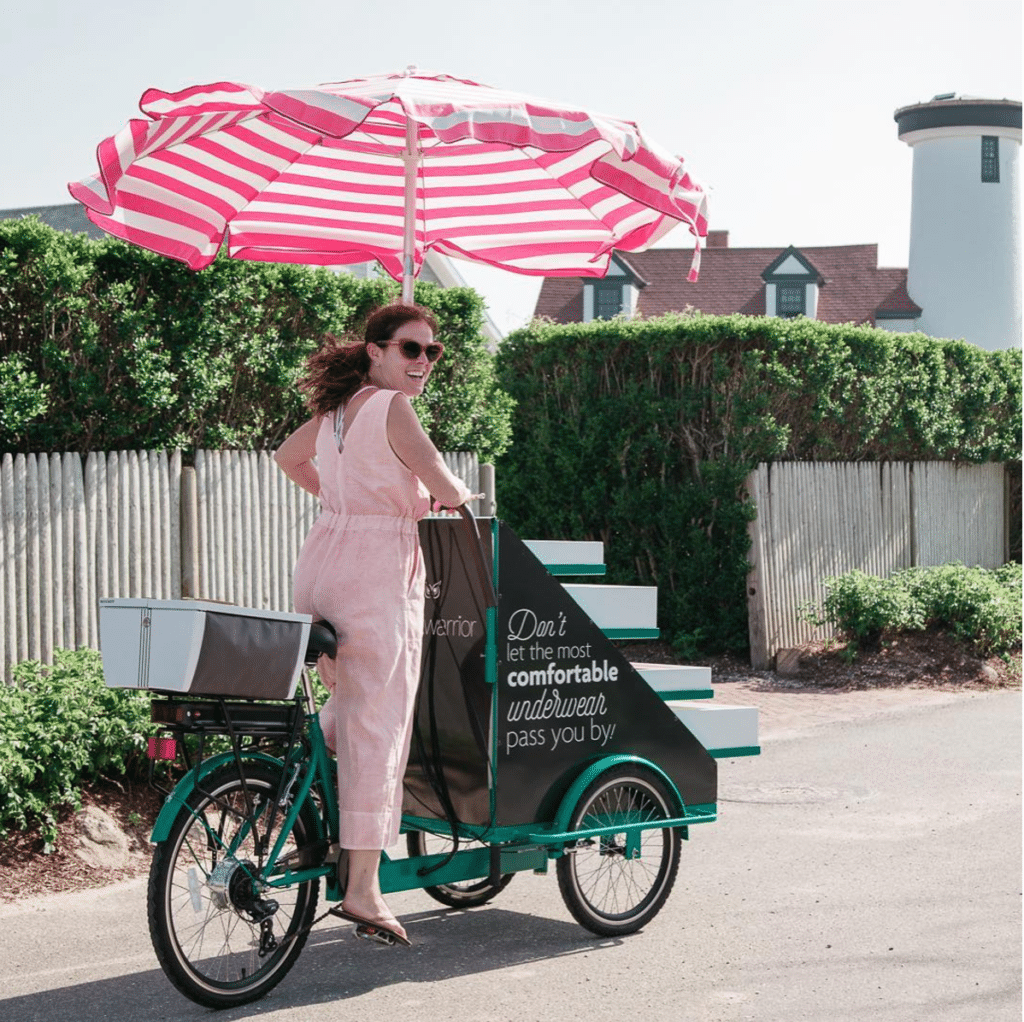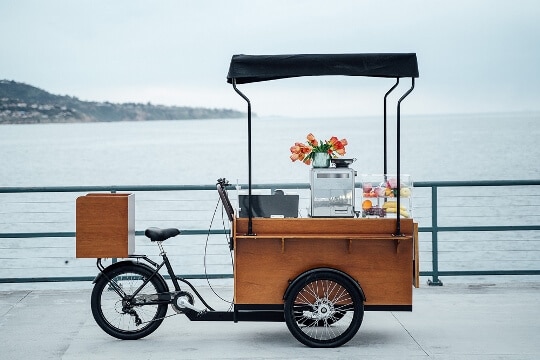 Ferla X — An Exceptional Promotional Bike
An all-inclusive cafe on wheels, the Ferla X is a versatile tool for any brand looking to get its image and products out to the world. 
The Front-Counter Space equips brands to serve treats, and amplify promotional events like pop-up cookouts. 
Logo and custom branding available to make any bike and its canopy a mobile promotion. 
Optional 740W Heavy Duty Rear Hub Motor with Green Pedal Assist, so the environmentally-conscious can promote their brands around town.
Competitive Rates
Ferla's entire fleet represents sophistication and grace at incomparable rates. Built with the budding business person in mind, each Ferla Promotional Bike is equipped with the highest quality components for the most affordable price possible.
Our promotional bikes range in price from $3,499 – $6,499 with additional costs for any electric models, as well as customized or specially branded bikes.
Far more affordable than a gas-powered vehicle of a similar build, and far better for the environment, these super valuable investments are made even more affordable through a number of special Ferla services.
Ferla's Special Services & Benefits
To help make our bikes as accessible as possible, Ferla offers its clients easy financing plans. Both short and long term arrangements are available. Set yourself up for a plan of 12-60 low monthly payments, and use the increased revenue from your mobile promotions and sales to pay the bike off.
Making this type of investment in a promotional bike isn't only a wise financial decision for businesses looking to expand while low on funds, it also is helpful with Uncle Sam. Earn a tax credit while investing in your business's future when you buy a Ferla Bike.
Incorporating thoughtful purchases and investments into a business plan is as valuable and important as seeking creative, stand-out modes of promotion such as are bikes. In addition to creating great memories, and taking your brand out to the world, incorporating a Ferla into a business plan also benefits the books.
Customizing A Ferla For Your Brand
We encourage all businesses looking to utilize a Ferla Bike as a promotional tool to reach out to us to discuss customization.
Will the bike best serve your business if it can cover long distances? Then we'll suggest opting for the electric rear hub motor.
Do you want to make an impression on everyone who sees your brand ambassadors on their promotional bike? Then we'll suggest a custom wrap design job, which includes incorporating your brand's colors and logos into the bike.
In addition to the tweaks and additions we can offer to the aesthetic, there are also functional add ons that open up a world of promotional opportunities. Reach out to us about equipping your promotional bike with a top-of-the-line freezer for ice cream and cold treats, cold brew nitro tap for caffeinated experiences, and various other attractive choices.
Creating Business Opportunities With A Ferla Promo Bike
There are a number of obvious ways to create new business opportunities with a Ferla Promo Bike. Show off your brand's personality by taking a custom bike out into public spaces for all to see.
Use the mobility of the bike to bring your company to frequented places, and then when you're there, treat people to any of the countless treats one can store, cook, and create with one of our multi-functional bikes. Maybe these treats are your product, or maybe they're to introduce people to your product.
Each Ferla Promo Bike has direct marketing and experiential marketing value, and all it takes is some ingenuity, investment, and enthusiasm to procure a truly unique, memorable tool for building business.
Just a few of our awesome clients