Now Available
Ferla X
The Finest, Most Versatile Bike Ever
All-In-One Cafe Bike: Battery Powered Freezer. Fat Tires. Solar Panel System.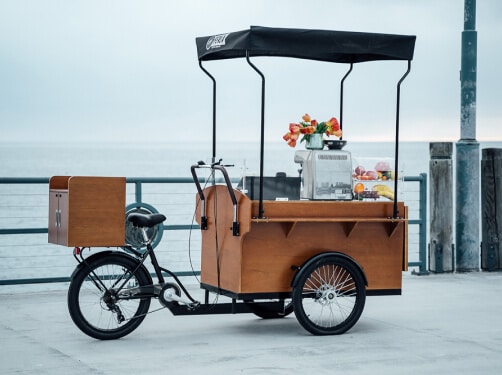 Ferla X
You've Asked,
You've Received
Ferla X: World's First Fully Capable Vending Bike – "All-in-One"
With an all new configuration, Ferla X has been optimized for the efficiency of its operator. With a sink, extensive storage space, and the option to purchase with an installed battery-powered freezer/refrigerator, Ferla X is truly the vending bike that offers it all.
Finally, the world's first fully-optimized mobile cafe on wheels is here. Whether you plan to start a coffee bike, espresso bike, ice cream bike, hot dog bike, taco cart, juice cart, smoothie cart, fruit cart… well, you get the idea! It's all possible with Ferla X.
Learn more ↓
Design
Our Most Versatile
Mobile Vending Bike Ever
Ferla X was designed to be an all-in-one solution for your mobile restaurant concept. With our new configuration, Ferla X is fully optimized for you or your barista's efficiency. With the sink, cash register, and freezer unit all facing the vendors direction, there's no more having to run back and forth to serve your customers.
Ferla X also comes with upgraded durability. We now use a thicker plywood for the vending unit's frame, still covered in our waterproof varnish for protection and longevity. Ferla X also uses thicker wheels to support its frame, meaning no having to worry about an unstable vending bike.
Of course, we didn't forget to include the sink that you love. Our original "smart sink" still includes a foldable faucet, and the option to upgrade your bike with hot water heating is always an option.
There's just so many reasons to love Ferla. Isn't starting a mobile cafe so much easier than you would've ever thought?
Learn more ↓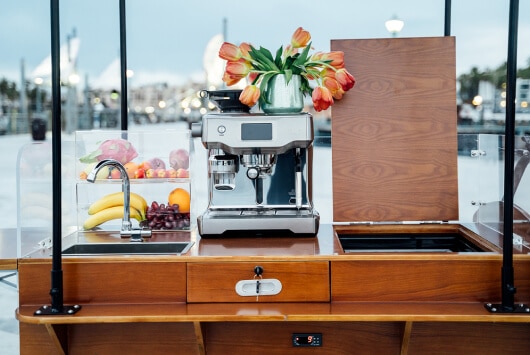 Features
Crafted with all
your needs in mind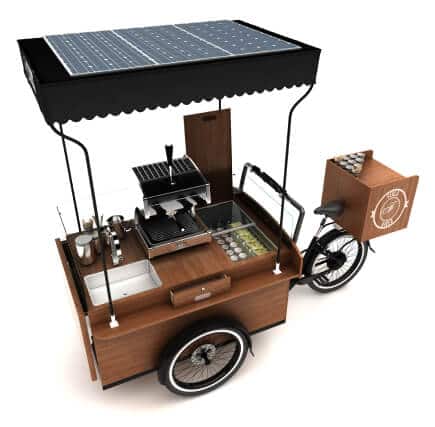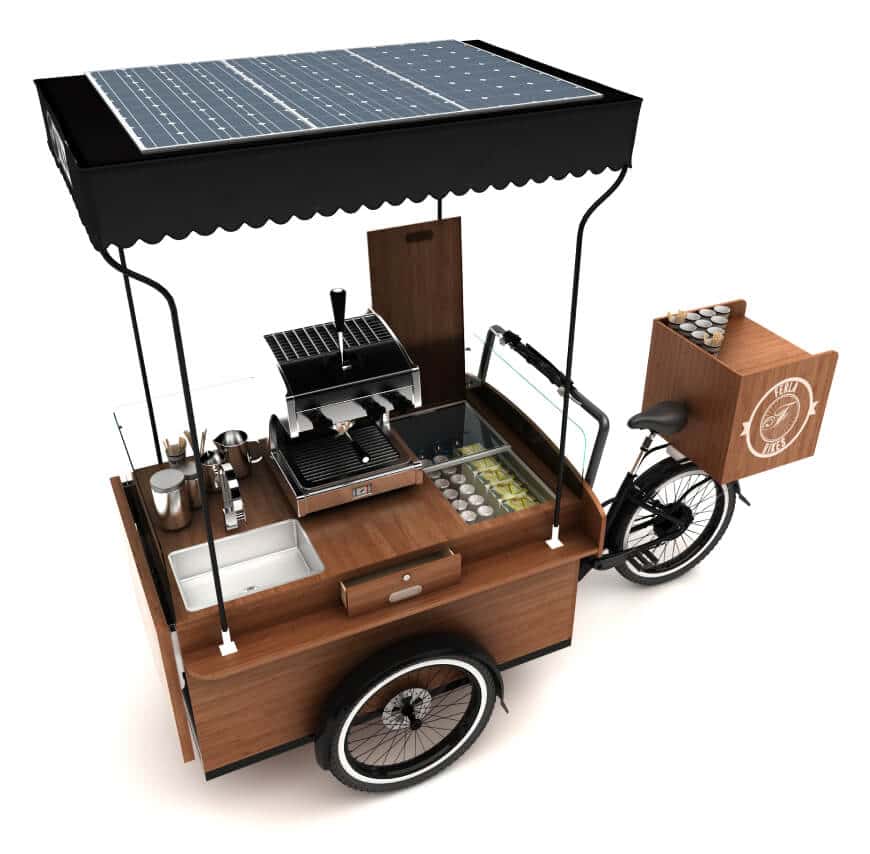 Temperature-Controlled Battery Operated Freezer
Ultra Light & Extremely Flexible Solar Panel System
Fully Customizable: Grill, Cold Brew set up, and/or Freezer
750W Heavy Duty                        Rear Hub Motor
Heavy Duty Wheels                      with All-Terrain Fat Tires
Extensive Storage Space &          All-New Condiment Platform
Pedal Assist
Upgrade Your Ride:
Fully Electric Vending Bike
Need a fully electric vending bike? Not a problem – upgrade your Ferla X with pedal assist for just an additional $950. Pedal assist makes riding your bike up hills and long distances much easier, so that you can take your vending bike from point a to point b – from the corporate campus in the morning, to the beach in the afternoon, then converting into a catering cart by the start of night!
We also have several other fully electric vending bikes for sale at Ferla Bikes. Check out the full fleet here.
Learn more ↓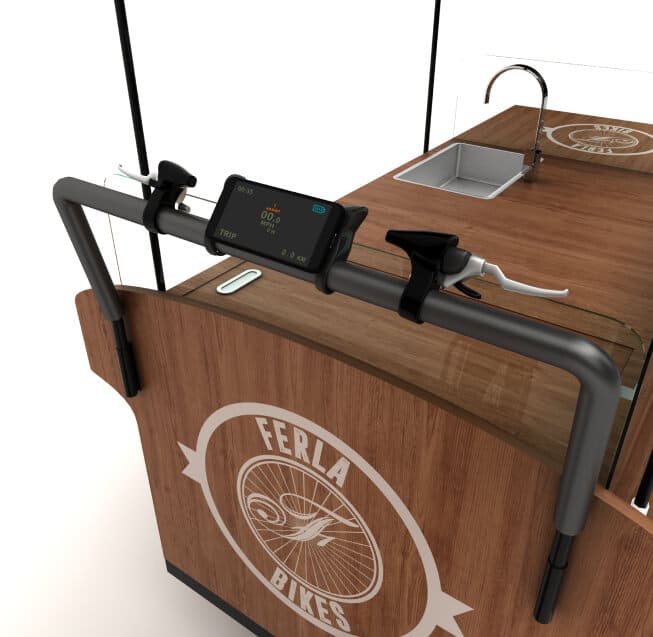 Ferla X
Specs
Superior Perfomance. All-in-One.
Temp. Controlled Freezer
Up to 15 hours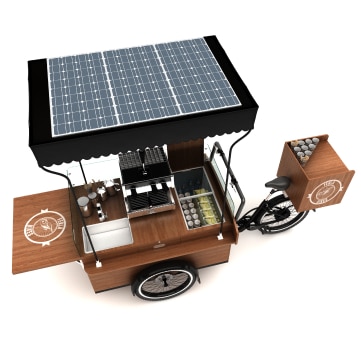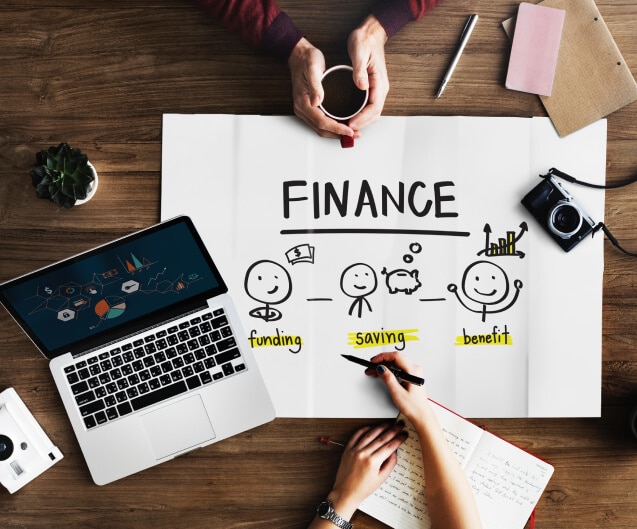 Finance Your Ferla X
Turn Your Dreams
Into A Reality
Ferla X comes at a great price, but with many other start-up expenses hindering the young entrepreneur, it may still be hard to fund your dream. Not to worry – Ferla Bikes offers financing, giving you the opportunity to finance any bike that we sell.

You can learn more and apply here
As low as $199/month – Financing Available
In Stock
Order Now Your Own Fully Customized Ferla X Bike
Are you ready to be among the first to own a Ferla X? Take the first step in starting your own mobile business by Clicking the Order Link & Get Yourself a Ferla X.
Still have questions? You can always reach out to us at
info@ferlabikes.com or request more information.