The Future Of Bringing Goods To People – Ferla Cargo
Bike for Delivery
Ferla's Cargo Delivery Bike is a modern evolution of the delivery person's ideal mode of transportation. Those who choose to make their rounds on a Ferla are poised to expand their health, revenue, and overall quality of life. How can one ride accomplish all of this, and do so in the light of a harsh workday?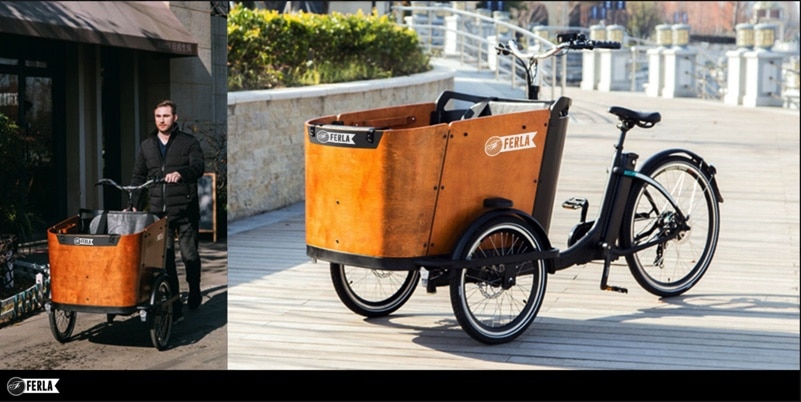 The Benefits Of Riding Ferla Cargo Delivery Trikes / Courier Bikes
Home delivery is a standard of shopping for both food and products in today's day and age, and the importance of it has only grown since the pandemic. Whether it be a commercial delivery, food delivery, new-wave micro-delivery service — the driver and worker has a number of needs that aren't met by either a car or regular bicycle. 
Here we're going to break down some of the main reasons why a Ferla Cargo Delivery Trike is an ideal mode of transport for those moving goods from distributors to consumers. 
Ferla's Are Fast & Nimble 
There is an advantage in terms of delivery speed when riding cargo tricycles in dense metropolitan areas. Drivers using one of these rides can avoid traffic by cruising down bike lanes. In more spread out areas, electric models offer a battery-powered pedal-assist engine that can boost drivers up to 45 miles per hour.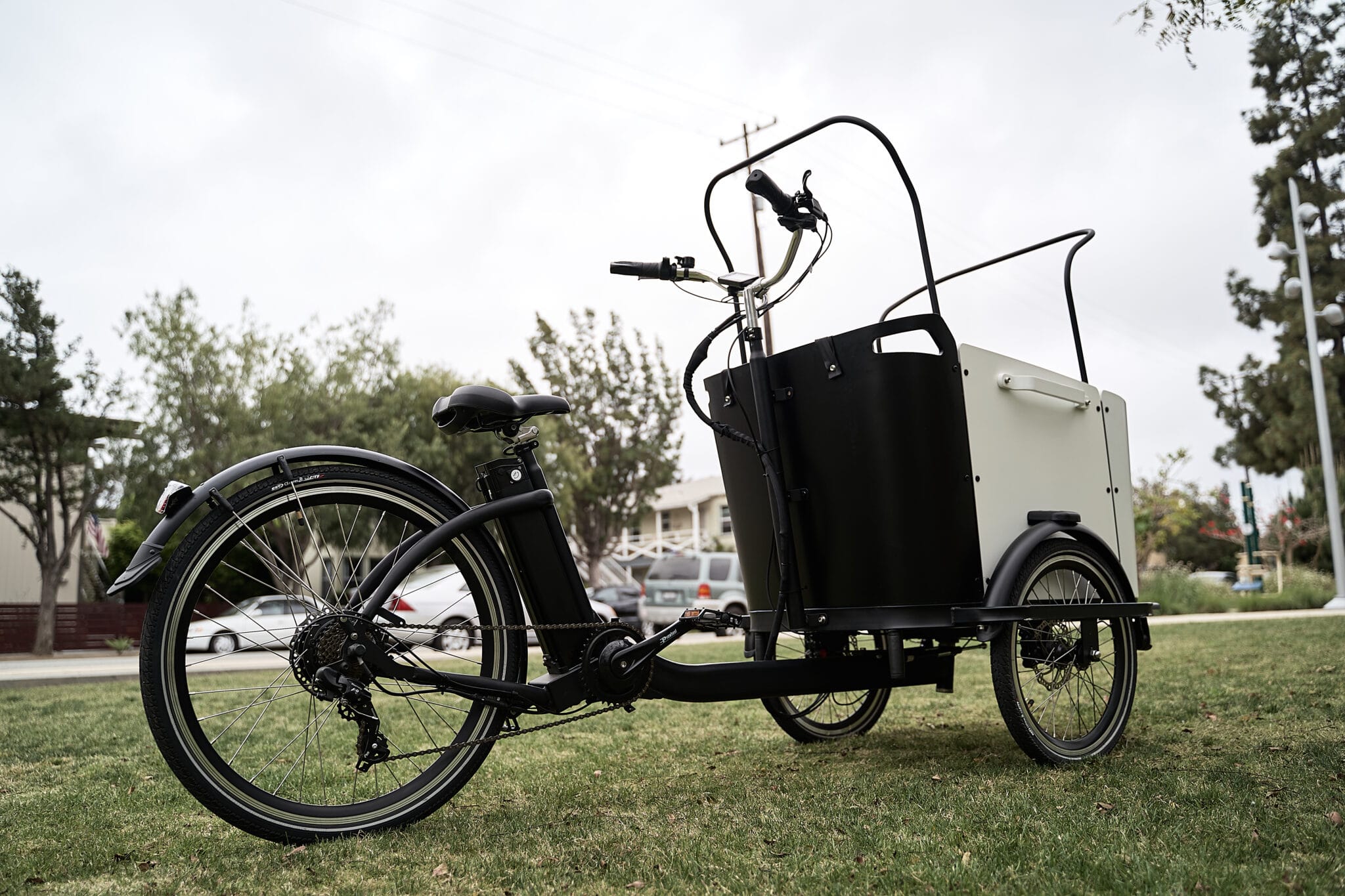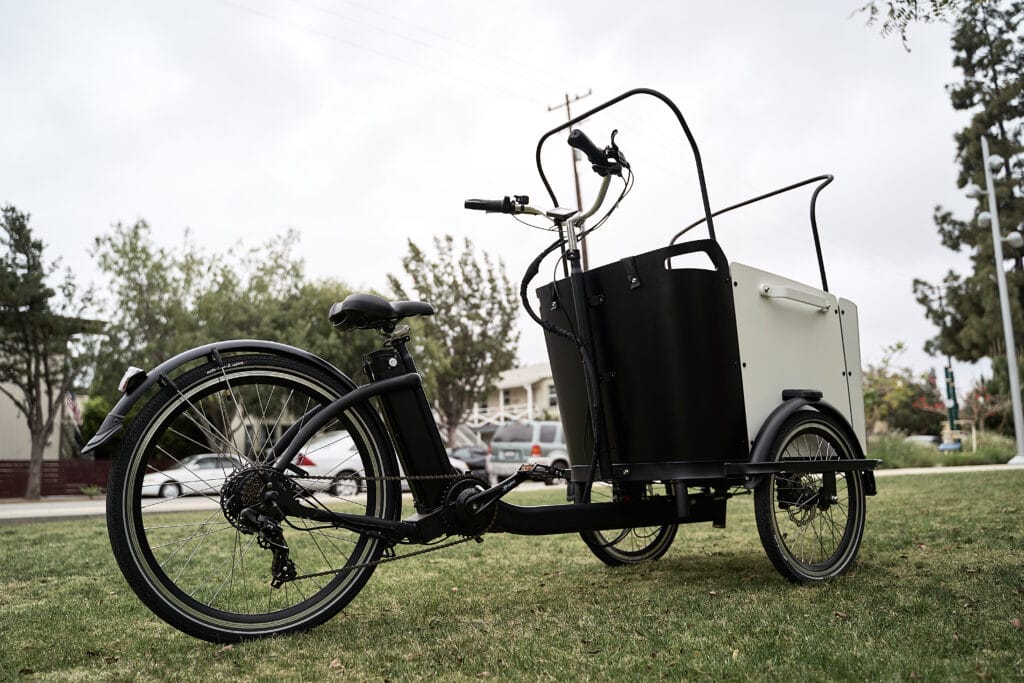 Our Cargo Delivery Bicycles Are Also Customizable 
We offer custom work on all of the Ferla cargo bicycles for sale, which goes a long way in differentiating a brand's presence on the street. Whether the delivery driver is an entrepreneur building their own brand from the ground, or a hard-working employee for a larger company — we're happy to make their Ferla shine with the proper colors and logo. 
Ferla Cargo Bikes Are Multi Purpose Vehicles 
The spacious, front bucket cargo load space on a Ferla Cargo Delivery Bike can fit a variety of goods. From Amazon packages, to newspapers, magazines, groceries, flowers, books, and what have you — the storage combined with the bike's speed and lack of emissions makes this as versatile a ride a delivery driver can find. 
Energy & Cost Efficient
Each Electric Ferla Cargo Bikes, also known as freight bikes, comes with an emissions-free, battery-powered engine with pedal assist technology. The power this offers comes at a lower financial and environmental cost than any other delivery vehicle with an engine. Providing this technology at this cost is a conscious choice to help improve the delivery driver's work experience. 
Main Features Of Ferla Electric Delivery Trike
Ferla Cargo Tricycles, which are the same as our cargo bikes, were designed with the delivery driver's day in mind. While we've explored the benefits of these rides above, here we're going to go into how we created a product with such appeal. 
Samsung Battery – This powerful piece of technology uses the energy from pedaling to offer boosts in speed, and relief from the physical exhaustion of working all day. 

350 lb Weight Capacity – Each Ferla Tricycle Delivery Bike can carry a lot of product, which makes it a strong choice for the vast majority of deliveries. 
Active Frame Steering – The easy-to-steer cargo trikes improve balance and safety, making the day a lot easier. 
Hydraulic Brake Levers – No matter where a driver needs to park, these strong brakes will keep them still, and can be relied upon for emergency stopping needs.
Fixed-To-Frame Delivery Basket – Whether it's personal goods, or the delivery product itself, this basket is a clutch compartment adored by all who have it.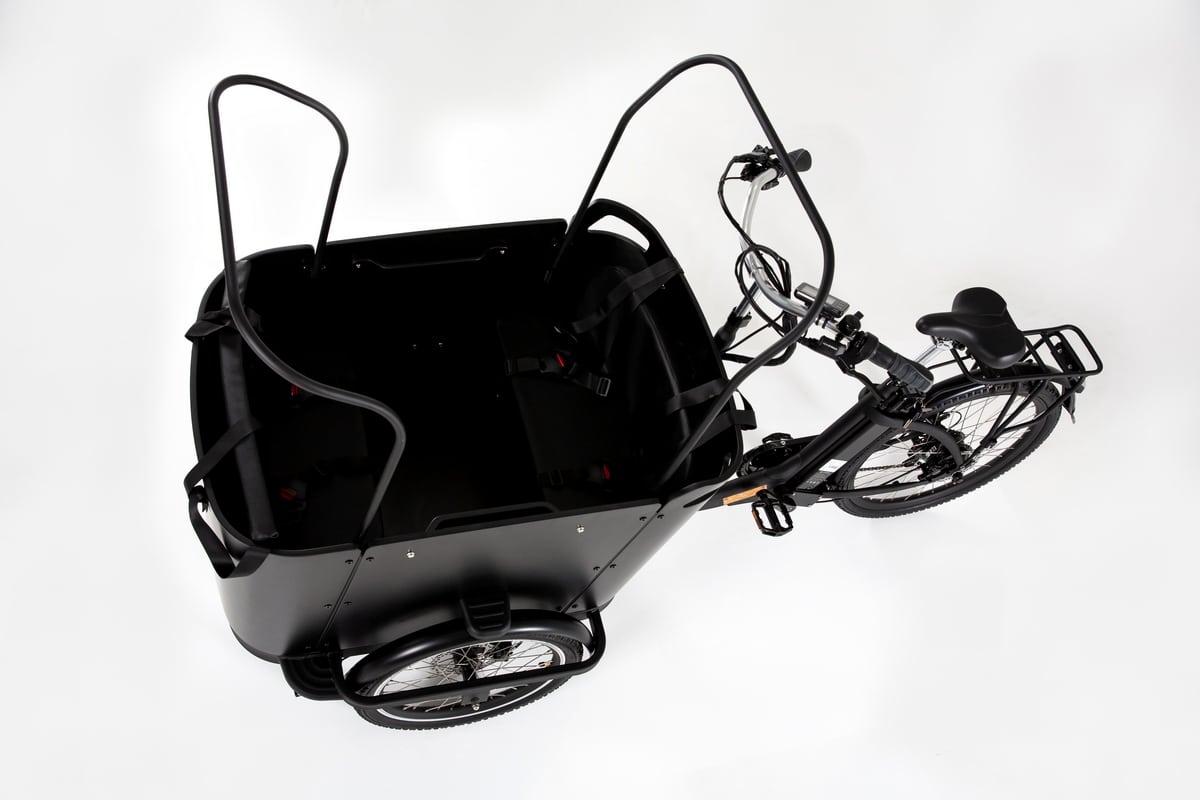 Ferla Electric Delivery Bike Specs:
| | |
| --- | --- |
| Gross weight | 150 Pounds |
| Dimensions | 88.5″ x 33.4″ x 43.3″ |
| Dimensions "Cargo Box Only" | 38.9″ x 27.7″ x 33.4″ |
| Loading Capacity (Cargo Area) | 350 Pounds |
| Frame | Steel |
| Front Brakes | Hydraulic Disc Brakes (Tektro) |
| Front Brakes | Hydraulic Disc Brakes (Tektro) |
| Gear System | Shimano |
| Cargo Box | Eco-Bamboo Mix Wood |
Pedal Assist Specs (optional):
| | |
| --- | --- |
| Battery: Original Samsung Battery  (Extended Range) | 36V 15 Ah lithium |
| Motor: Bafang Motor (High Torque) | 350W  |
| Color Display with USB Charging Port | LCD |
| Charging time | 4 Hours |
| Travel Distance (per charge) | up to 45 Miles |
| Max Speed | 20 Mph |
Ferla Delivery Bike Accessories 
As the seasons turn and time goes on, many delivery drivers choose to outfit their cargo bike with the most helpful and stylish of accessories. Here are some examples of our favorites. 
Fully Enclosed Sun & Rain Canopy – This elegant overhang protects from precipitation and sun, while also featuring zip-down windows to let in a breeze.

Lockable Storage Compartment – This hidden space is ideal for delivery people who need to store valuables away for a day at work. 

Satin Dust Cover – As we've stated, this delivery bike is worth making an everyday option. To keep it nice, cover it up with this nice piece of fabric at night. 

Removable Samsung Battery or Dual Battery – An additional, easy-to-remove battery provides extended range for an electric delivery bike. Dual battery options extends an e-bike's range an extra 80 miles. 
What Business Opportunities Can One Create With A Ferla Freight Bike? 
For those who are looking to become self-employed, and build themselves from the ground up, a Ferla Cargo Delivery Bike is an ideal starter. It's much cheaper than a car, and can help someone turn a profit much faster. 
For example, let's say someone who is looking to become self employed as a delivery driver purchases a Ferla Cargo Bike at the price of $3,099. With the average hourly rate for a delivery driver in the U.S. being $15 per hour — most people who start off with one of our bikes can pay it off in less than two months. Let's say someone buys a car instead, which is more likely to cost up to $20,000, it's going to take them much longer to pay it off. 
The Ferla Cargo Trike is also ideal for launching an independent business, and optimizing commercial deliveries. This relatively affordable piece of equipment can also add a delivery leg to a business that previously didn't have one, which is an especially valuable service in the age of the pandemic. So whether it's new business, new business opportunities, or an improvement on a broken system — cargo delivery bikes triumph, and they're all right here for those who need them.