Experiential Marketing with Ferla Bikes
We are proud leaders in the world of experiential marketing, and we regularly collaborate with brands on events and interactive campaigns. Including our customers in our product experience is vital to the success of Ferla Bikes. 
To introduce our relationship to this world of innovation and fun, and explore the topic as a whole — we put together this guide on experiential marketing with Ferla Bikes. 
Experiential Marketing Definition
The definition of experiential marketing is that it's an advertising strategy, which uses events, and immersive branded experiences to build a customer base.
This proven marketing method, when applied well, creates meaningful connections between brands and potential customers. A strong experiential campaign creates memorable, immersive experiences that forge relationships between consumers and providers. 
Across the vast array of experiential campaigns, strategies, and formats — the most effective build excitement and positive perceptions of a given brand. Our most proud campaigns have brought elements of our core values to life, and directly engaged future riders of Ferla Bikes. 
To dig in a bit deeper, these are some of the most valuable benefits to building an experiential marketing campaign: 
Expanding Brand Awareness
Among the numerous benefits of experiential marketing, brand awareness is the most important. Encompassing more than name recognition, it's increasingly important for brands to let their customers learn their background, story, mission, and values. Experiential marketing encourages telling these stories in face-to-face environments to develop lasting connections. 
Generating Authentic Interactions 
When a consumer can experience a product or brand in person, the impact is far deeper. Pictures, videos, and links can only take a brand so far. By hosting events, setting up information booths, and offering demos — brands can gain one-on-one customer service benefits that exist nowhere else. Advertising live, in person provides an entirely unique emotional experience. 
Making A Strong First Impression
More so than any other form of marketing or advertising, an experiential approach creates a genuine platform to make a strong, influential first impression. Our Ferla Bikes, for example, turn heads fast when businesses use them as mobile advertising bikes, and when we offer them to ride or view at an experiential event. 
In such an environment, we can let the Ferla Bike shine with its obvious convenience, eco-friendly build, and unmatched mobility. Also, when a customer rides off in one, they themselves become invaluable mobile advertisers. 
If you're working with an innovative, stylish product like the Ferla Cargo Bikes, then do yourself a favor and take it to your audience. Connect with potential customers in their neighborhoods, all the while showing how your product and brand are essential to a better user experience. 
How Experiential Marketing Beats More Traditional Methods
Aggressive ad campaigns through paid social media services, commercials, and billboards both annoy and limit consumers. In the age of the internet, such tactics are so overdone and outdated that they've crippled many thriving businesses. 
According to these statistics from Influencer Marketing Hub, social media advertising increased by 25% in 2019, and internet advertising revenues increased by 16%. The average person is shown 1,700 banner ads per month, only sees half of them, and may interact with only one or two. 
So, with all that in mind, it's safe to say that marketing has become quite impersonal. 
To learn how to bridge that gap, any brand can take a calculated approach towards getting familiar with their consumers. 
The Four Core Approaches To Experiential Marketing
Experiential marketing can stand apart from other approaches to customer-client relations, because it can feature an atmosphere your everyday consumer will want to interact with. By using resources to cover the four core approaches to this practice, a brand can give itself the best chance possible at creating an attractive campaign. 
Here, we will introduce each of these foundational approaches, which include: Events, Guerrilla Marketing, Brand Activation, & Retail Installations. 
Experiential Event Marketing
The best way to make a company event effective in attracting customers, is to implement key experiential marketing strategies. To be clear, experiential marketing is not synonymous with event marketing, though an event can be experiential. Confusing? Let us clear it up. 
Event Marketing vs Experiential Marketing 
Event marketing campaigns deliver information in one direction — at the consumer. Just passing out fliers, and shouting out slogans makes for a static experience, and it overlooks the value of consumer interaction and participation. 
An experiential marketing event separates itself by focusing on two-way communication. By gearing a marketing event towards interactive approaches like conversations, offering samples of a product, and curating games — a brand can directly interact with their consumers, while promoting their products and services. 
This type of experiential event can serve to launch a new product, and sell merchandise. Its main purpose, however, is to create positive brand associations, foster new relationships with customers, and provide a memorable, in-person memory associated with a brand. 
Examples of Effective Experiential Marketing Campaigns
One of our favorite examples of a noteworthy brand using an immersive experience to build customer relationships — Refinery29's Annual Interactive Funhouse always impresses its attendees with hands-on experiences unique to each attendee. 
The house features 29 different rooms, each branded to showcase the company's latest technology, culture, and style. Each room invites guests to create something original, and then share it on social media, and every year features a new theme.  
Another favorite of ours, is this experiential event hosted by Puma for a new release of a line of products named Puma Defy. Using our Ferla Promo and Ferla Vendor bikes, fully-loaded with Puma branding, graphics, and more, they set out to showcase their new shoes all over the city.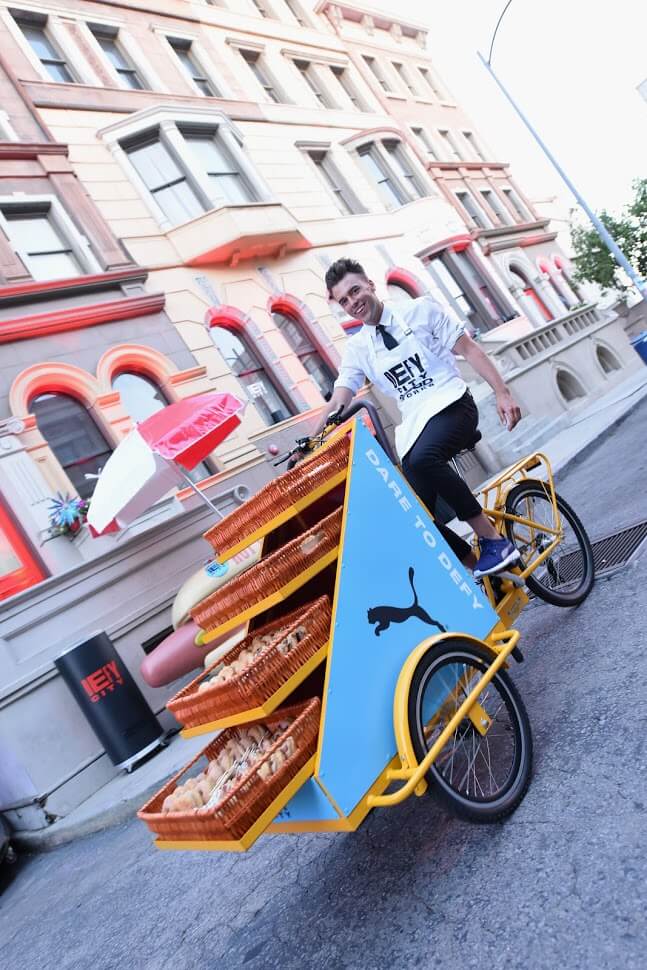 Collaborating with superstar Selena Gomez, with her own mini billboard, and using our amazing Ferla bikes to get their product out across Los Angeles — the minds behind this Puma campaign invited new customers along for a fun and influential ride. They handed out samples, hosted photo ops, and flaunted the Puma Defy sneakers.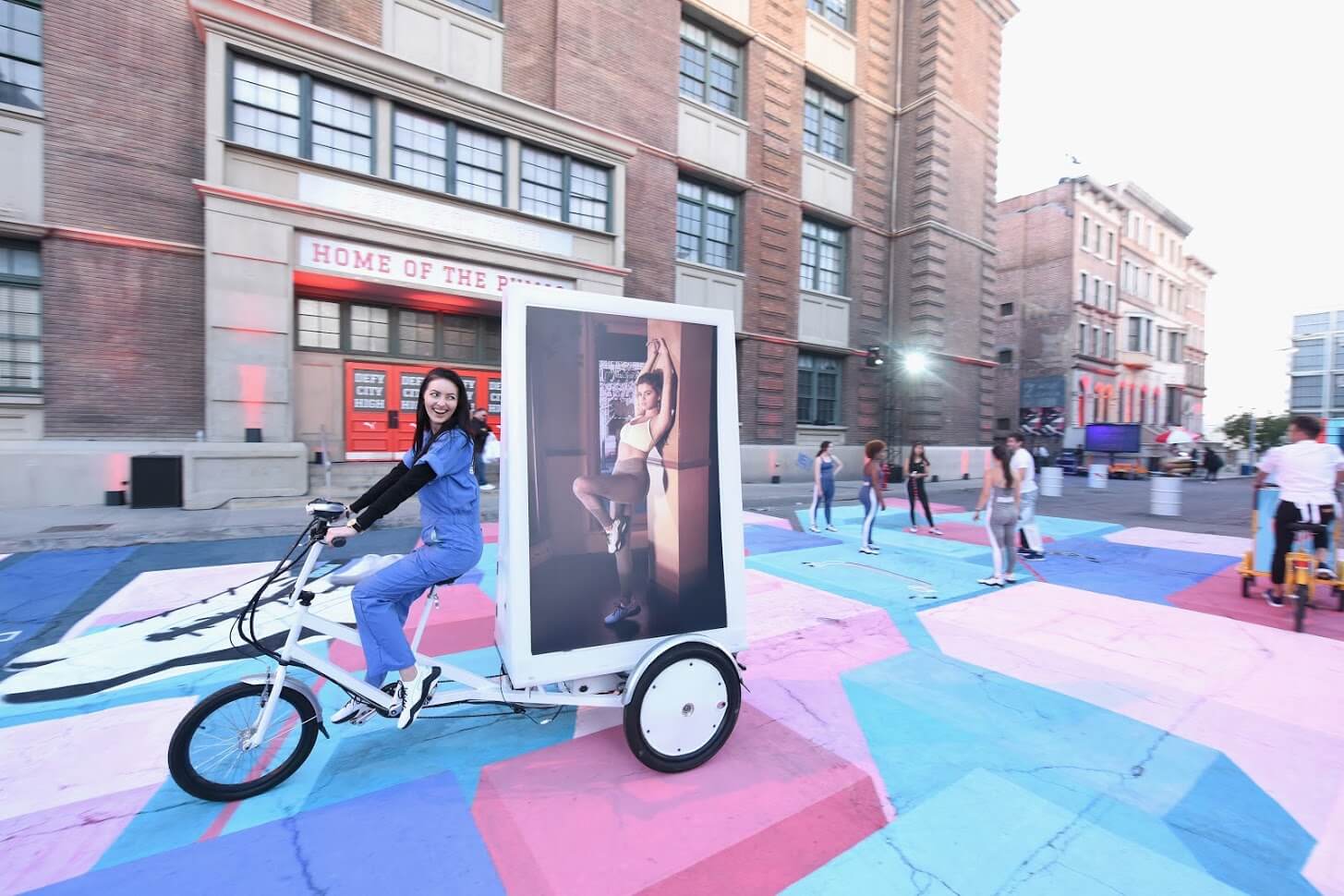 Experiential events are key, real-world ways to attract new followers to a brand's social media, which is key to any successful venture surviving the modern digital landscape. With an experiential event, brands can encourage guests to take pictures while trying their samples, and then they can get a post and a share in addition to a sale. 
Guerrilla Marketing With An Experiential Mindset
Many of us associate guerrilla anything with warfare, but the word also refers to actions performed in an impromptu way, often without authorization. Essentially, the heart of this non-war-based guerilla is the element of surprise, which is a proven area of the experiential marketing philosophy. 
Guerrilla marketing involves unconventional marketing campaigns, which capture the attention of unsuspecting people going about their everyday lives. Some benefits of this approach include that it's often a grassroots leg of a campaign that can be far more affordable than typical forms of advertisement. 
Guerrilla marketers who are successful invest their time more than their money, and by carefully planning performances, installations, and activities, they can generate attention. To help readers visualize an effective guerrilla campaign, we broke down some examples of common features of one: 
An action that adds something eye-catching to a public space. Good examples include prominent statues or buildings, which you can decorate with your brand's messaging. 

Erecting attention-grabbing artwork on sidewalks, in highly-frequented indoor spaces, and on city walls.

Assembling a large group to draw attention with uniforms, performances, and presentations in public spaces. 
One Of Our Favorite Guerrilla Marketing Examples 
We are majore fans of this example of Volkswagen installing a piano staircase to capture the imagination of prospective customers in Stockholm, Sweden. The activators of the campaign painted an ordinary subway terminal staircase to look like piano keys, adding a message that read, Fun Goes Further. 
This is an ideal example of guerrilla marketing, because it was implemented when nobody was looking, and then it caught the attention of off-guard, everyday commuters who on that morning were only expecting their same boring ride to work. The fun surprise brought joy to everyone who saw it, generated media attention, and created this beautiful story around the brand who put it on. 
Activate Your Brand With Experiential Marketing
Brand Activation consists of the introduction, promotion, and roll out of a new product or company. This is a time when media attention is crucial. To put it simply, people need to know when a new product hits the market for it to have a shot at developing demand and getting off the ground. The most important goal in brand activation, should be to create a connection between consumers and a brand's new product. By activating the existence of a product across the minds of a large group of consumers, a company shapes its brand identity. 
The Best Experiential Method For Launching A New Product 
Those on the hunt for effective experiential marketing methods for promoting new products should begin with simple product sampling. An exceptional strategy for getting your goods out there, is to mobilize your retail. Take for example how brands like TK UNDERWEAR BRAND have purchased our Ferla Vendor Bikes to bring their stylish undergarments to the people. 
Creating an opportunity for customers to sample something is the most direct way to create positive impressions of a brand's identity and values. Such impressions are how genuine relationships between consumers and companies form, and that inspires sales and customer loyalty. 
A Couple Of Our Favorite Experiential Marketing Activations
Getting a new concept or business off the ground is no small feat, which is why making the occasion special is all the more important. One of our favorite examples of an experiential brand activation was a collaboration we did with the iconic TIffany & Co., when they had a pop-up promoting a new Beverly Hills Restaurant.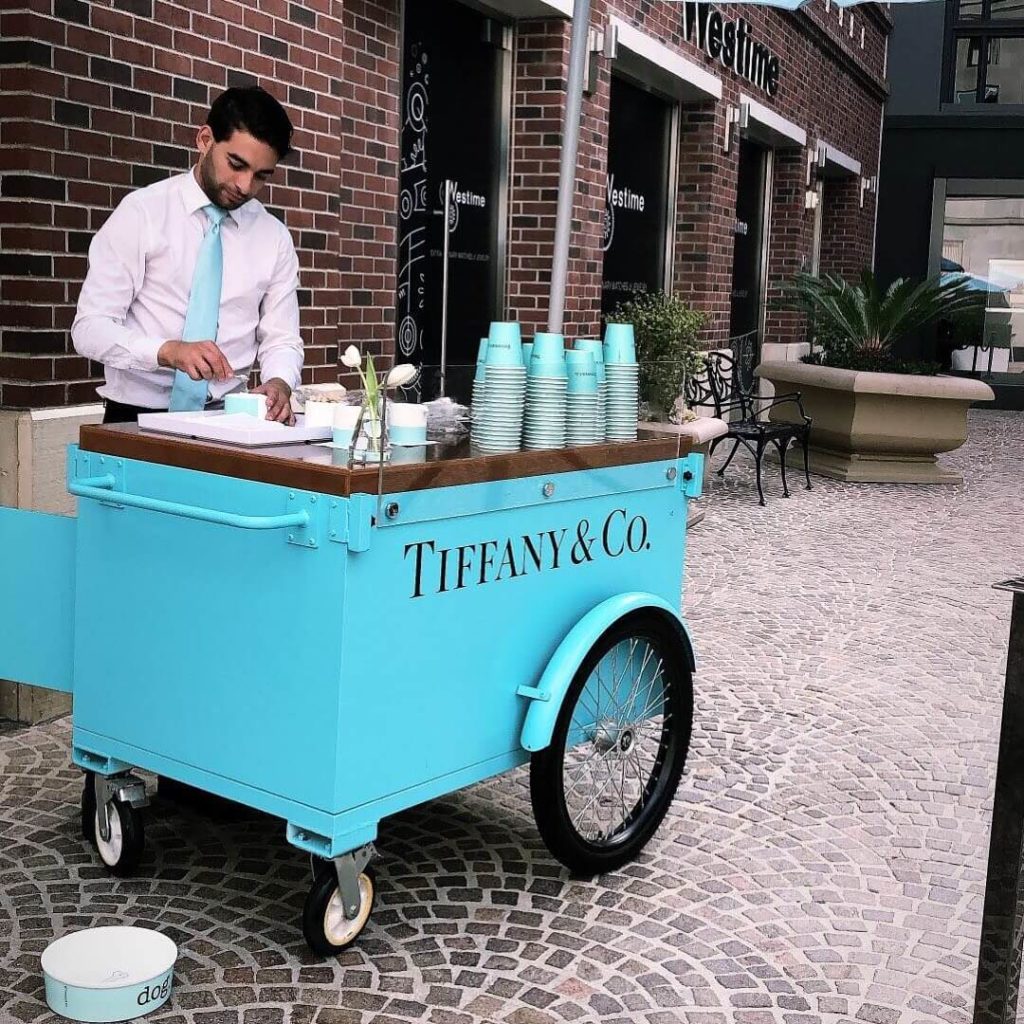 We custom-made Tiffany's a vendor bike in their iconic blue, which matched all of the decor on the day of the pop-up. Carts served up tasty treats and drinks, and people permeated the space feeling happy and having fun, which created a positive association with this new restaurant and all the brands involved. 
Another company that approaches brand activation with imagination as Starbucks. One of our favorite examples came from Starbucks Canada, and the Sparkle Shop promotion for Teavana Sparkling Tea Juices. Guests of the stores with installations met with "glitter specialists," who bedazzled customers' hair, nails, beards, and tumblers. Social media influencer LaurDIY among others was in attendance, and the event was a major success. 
Ferla's Brand Activation Vendor Bike Models 
Check Out Ferla Bike's Products to discover the perfect bike for your experiential event. We offer an extensive variety of high-end coffee bikes, ice cream bikes, carts, and vending bikes. Depending on the product and space — each could offer the ideal flare for introducing your business to the world. 
The Ferla X is our newest model of coffee bike, and this piece of experiential marketing technology is optimized for food and cafe brand-activations. Designed as an all-in-one mobile restaurant concept, each bike is equipped with a sink, cash register, and freezer. Every component is hidden from plane sight, keeping a simple aesthetic so consumers can only see one thing — the branding.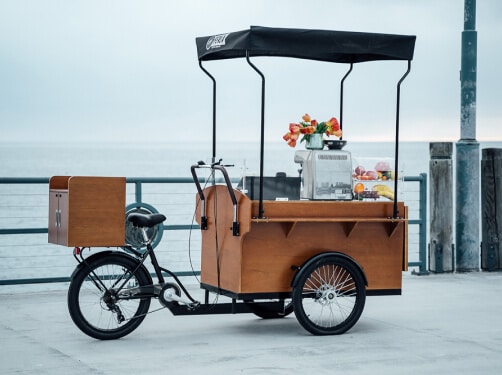 The mobile nature and popularity of the Ferla X makes it perfect for pop-up events on busy street corners, college campuses, and other high traffic locations. 
When we worked with Tiffany & Co, the timeless fashion brand ordered another Coffee Bike in the form of a custom Ferla Mini Cart for a pop-up in Beverly Hills to promote a restaurant of theirs named The Blue Box Cafe. We painted the bike Tiffany's signature blue, and branded the front with the company's name and logo.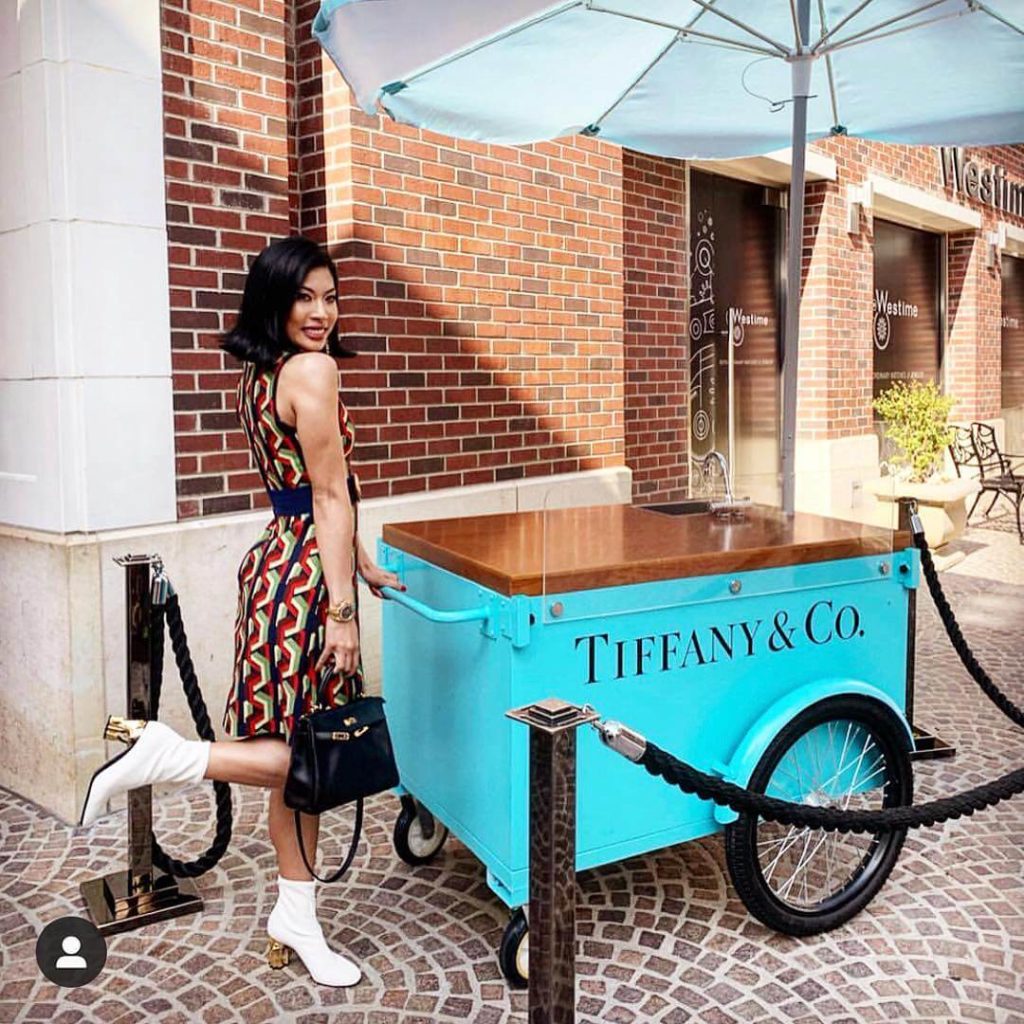 Another brilliant piece of equipment for event marketing needs, the Ferla X – Glacier Edition. This premium, all-in-one vendor bike features cold brew and ice cream capabilities, a temperature controlled freezer, self-contained water system, solar panel system, and all-terrain wheels. 
Among Ferla's other highly sought after coffee bikes there's the understated, yet classy barista's Ferla Mini, the sleek, wood-lined Ferla 2, and the inviting, versatile Ferla Grande. Check out the rest of our coffee bikes, carts, and vending bikes, and start planning your next experiential marketing event today.
Benefits of Experiential Marketing
There are a number of attractive benefits of brand activations, including boosts in sales, building long-term customer relationships and brand support, and attracting new customers by evoking emotional responses in potential customers. Taking an experiential approach to launching your brand will get the word out on your product, and help build a fun, positive association with it. This is an organic way to build demand. 
Shine For Shoppers With Retail Installation Marketing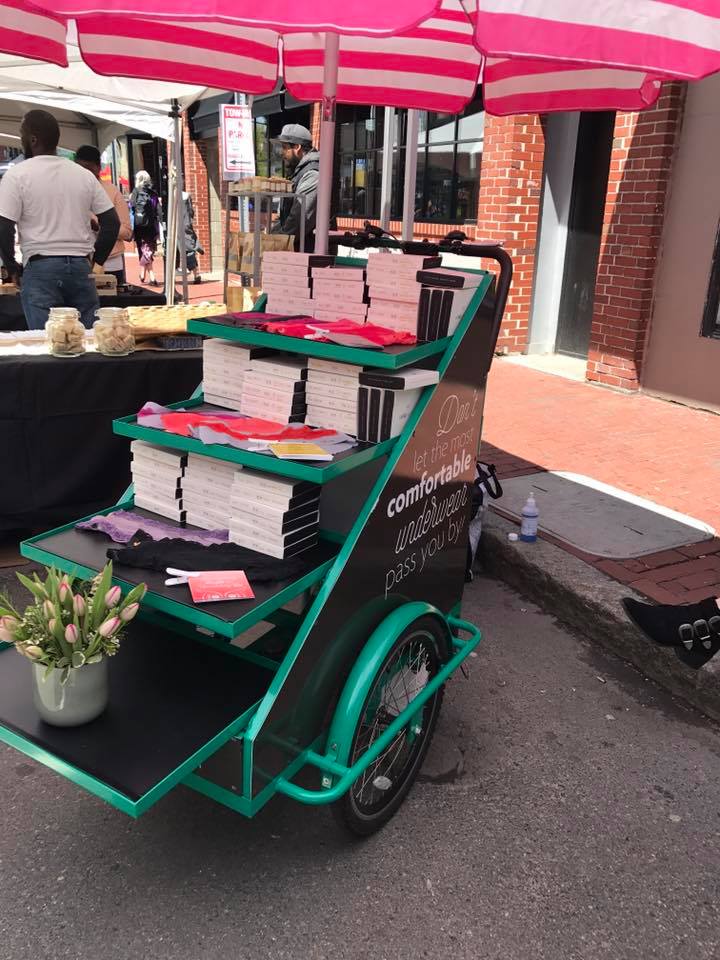 Experiential marketing should expand beyond the street, and meet shoppers both in their digital and physical shopping locations. Retail Installations serve as one of the core approaches to an effective experiential campaign, as one that is well executed can turn an ordinary trip to the store into an immersive experience filled with entertainment. 
Setting up a marketing installation in a shop captures the attention of not only avid shoppers, but also bored family and friends who don't even enjoy shopping. A colorful display, free samples, an artful installation — each of these experiential modes can draw people into the store, capture their attention, increase their time in the store and the likelihood of them making a purchase. 
This personal approach is especially influential nowadays, because the shopping experience in large part has become less personal. Digital orders, vast marketplaces like Amazon, two day shipping — these are all convenient elements of modern shopping, but also sterile ones. It's important to offset convenience with personality and interaction. 
In the hardest time to get people to the store, that physical space offers an experience shoppers miss. Face time with a brand, its representatives, and its products offers an influential approach that websites and email campaigns simply cannot. 
In addition to serving a personal need in the shopping space, experiential retail also creates brand awareness by creating shareable experiences. Placing a customer's engagement with a brand and its products over the sale resonates. 
Summing up the value of retail installations in an admirable and succinct fashion, in 2020, Macy's Chief Brand Experience Officer Rachel Shectman said,
The purpose of the format is three things: discover, community, and convenience.
Taking advantage of the appeal of physical creation, a brand can accomplish those three things in unique ways. It can provide something a consumer can't get from sitting on the couch and shopping online. 
Understanding Experiential Benefits With The Marketing Funnel
Looking back at the four main approaches to experiential marketing advertising, it's easy to track how these strategies effectively build customer relationships. 
If you look at the overall experiential strategy as one large marketing funnel, then you can follow the concept from its initial broad casting of media and experiences all the way to a sale. Building from spreading awareness, to building interest, to creating intent, and finally securing a purchase — the marketing funnel is a model every experiential marketing campaign should reference.
Here's how we categorize the progression of the marketing funnel:
Create Awareness
In its most initial and broadest stage, the marketing funnel generates leads through spreading awareness. Thoughtful installations, guerilla campaigns, and other examples we went over when discussing the core approaches to experiential marketing are all effective methods towards building awareness. 
Spark Interest
Once a brand has gotten in front of a potential consumer's eye, it has to hold that attention with a worthwhile offering. Whether it's the sample, the artwork, or the experience — sparking interest is an essential step towards turning customers. 
Conjure Intent
By placing your product in an attractive experiential setting, you can inspire a desire in your visitors to maintain the special nature of the day. By showcasing your product as a way to maintain that feeling of wonder and uniqueness, you can turn newcomers into buyers. 
The Buy
Whether it's at your event, or down the road, the funnel ends at a point of purchase. When leads are turning into customers, you're doing it right. 
Pushing a brand to realize each step of the marketing funnel will help it ensure more purchases, as well as more loyal customers who will repeat buy, and spread more awareness. This is simple progression is the best way to understand the incomparable value an experiential marketing campaign can have for a small business looking to increase its base. 
Grassroots efforts like those that constitute these marketing strategies represent the same spirit as 
The Ferla Vendor Bike is an effective adbike, which is built for small businesses looking to promote products, interact with customers, and grow their brands. It's an ideal starter for any professional looking to realize the marketing funnel, and take a comprehensive approach to an experiential campaign. 
Let's Talk About Experiential Branding
Looking beyond the campaigns and installations — what is the broad goal of it all, and how do you maintain positive growth? Experiential branding is the process of curating how your product lives in the world. 
Modern consumers face a barrage of products and brands, and an overwhelming, never ending scroll of advertisements online and in town. Looking beyond traditional advertising and traditional marketing, brands are also now looking beyond traditional branding. 
How To Break Through The Noise
To communicate effectively to potential customers, and deliver a message that keeps them coming back, an experiential branding campaign must be felt more than seen. How does the product best work, and how can stories of consumers enjoying a product the most get out to the world? The more powerful response someone has to a product, the stronger the brand's impression. 
If a brand can echo any positive response through a combination of marketing experiences, and content campaigns, then those positive reactions will replicate. The more people who get in touch with a brand's values and beliefs, the more will have sensory reactions when interacting with their products. 
Inspiring Loyal Customers
In conjunction with experiential marketing activations and its many facets, experiential branding is all about actively shaping a customer's perception of a product to be positive. The first goal is then to secure a purchase, and the final goal is to inspire returning customers. 
Focusing an experiential branding effort on building emotional relationships is how you prevent a buyer from looking for a cheaper option the next time around. Fostering familiarity and attraction and security all build up in the mind of the consumer, often moving them to prefer a repeat buy. Evoke an emotional response, translate an understanding of your company's core beliefs, and you'll keep the customer. 
Experiential Branding On A Ferla 
At Ferla Bikes, we provide a foundation for companies looking to increase their experiential branding efforts. Centering a service or an event around one of our bikes opens up a world of possible experiences that your customers won't forget. A spontaneous food stand, an interactive product sampling event, and experiential installations are all possible with a Ferla Bike. Just reach out, and we can discuss which bikes are best for gaining an edge on competitors. 
Is Experiential Marketing Effective?
We can talk endlessly about the philosophies and strategies that drive experiential marketing, but at the end of the day, the most important thing is whether or not it works. Looking at the numbers, it appears that it absolutely does.
Here are some of the more convincing experiential marketing statistics we've found that point to the efficacy of experiential marketing. 
85 percent of consumers are more likely to purchase a product or service after attending a live marketing event. (EventTrack 2018)
91 percent of consumers say they have more positive feelings about brands after attending events and experiences.  (EventTrack 2018)
75 percent of B2B marketers agree that experiential marketing has proven to be the most successful marketing tactic. (Agency EA)

41 percent of marketers believe that events are the single-most effective marketing channel over digital advertising, email marketing, and content marketing. That number marks a 32 percent increase since 2017. (Bizzabo 2018)

64 percent of Gen Z consumers, and 72 percent of Millennial consumers believe that brands should provide personalized experiences.  (Adobe)

88 percent of companies use their event marketing data to inform wider marketing strategies, and make other important tactical decisions. (Freeman)

The most successful businesses are spending 1.7x the average marketing budget on live events. (Bizzabo)
The numbers don't lie. Traditional marketing is old news. Magazine advertisements, billboards, and even commercials fail to carry the same weight they used to. Considering ad-free streaming services, ad-blocking VPNs, and fast-forward buttons, you can't count on a customer sitting through an entire spot. 
Experiential marketing is the future, because it's personal and shareable. Traditional marketing promotes practices that result in a consumer passively receiving a company's message. With an experiential approach, however, a brand can engage with consumers directly and create memorable experiences in the process. The strength of the feelings of connection that result from these engagements is apparent in the convincing statistics we're sharing here. 
Ferla's Favorite Experiential Marketing Success Stories
The Ferla Family is proud to have collaborated with a number of household name brands over the years to create unforgettable experiential marketing campaigns. Among these notable corporations, some of the most well known include LuluLemon, Tiffany & Co., Sugarfina, and Jameson.
When we captured their interest, each of these rands had a different story to tell. So, we worked with each to build a custom Ferla Vendor Advertising Bike, outfitting them with each brand's trademarked colors, and logos. Practical designs and upscale parts guide our output of vendor bikes that please the eye, and perform well at experiential marketing events. 
Looking back on such events, these are some of our favorites: 
The LuluLemon Ghost Races
Ferla's campaign with LuluLemon featured the outpouring of a fleet of fully-branded vending bikes decked out with promotions for the Ghost Race in Chicago and New York City. Brand ambassadors used our Ferla Vendor advertising bicycle to hand out free merchandise to runners as they crossed the finish line of the storied 8K race. There were also reps handing out promotional gear, and water.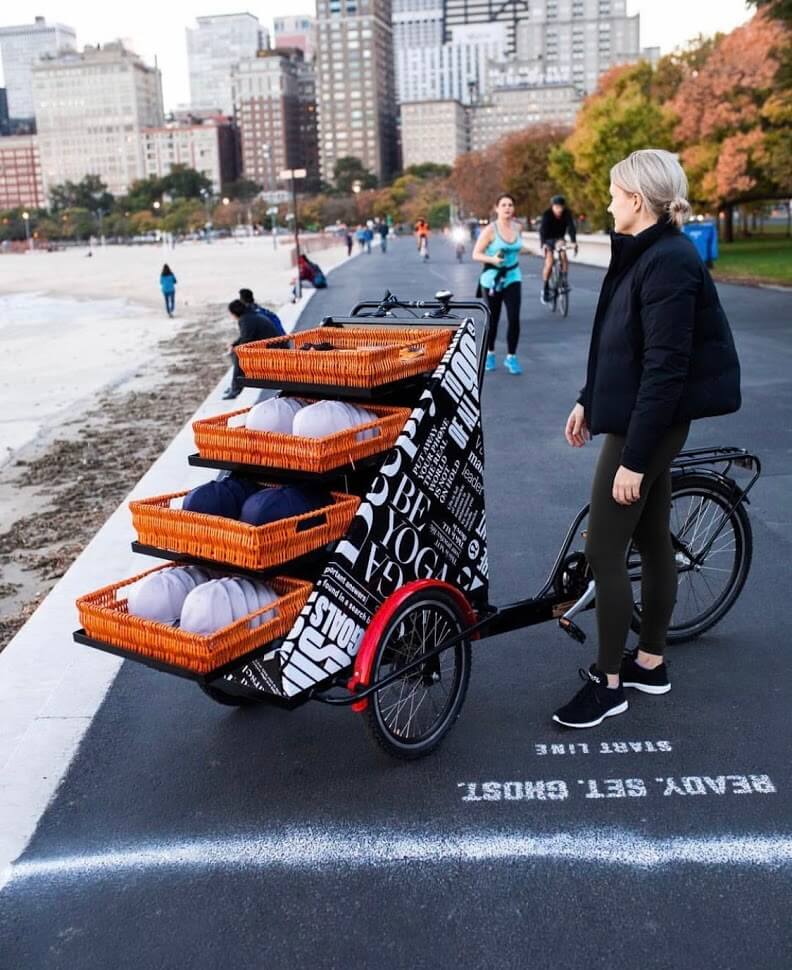 Helping runners replenish while promoting their brand, they captured an ideal experiential balance. Everyone involved had a positive experience with our convenient and stylish carts, and LuluLemon was able to elevate that for their own brand. 
Sugarfina's Mobile Pop-Up Shop
Sugarfina's order of Ferla Bikes were some of the most fun our builders ever put together. The gourmet candy shop purchased a Ferla Grande, which is our largest coffee vending bike. To elevate and customize the purchase, we installed a philodendron leaf canopy to the display, offering shade and accent for the colorful candy to pop.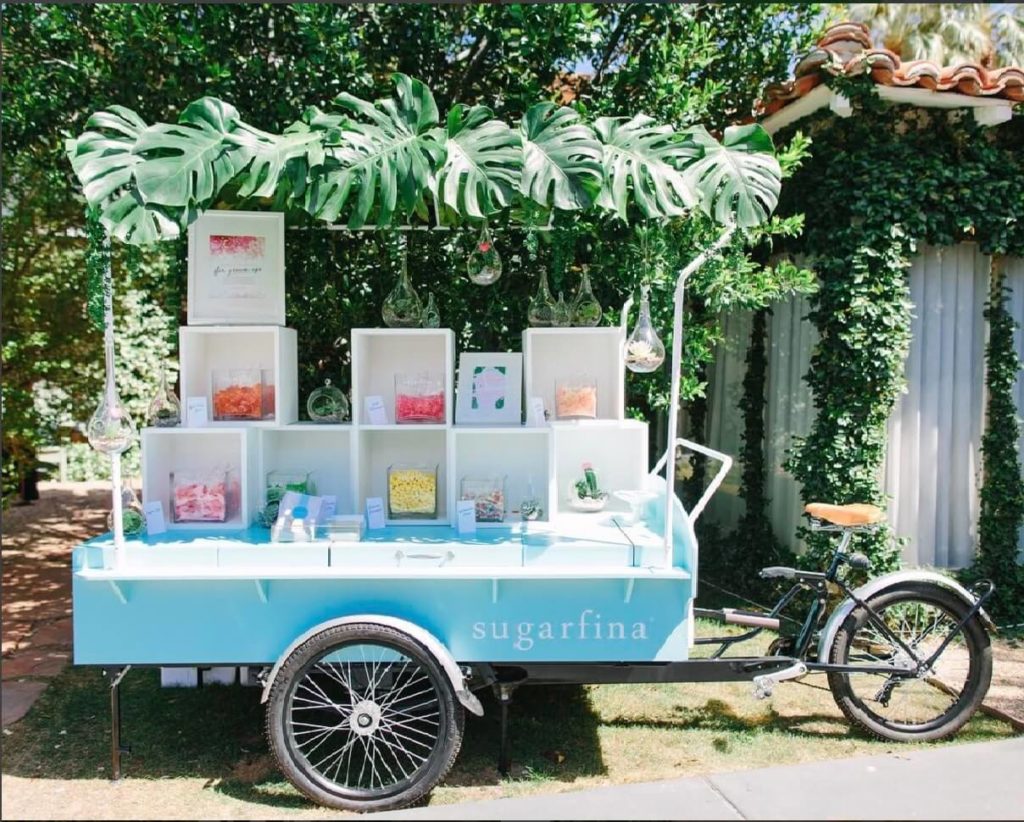 Sugarfina was so happy with the pop-up they had with the Ferla Grande, they followed up with a purchase of a Ferla Vendor to use as a billboard bike and show off even more sugary confections at more events. The bikes and displays captured pedestrians attention, and built sales for both us and Sugarfina, and helped each company develop new loyal customers. 
The Ferla Ice Cream Bike
Le Café de la Plage is a decadent ice cream shop based in Malibu, and when we met, they were looking for new ways to drive customers in. We worked together to create the Ferla Ice Cream Bike, which brings upscale ice cream to eaters in style.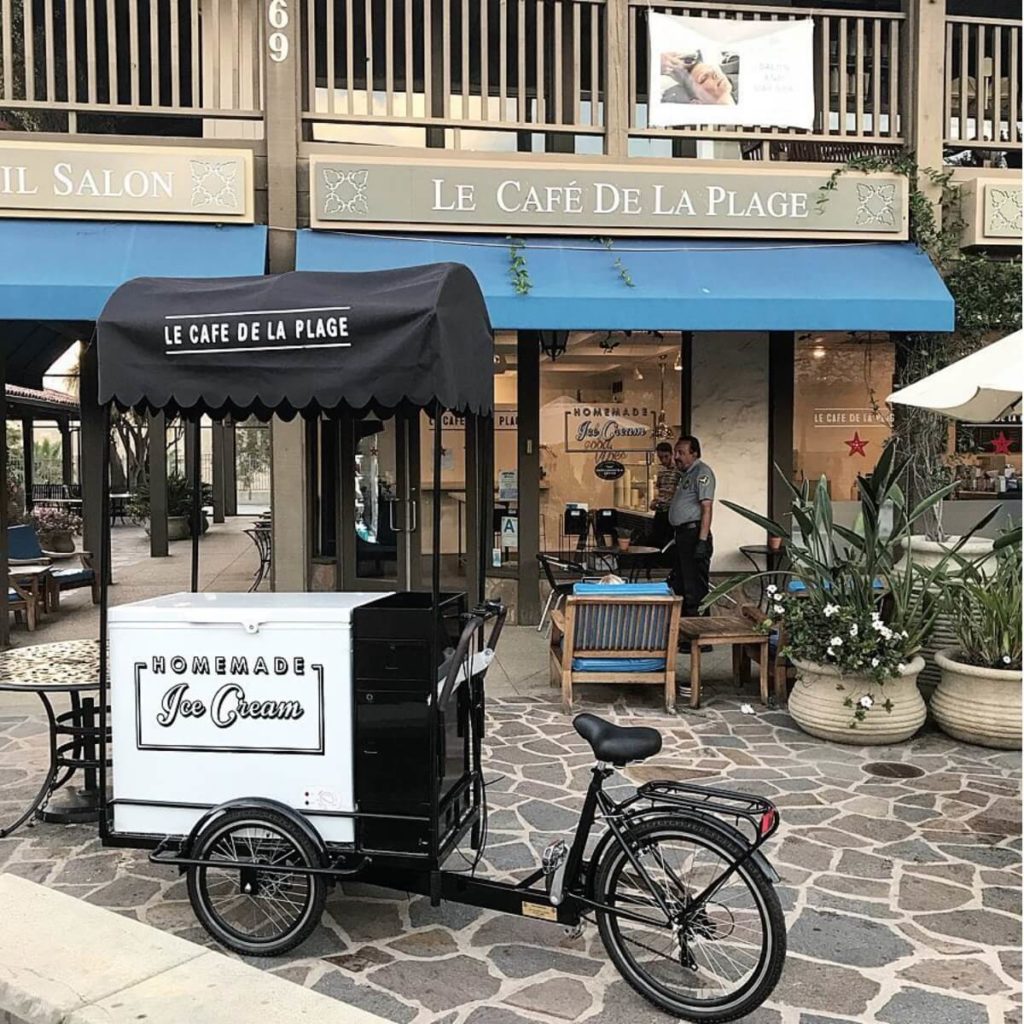 The design featured delightful French accents to complement the brand, and a classy black-and-white color scheme. We included La Plage's logos and decals on a custom canopy to capture peoples' eyes, and it's worked. Even when the bike isn't out riding, it draws looks sitting parked outside the shop. 
Working With Ferla
Looking to kickstart your experiential marketing campaign in style? 
We offer customization and personalization on different levels, and some of our featured services include adding logos to canopies, wrapping entire bikes in a brand's colors, and creating our most nique designs and experiences for your brand. 
Experiential marketing FAQ
Just a few of our awesome clients