Brand New Ice Cream Bikes for Sale are Ready to Roll Your Business.
All-New 2023 Ferla Ice Cream Bike & Ice Cream Carts For Sale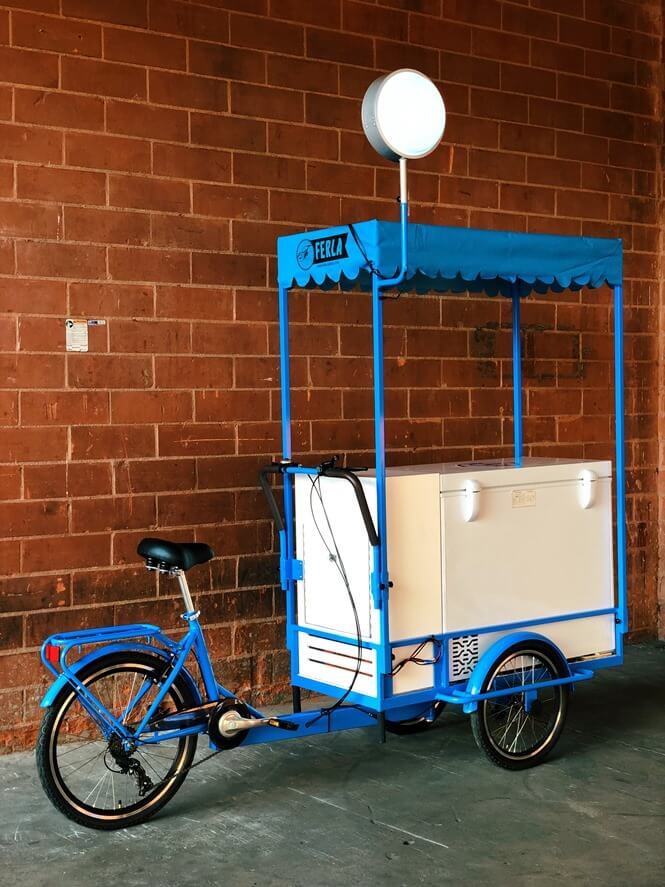 Introducing the brand new, top of the line, 2023 Ferla Ice Cream Bike. Equipped with a heavier duty and Powerful Temperature-Controlled Freezer, this new model cannot be beaten. This model is also environmentally friendly with its all-new Solar Panel feature. Is your freezer running low on charge? Use the power of the sun to fuel it back up in an easy and eco-friendly way! This new ice cream cycle is loaded with amazing new features and improvements on the features you already know and love. Heavier duty frame and Wheels for better stability and durability, LED strip lights, LED logo signs, battery indication panels, USB Charge, and so much more!

Tags: ice cream bike, electric ice cream bike, mobile ice cream cart, ice cream cart, ice cream pushcart, paleta cart, commercial bike, ice cream trike, gelato, frozen produce, refrigerated produce, beverage bike, cold brew bike, nitro cold brew bike REQUEST A QUOTE Specs Watch a Video Feature Specs
Temperature Controlled Freezer/Fridge
Heavy Duty 50 Amp Battery
Heavy-Duty Frame and Wheels
Solar System (Optional)
LED Strip Lights
LED Logo Sign (Optional)
Electric Bike/Pedal Assist (Optional)
Personal/Cash Lock Drawer
Ventilated Disc Brakes
Stationary Lock System
Original Shimano Equipment
Hand Brake
Easy-Removable Canopy
Bike Dimensions
Length: 97 in
Width: 35 in
Height with Canopy: 82 in
Height without Canopy: 47 in
Freezer Dimensions
Length: 33 in
Width: 15 in
Depth: 24 in
Ferla Ice-Cream Bike Order now Request a Quote Finance your ice-cream bike from $110/month Request Financing Photo gallery All-New 2023 Ice Cream bike

Have you ever dreamt of spending your days in the sun being your own boss, selling ice cream out of the greatest ice cream tricycle on the market? Well, your dreams are about to come true with Ferla's All-New 2023 Ice Cream Tricycles! This new model is the perfect vending motorized cart for all your frozen treat needs! Sell pre-packaged ice cream, dip ice cream, gourmet ice cream, soft-serve ice cream, or even gelato! With temperature control, you can even turn the freezer into a refrigerator and sell chilled produce such as kombucha, chilled drinks, cold brew, and more.

The Best Ice Cream Tricycle/Cart for Sale: Innovative, Well-Made, and Affordable.

We can't forget to mention that even though this new ice cream vending bike is even better than the first we are still offering it for the same great price of $4,999! At that price becoming your own boss and living your dream is just a Ferla Ice Cream Bike's length away!

A New Ice Cream Bike comes equipped with improved and all new top of the line features. The bike's kit and improved temperature controlled freezer, frame, battery, wheels, and new features such as an LED logo sign, LED strip lights, Solar system, and more! Read all about them below.

You can leave your application simply by filling out the form below.

So, what exactly makes our ice cream bike so special?

Unlike traditional cars or motorcycles, the Ferla Ice Cream Bike was developed to complement the environment by reducing the amount of CO2. It is also the first of its kind to offer a battery powered Freezer to ensure your produce stays frozen or chilled all day long!

The Ferla Ice Cream Bike is Self-Contained & 100% Sustainable

Perks:
Easy to park
Aesthetically Pleasing
Innovative
Noiseless
Creates 0% pollution
100% Sustainable
Features:
Temperature Controlled Freezer/Fridge
Heavy Duty 50 Amp Battery
Heavy-Duty frame and wheels
Solar System (Optional)
LED Strip Lights
LED Logo Sign (Optional)
Electric Bike/Pedal Assist (Optional)
Personal/Cash Lock Drawer
Ventilated Disc Brakes
Stationary Lock System
Original Shimano Equipment
Hand Brake
Removable Canopy
Our Ice Cream Bike has some special benefits: Heavy Duty Metal Frame

The 2023 model has a new and improved heavy duty metal frame. Not only is it more durable but it is also longer and wider which gives the model more stability than its predecessor. Your bike is sure to stay secure with this new frame!

The heavy-duty frame allows the ice cream trike to hold you and up to 300 extra pounds of equipment.

Get your ice cream and gelato bike in white, black, blue, or yellow! Or custom order it in red, orange, green, purple, or milk colors! (Custom orders take approximately up to 45-60 days to complete).

Commercial Multi-Purpose Refrigerator/Freezer

All-New Temperature-Controlled Freezer is better than ever! Bigger, Wider, and more secure this freezer is sure to get the job done! Just like the freezer that came before it, the temperature is up to you. Keep it at freezing or refrigerated temperatures.

And now you will always be able to know if your freezer is running low on battery with the battery indication panel. It will let you know when it's time to charge back up! And while you charge your freezer you can also charge your phone with the battery indication panel's complimentary USB port.

You can customize your freezer with a full wrapping or sticker decal of your very own logo! (Full Freezer Wrap or sticker decals take approximately 5-10 business days.

Heavy Duty 50 Amp Battery

The heavy duty 50 amp battery is sure to get your freezer running before you can say "Ice Cream Bike"! Charged using a standard electrical socket, this battery lasts up to 12 hours or 16 hours with Solar System Upgrade. If 12 hours isn't enough time, you can charge while you work! The battery is stored in a secure compartment and the charging port has been moved for easier access.

Battery Charging Adapter (OPTIONAL)

A brand new, optional, feature is the battery charging adapter that is compatible with 110 or 220 V electrical sockets. The purpose of this adaptor is to allow you to run the temperature controlled freezer without the need of the heavy duty 50 amp battery. You may also use this adaptor to plug your freezer into a standard electrical outlet whilst the freezer's battery charges back up.

Solar Panel

When you are running low on battery, charge up the environmentally friendly way with the All-New Flexible Solar Panel System. Lies comfortably and subtly on top of your bike so getting energy from the sun is a breeze. Like the temperature controlled freezer, you can always know how much solar charge your bike has with the solar indication panel.

Electric Motor/Pedal Assist (Optional)

Go pedal free with the optional pedal-assist feature. The 250W rear-hub electric motor fits perfectly and subtly under your passenger seat. The motor's 36V rechargeable lithium battery allows you to go pedal-free (using low torque or high torque) for up to 25 miles at 20MPH on a single full charge. With the pedal assist mode the bike would also be equipped with a monitor that shows you your mileage, speed and more.

(The Lithium Battery that powers the electric motor is separate from the heavy duty 50 amp battery that powers the temperature controlled freezer)

LED STRIP LIGHTS

An all-new feature meant to brighten your ice cream cart! Subtle and delicate, these LED strip lights will add the perfect amount of interior lighting to your ice cream bike. Illuminate your mobile ice cream business day or night!

LED Logo Sign (Optional)

Just like its LED strip light counterparts, this LED logo sign is a brand new feature to the Ferla Ice Cream Bike. Round and illuminating, add your logo to this sign and let it shine bright to alert your customers you are near and to add a bit of dazzling personality to your bike! (Logo decals takes approximately 5 business days).

Heavy Duty Wheels

No terrain is too tough for the Ferla Ice Cream bikes to new heavier duty wheels. The new heavier duty wheels give the bike more stability and durability. These wheels will let you ride your ice cream bike anywhere with ease!

Rear Storage Access

All of your extra equipment and necessities are even easier to reach than before with the improved rear storage access.