How To Start a Coffee Cart: A Guide To Starting Your Own Business On Wheels
So you're thinking of starting your own mobile coffee shop, hmm? Great idea – after all, the profits are great, startup costs are low, and with an ever-growing market, the possibilities for growth are endless!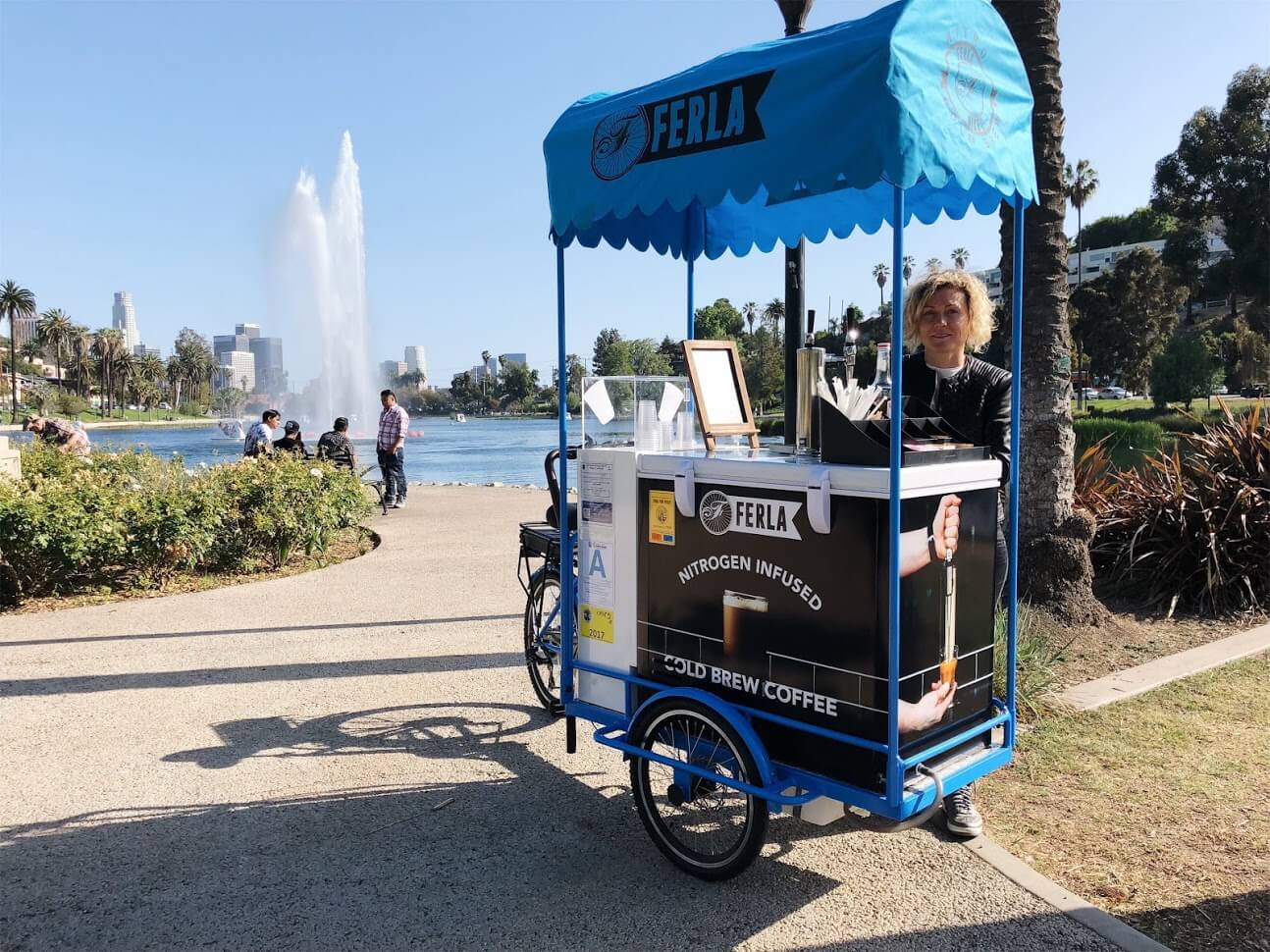 We've created a comprehensive guide to starting your own coffee cart business. While each and every coffee varies, every aspect to consider before going into the mobile coffee business is listed – be sure to give each checkpoint some thought before proceeding forward.
First, check out some of the pros and cons of running your own coffee cart below:
The Advantages and Disadvantages of Running a Coffee Cart Business
A Coffee Cart is a great way to break into the coffee industry – with minimal startup costs, it's a great alternative to starting your shop at a brick and mortar location.
Coffee is also a great product to sell. Over 60% of americans drink at least one cup of coffee per day, and with so many people on the run, being a mobile cafe gives you the opportunity to cater to those who may be running from meeting to meeting or heading to the office. Coffee also has extremely good margins, so your venture will prove to be very profitable.
Opportunities & Advantages of a Coffee Cart
– Low start-up costs: Your mobile coffee business can be started with as little as $5,000 up front; Ferla Bikes offers a full fleet of coffee bikes starting for as low as $2,499.
– Coffee is a growing trend: The number of coffee drinkers continues to rise year after year, and with true connoisseurs acquiring tastes for specialties such as nitro cold brew and even "bulletproof" coffee, the gaps to fill in the market have never been bigger.
– Great Profit Margins: Gross profit margins for coffee can be as high as 90% – meaning that there is plenty of opportunity to make a buck (or several, which you will!).
– A year round product: Coffee can be served hot or cold, and even in its warm form, it still sells decently on a hot summer day. No matter the time of year, everybody can benefit from a good caffeine kick.
– Flexibility: You have the option to run your coffee cart as a side project, or you can go all in and make it into a career. You can choose to only serve at events and festivals, or you can take to the streets and serve along the busiest avenue of your city. The options are endless, and the choice is yours.
Disadvantages of a Coffee Cart
– Competition: While there are more people drinking coffee than ever, coffee is still considered a commodity. To stand out, you will need to differentiate yourself. Specializing in a specialty or niche of the coffee market is not enough; you must offer a superior product, charge a lower price, or offer the best service and experience, if not all three, to make your business a true contender. Have a solid plan and vision to achieve this.
– Skill: What will make your customers choose you over making their own coffee at home? Well one reason is skill – a truly good barista will know their product and execute once it comes to making a coffee. Practice your skills, as this factor alone could make or break you in the coffee industry.
– Brand loyalty: Many coffee drinkers already have a preferred outlet that they buy their morning brew from. What will you do to convert them and earn their loyalty?
While there are a few challenges, the time to start a coffee venture has never been more perfect than now. With proper research and execution, you now have a great opportunity to break into the market and turn over a profit.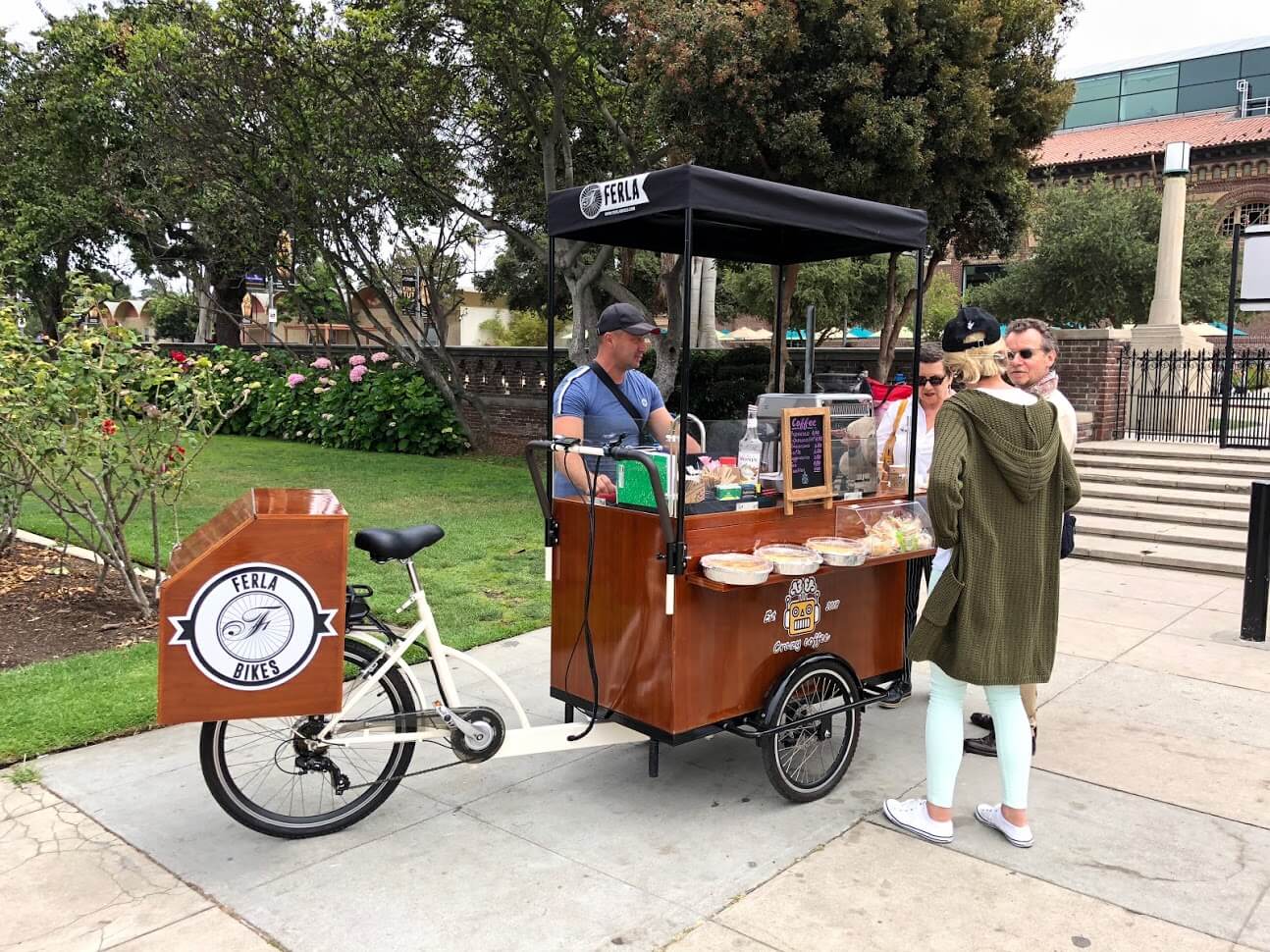 1. Research Your Local Laws and Regulations; Secure a Permit
The laws and regulations from city to city, county to county, and state to state can vary widely in very miniscule ways. The best way to guarantee that you operate within the law is to contact your local Health Department.
You'll want to consult and obtain information on the following:
Your city's street vending regulations
Requirements on how to prepare and store the type of product you plan to sell
Commissary requirements
Required size and equipment for your vending cart
The carts' clean water and grey water capacities, if applicable
Hygiene requirements
Inspection of your equipment prior to approval.
Once you've done your research and consulted with your local Health Department on legal requirements, it's time to search for a vending cart that will meet your needs. Make sure you take into consideration every aspect that the Health Department mentions; otherwise, you may end up with an expensive piece of equipment that is not legal for vending. Ferla Bikes provides specs for any bike you are interested in, so that you can consult with your Health Department prior to investing in the cart.
A note on commissary requirements: Some local municipalities will require that street vendors prepare their goods prior to going out and selling it on their food trucks, however, this is not as commonly seen when selling coffee. Make sure to ask your Health Department if this will be a requirement for your type of business.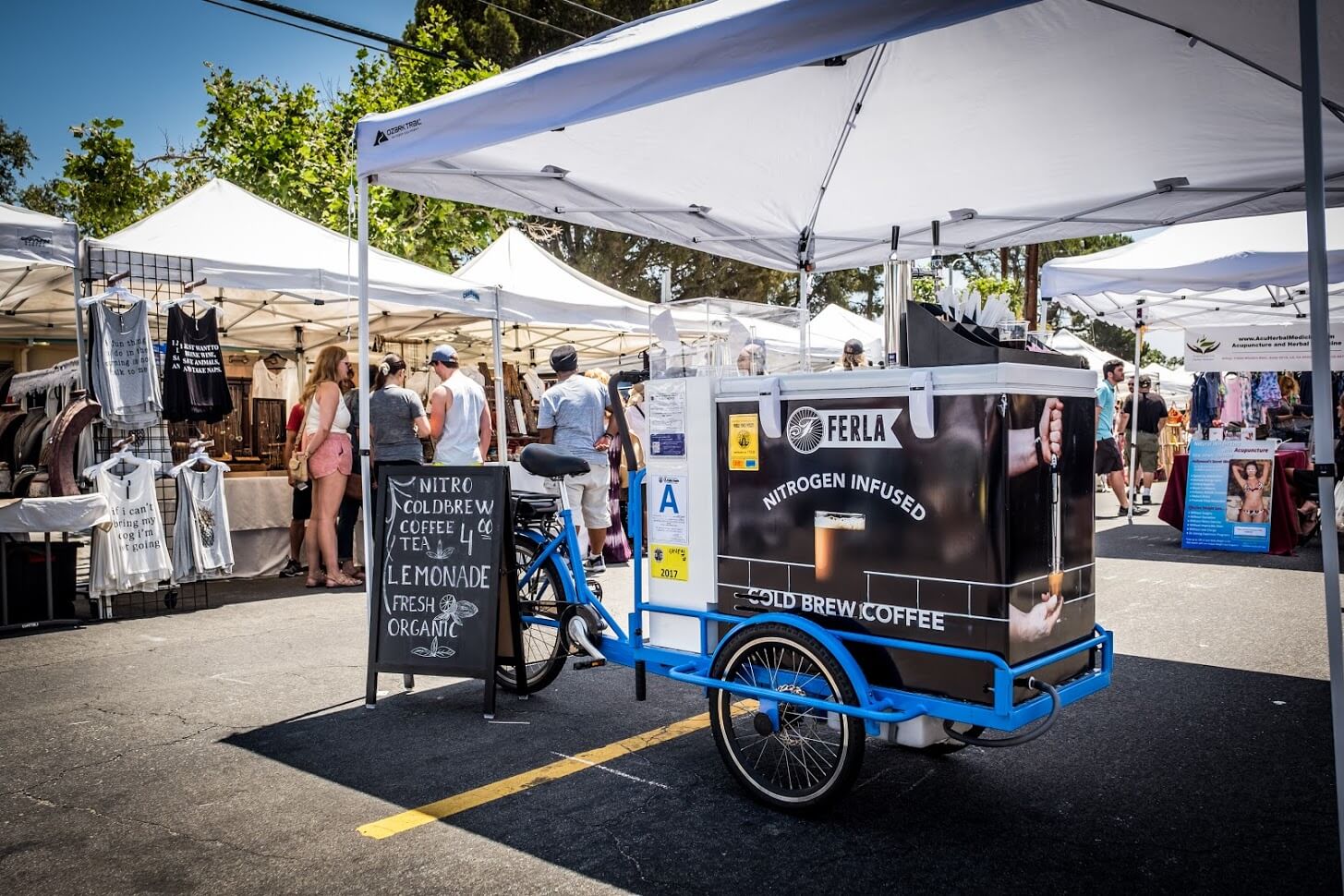 2. Research Your Market
While the majority of your business plan may end up needing correction after experimentation, it's still a great idea to go in having an idea of how to operate. Consider the following:
Target Market:
Your target market is who you are planning to advertise, cater, and sell your product to. If you don't quite have an idea of who they might be, picture your ideal customer and ask the following questions about them:
Where are they located? Where do they hang out?
What do they like? What are their beliefs, passions, and hobbies?
What will you offer them, that your competitor is currently not?
Location:
Having a mobile coffee cart means that you can test out several locations at any time, but it is still a good idea to have a set location to start at. Check out locations that show great returns below, and consider your target market when choosing:
Business parks
Corporate campuses
University campuses
Touristic locations
Stadiums and sport centers
Farmers markets
Outdoor events
Outdoor concerts
Parking lots
When choosing a location, also remember to keep the proximity to the storage location in mind. If you choose to use a vending bike, rather than a cart, then you may be able to travel to further locations, especially if using an electric pedal-assisted vending bike.
Competition:
In any business, it's important to consider things from your competitions point of view. This will be important when writing your business plan.
What's your competition doing right?
What are they doing wrong? How could they improve on that?
Where are their customers coming from? (think location wise, but also think about which of their marketing efforts their customers find them through).
What do their customers buy the most?
Customers may choose you if you offer a less expensive but superior in quality product, however, they will also consider the experience of buying from you, as well as what your brand stands for. Consider all of this when analyzing your competitors.
Menu and Pricing:
Your menu is an essential part of your business. What you list on your menu will determine everything from what type of equipment you will need to invest in, to how you'll fare against your competitors.
Write everything that you plan to serve down, and then remember to list out the ingredients that will be used in each drink. Consider the following:
What will your signature drink be?
What will your signature snack or food offering be?
Will you offer any seasonal specialty drinks or snacks?
Why will your customers choose you over a more established brand?
What menu options will you offer (almond milk instead of regular milk, etc.) that will help each of your customers feel specially catered to?
Suppliers:
Once you've created your menu, it is the perfect time to source out suppliers for the ingredients you plan to you. Shop wholesale, and buy product in bulk. If possible, see if you can try a sample before making a deal with any supplier.
You will also need to source out materials such as cups, lids, straws, etc.
When sourcing out any supplies, keep your costs low while making sure the product meets your standards for branding, quality, and taste.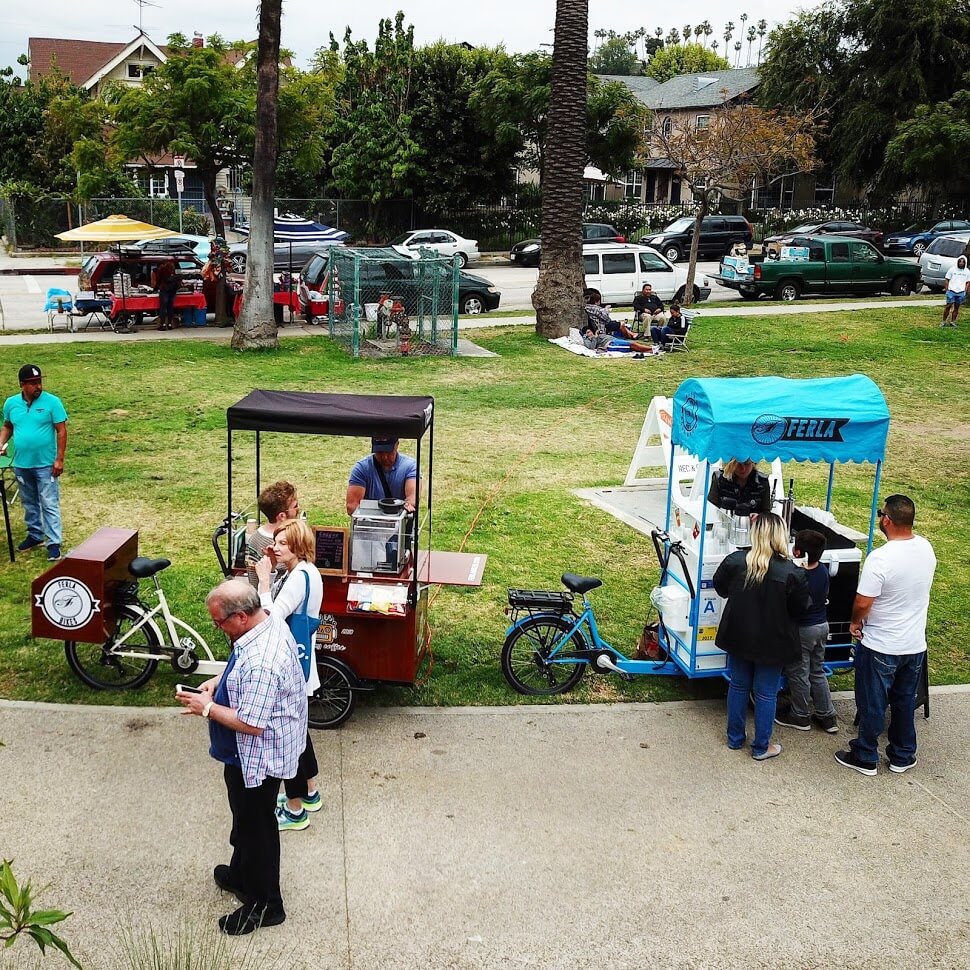 3. Write Your Business Plan
Writing a business plan may be a boring part of starting your coffee cart, but it is essential to make sure you have a somewhat thorough idea of your expenses at any point during the venture. Consider the following:
Budget
Legal expenses for obtaining licenses and permits
Price of your coffee cart and other equipment
Liability insurance; workers compensation (if applicable)
Operational cost for the first 1-2 months
Initial stock costs for the first 1-2 months
Incidental costs (cups, lids, plates, napkins, foil, straws, etc)
Marketing & advertising expenses
4. Define Your Marketing Strategy
Planning a marketing campaign prior to launching your coffee cart will ensure that you have customers from day one. A few ideas for a pre-launch campaign:
Advertise on social media; give out a coupon to track the campaign's success
Contact your local newspaper or TV station to issue a press release
Partner with other local businesses to utilyze word-of-mouth marketing
Make your grand opening go viral through an irresistible offer – for example, offer a free espresso shot to the first 100 customers in line, etc.
Once you opened, make sure to continue to market your business, especially online. Stay active on social media (instagram and facebook are two of the best for coffee shops), sign up on yelp, and make sure you have a website where customers can view your full menu!
5. Define Your Vision, And Create Steps to Achieve It!
Write your vision in a single statement. Do you want to stay independent and eventually get into catering at local events? Hoping to expand into a national chain someday (hello, Starbucks!)? Make your objectives clear, and then break them down into smaller goals that you can work to meet daily. Slowly but surely, your ultimate business dreams will begin to manifest.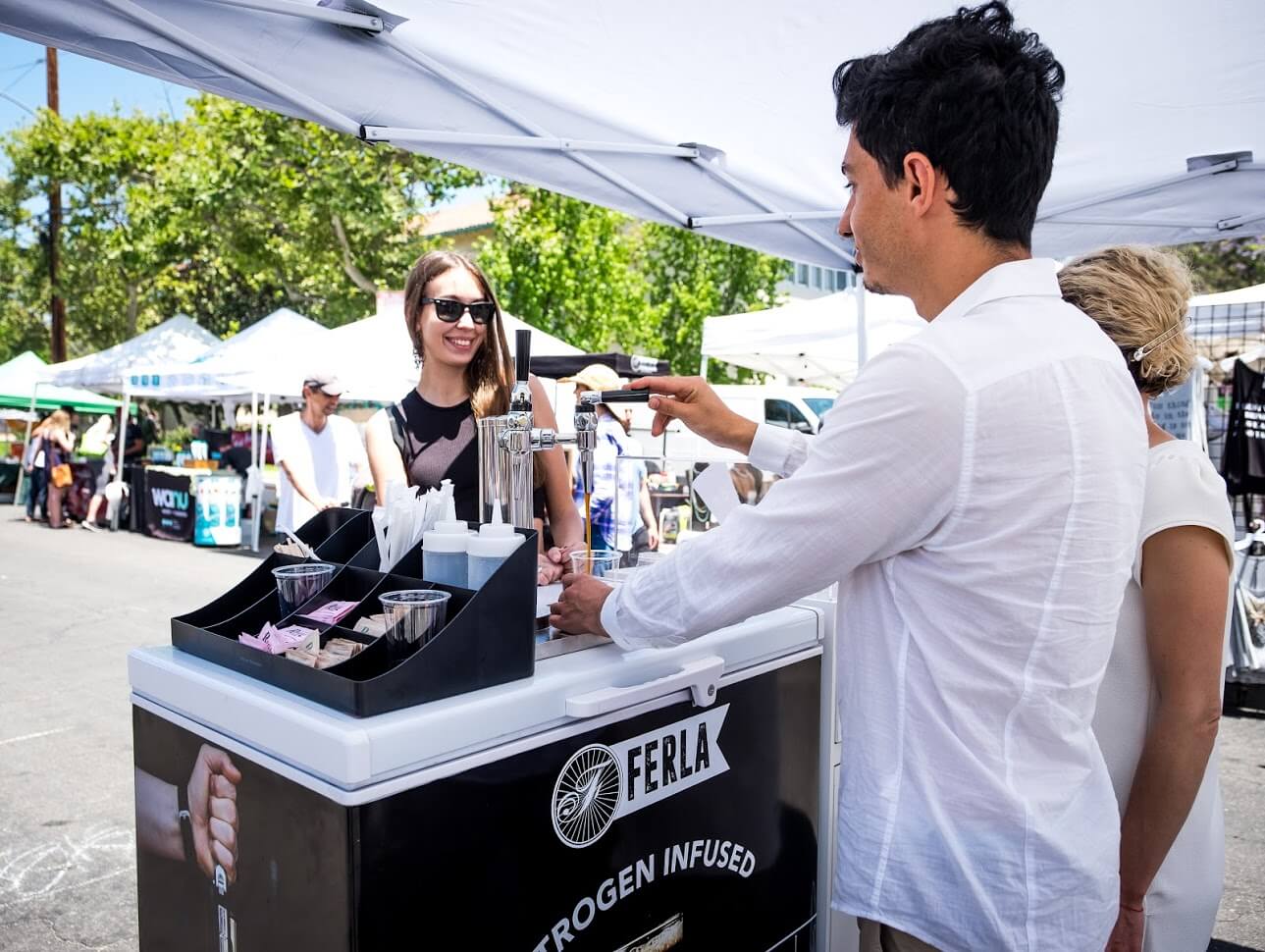 Ferla Bikes Love: User Reviews that Win Hearts
"We purchased 4 MINI carts from Ferla. Their commercial sales emailed us an estimate while we had them on a Zoom call discussing a client's project. They are small team but they bent backwards for us to meet a tight schedule and vinyl wrap all the carts on time. Thank you."
— Hyeon K.  ★★★★★
"Purchased My first Coffee Bike and I cannot say how happy I'm. I purchased directly from the owner Feras. He inspired me to open my own Mobile Business. Uhhuu I'm not working for Anyone! I have my own small Business. I love it. About Electrical Coffee Bike: Superior Quality. It's actually made from real wood which makes this Bike Standout! Today, I made my first Buck. I love it!!! Thank you guys a lot! Looking forward to purchase my second Coffee Bike In Los Angeles."
— Yulia K.  ★★★★★
A few reviews from instagram:
 

 

View this post on Instagram

 
 

 

View this post on Instagram

 
 

 

View this post on Instagram

 
All in all, running a coffee cart business will come with its own set of challenges, but it will also present you with the opportunity to be your own boss and create your own empire, however big or small you want that empire to be. Keep your vision clear and remember why you started along this path in the first place.
Looking to learn more about what it takes to succeed in the mobile coffee industry? Reach out to us today to learn more about the business and how easy it really it to start your own mini coffee empire. Your future venture awaits!