The Most Advanced Coffee Bike in the World: Ferla X
Introducing the Out of this World Ferla X
Have you ever wanted to experience one of the greatest products on the planet? To see it, touch it, use it? Well soon you can do all of that and more with the Ferla X. The Ferla X is unlike any coffee bike this planet has ever seen. It is so much more advanced than it's other coffee predecessors and competitors that it almost seems extraterrestrial. Ferla X has been optimized for the efficiency of its operator. With a sink, extensive storage space, and the option to add a battery powered freezer, the Ferla X has features unlike anything else. Of course, no one can make the planet's best coffee bike all on their own. The out of this world idea came from you, our clients.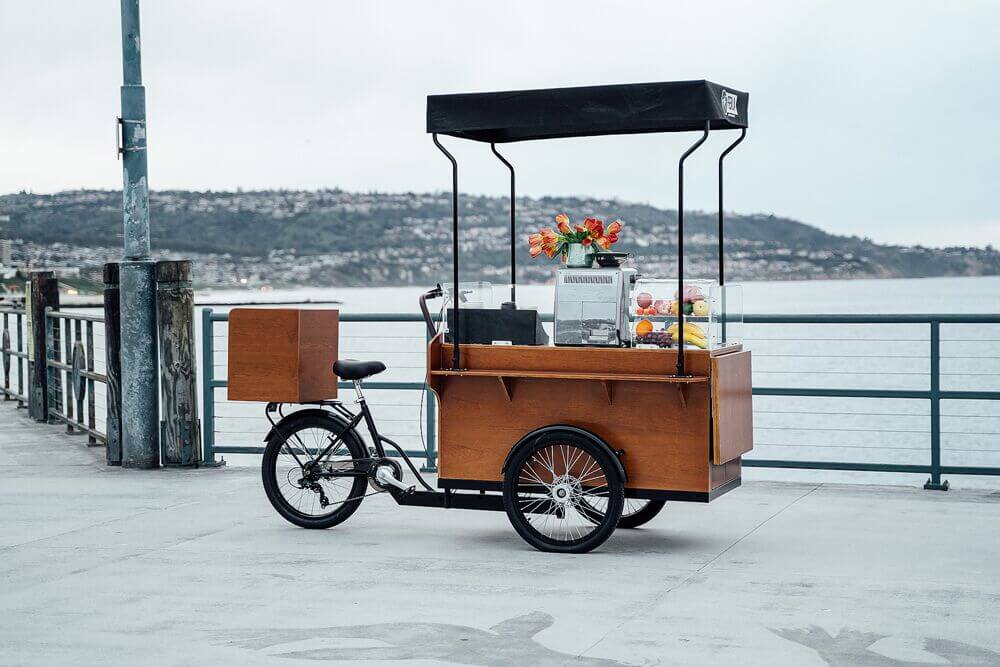 Ferla X's Earthly Beginnings
Before I can elaborate more on what makes this coffee bike unlike any other I have to journey back to the beginning. Before there was the Ferla X there was the Ferla 2. It was everything you could want in a coffee bike. It had a sink, storage, electricity, and it's design was sleek and unique. People of Earth were using it to make their small businesses grow; with our Ferla 2 the universe was the limit!
But there was just one problem our clients felt like there was something missing. Their coffee bike spaceship was about to reach the edge of the universe; the limit was growing near. The limit was the absence of a temperature controlled freezer. Many of our clients needed a place to put their chilled ingredients and produce. They needed a space for their milk, ice, cream you name it!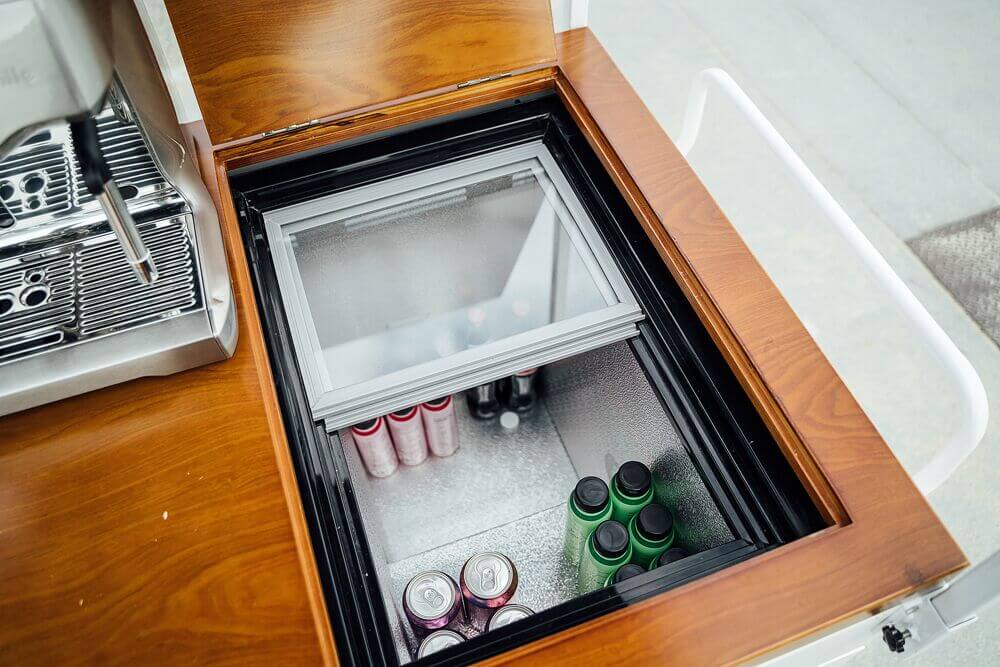 They asked us if there was a freezer on the market that could fit inside the compartment box but we had no luck finding one. Our clients were making their needs and voices heard and we wanted to deliver. At first it seemed impossible to create a bike that had both a sink and freezer. A hybrid. A literal extraterrestrial. But here at Ferla Bikes we don't take NO for an answer and we make sure our clients have everything they could possibly need to take over the universe with their businesses. We put our heads together and we created the perfect temperature controlled freezer to install into our Ferla bikes.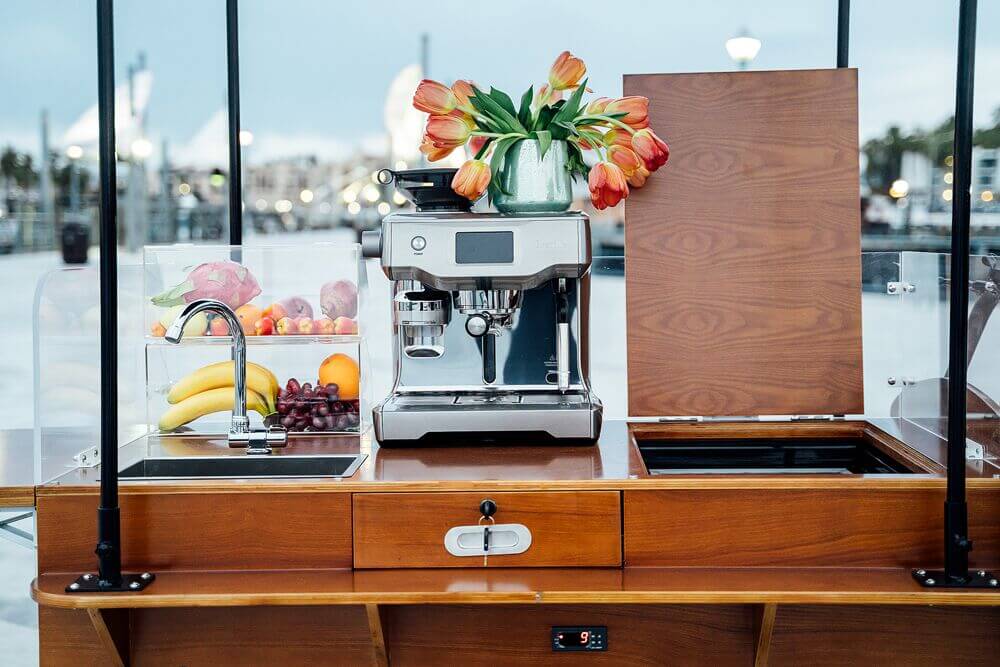 Birth of an Extraterrestrial
Thus, the creation of the Ferla X was underway! We created a freezer, now we needed a bike that would make our clients proud, happy, and successful to go along with it. We didn't want to just put the freezer onto the Ferla 2. We wanted to create something that would go to infinity and beyond. Why stop at just the freezer? The Ferla X has features that no other coffee bike can offer.
Learn more about these features and Ferla X's release by signing up for the mailing list!
Efficiency: We placed the sink, cash register, and freezer right next to one another and facing the vendor's direction so that you can be as efficient as possible. The need to go back and forth between the sides of the bike is no longer! Add an espresso shot, grab ice from the freezer, and make change at an inhuman speed.
Durability: Our thicker plywood frame helps make Ferla X the most durable vending bike for sale in the world. The new frame is built to support the weight of your entire mobile restaurant set-up. Plus, we didn't forget to add our waterproof varnish to the finish. Ferla X is also equipped with new wheels: heavier duty tires and a larger rim to help support the large frame. Never worry about your bike rolling away!
Space: Ferla X comes with a new & improved rear storage unit: a cubic shape increases your options for storage capability, and the flat top is perfect for displaying condiments when you are stationary. Lock up your valuable goods with our new & improved storage lock for the front storage unit.
Advanced Plumbing: A foldable faucet, removable basin, and the option to add hot water heating makes our Ferla X one of the most competitive sink-equipped vending bikes on the market.
Power: The Ferla X is even more powerful than the Ferla 2 with the all new powerful 750W Motor! Engineered to take on the weight of all the equipment you need to be successful! This new motor won't let anything bring you down.
Sustainable Energy: The flexible solar panel roof will allow you to run your freezer for up to 15 hours all while using environmentally friendly and sustainable energy. Who knew the sun could keep things chilled!
The Ferla X also has some of the Ferla 2's classic features like the extendable side table, display ledge, and the option to add pedal assist to make moving your bike easy so you can spread your business all over the planet!
Landing Soon
The Ferla X is so advanced that at first glance you might confuse it for a coffee spaceship and it is landing soon! We are so excited to get this out of the world product to you. We could not have created this without the ideas of our clients and we hope it's everything you asked for and more! Our mission here at Ferla is to break through the limits of what people think is possible. At first the thought of the Ferla X seemed like a distant dream but with handwork, passion, and dedication we have created a bike that will help you and your business make the universe the limit.