How to Start a Hot Dog Cart Business
If you're looking for a simple yet cost-effective business venture, setting up a hot dog cart business is a terrific option. It's less expensive to start than many other industries, lets you work almost anywhere, and can be done on your own time. In fact, depending on where they're located, hot dog vendors can earn as much as $5,000 to $16,000 a month.
With that said, there's a lot to do before you jump headfirst into hot dog vending. Fortunately, we've created a complete guide to help you understand everything from start to finish. From permits and licenses to buying the right equipment, following the right steps can make all the difference when it comes to starting a new enterprise.
Let's take a closer look at all the things you'll need to do in order to start and run a hot dog cart business of your own.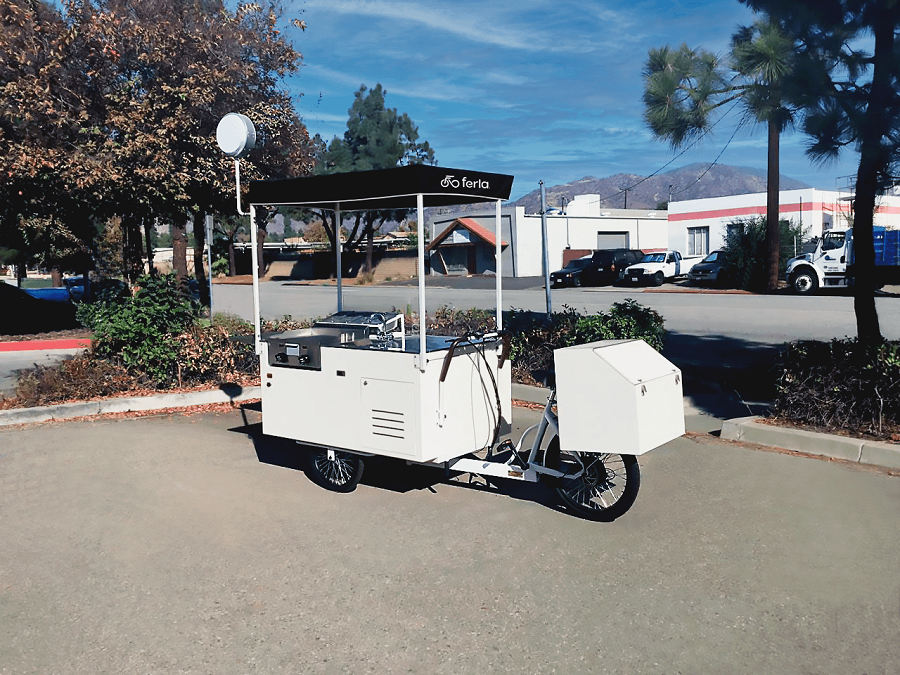 Steps Towards Owning a Hot Dog Cart
First and foremost, check if you're located in the right environment for a hot dog stand. If you live in a college or tourist town, or an area with lots of families, then you're already on the right track. Learn more about all designated vendor areas in your city for a better list of options.
From there, research all licenses and permits that you'll need before starting your business. Learn about health department requirements and local laws regarding vendors and signage. The more you know ahead of time, the more likely you can avoid the potential hassle of fines and additional fees.Most states will also require you to pre-cook your food in a commissary; a rented commercial kitchen space used by food cart and truck vendors. This not only provides you with more space and resources but also prevents the risk of cross-contamination as opposed to preparing the food at home. Learn where they're located in your area, and find resources that can help you gain entry for a reduced price.
Address all the Legal Aspects

As with any food service business, you need to meet several legal and health-related requirements before you start selling hot dogs. One of the first and most important steps is to apply for a permit at your local health department. During your visit, be sure to ask them for a full rundown of:
Equipment requirements

Cleaning and storage requirements

The food you're allowed to sell

Local commissary recommendations
Your next step is to reach out to your county clerk and start the process of filing your business. Double check with them to see whether or not you need an employer identification number. If not, then your social security number will work just fine. You should also ask about getting a sales tax number if you intend to charge taxes.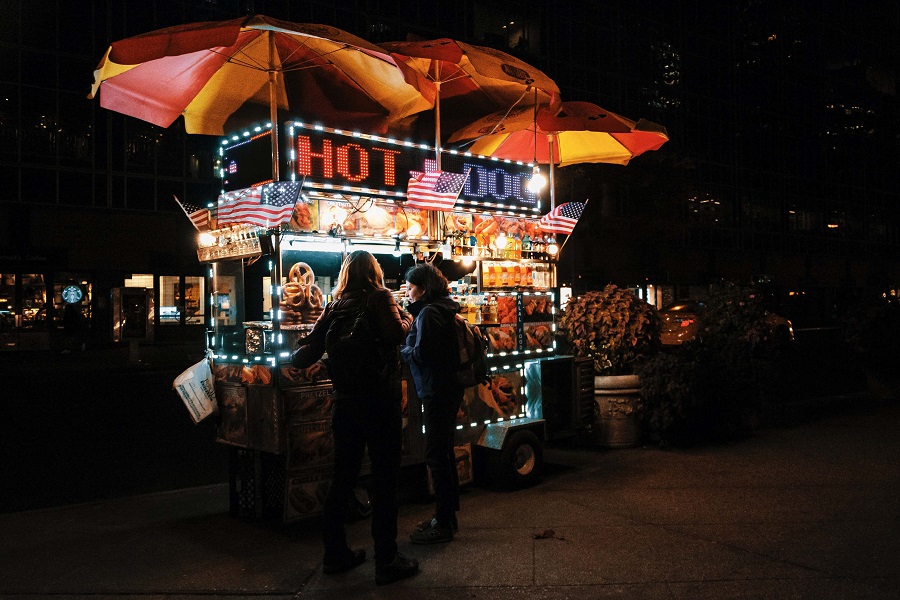 Finally, remember to purchase an insurance plan to keep you covered in case of any accidents or legal disputes. You can get a six or seven figure plan for only a few hundred dollars from most insurance companies. Determine what monthly payouts you can afford and look for an agent to help you go over your options.
Create a Formal Business Plan
No matter what size your hot dog business is, it's still a good idea to create a business plan to help you stay organized. In fact, you might even want to do this before you apply for all your permits. This way your county clerk can see that everything is planned out and that you're able to make the right decisions.
Your hot dog cart business plan has to include the following three aspects:
A full breakdown of your budget

A sales forecast for all products

Strategies for sales and marketing
Research the cost of everything you'll need to run your business and set a budget based on your total expenses. This will give you an idea of how much money you should make in order to recoup expenses and gain a profit. Some things to include in your budget outline are:
Food

Supplies

Labor

Marketing

Maintenance

Transportation

Monthly insurance

Legal expenses

Other operational costs
Set your sales target at twice your budget and calculate how much you'll have to make during each month. This also means researching the busiest months for hot dog vendors, which is typically between Memorial Day and Labor Day, and plan your schedule around this time period. And don't forget to account for unexpected weather events, such as thunderstorms or extreme temperatures, that would keep you from vending that day.
Finally, come up with your own marketing strategy and figure out how you're going to attract attention in the beginning. This can include throwing a neighborhood party or contacting community organizers to ask them about upcoming local events. We also recommend creating social media accounts and campaigns to get the word out and let everyone know where you'll be.
Pinpoint Your Locations and Target Markets
Once you know for sure that you have a target market, you need to learn where you can find them. As we said earlier, your most likely customers will be families, students, tourists, and anyone else looking for a quick and cheap meal. Therefore, you should make a list of all places in your area that regularly attracts these groups of people.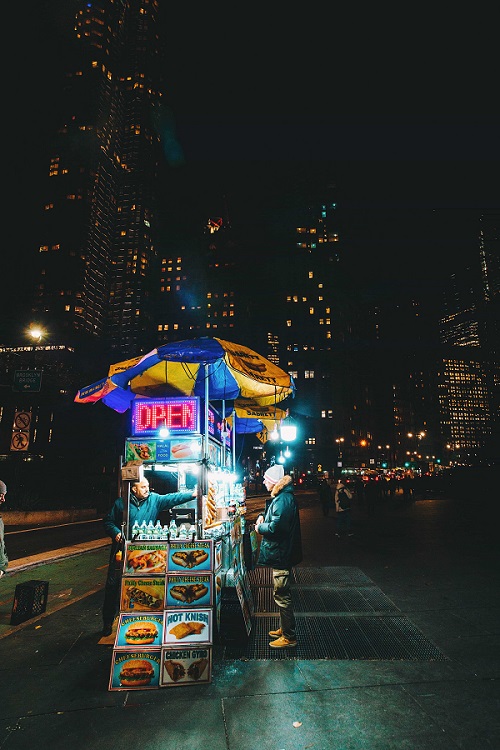 Below are the best possible outdoor locations for setting up your hot dog cart:
Parks

Big Box Stores

Mini Malls

Local Fairs

Large Venues

Tourist Attractions

Outdoor Concerts or Festivals

Flea and Farmers Markets

Schools and Colleges
Reach out to local administrators or venue owners to ask about permit and vendor requirements for these areas. Learn when these locations are at their busiest and set your schedule based around those times. Remember, the bigger the crowd, the more products you'll be able to sell.
Once you've taken care of all the legal aspects, it's finally time to buy your supplies and food. There are plenty of second-hand sellers that offer slightly older carts at reduced prices. You can also purchase a less expensive and customizable option from a reputable business such as Ferla.
Buy all food and paper products at either a distributor, a supermarket, or at super stores like Costco, Sam's Club, or Walmart. Aside from hot dogs and buns, make sure you also have plenty of condiments on hand as well as canned or bottled drinks. And because most customers want something extra, purchase snacks such as potato chips, popcorn, and different types of candies to offer up as well.
To sum it up, your regular shopping list for your hot dog cart should consist of:
Hot dogs and buns

Mustard packets

Relish packets

Sauerkraut

Additional toppings

Soda and bottled water

Chips and candy

Trays and napkins
Always keep track of your inventory and remember to purchase or order online well before your products run out. Make note of what items sell the most and adjust your regular shopping list as needed. And hold onto the receipts for when tax season approaches to make it easier to calculate your expenses and write anything off if possible.
What Can You Use Instead of a Hot Dog Cart?
It can be hard to find an affordable hot dog cart after dealing with all of the legal fees. Between the cart itself and your cooking equipment, expenses can range anywhere from $5,000 to $20,000. Thankfully, there's lots of other options available that will work just as well in the beginning.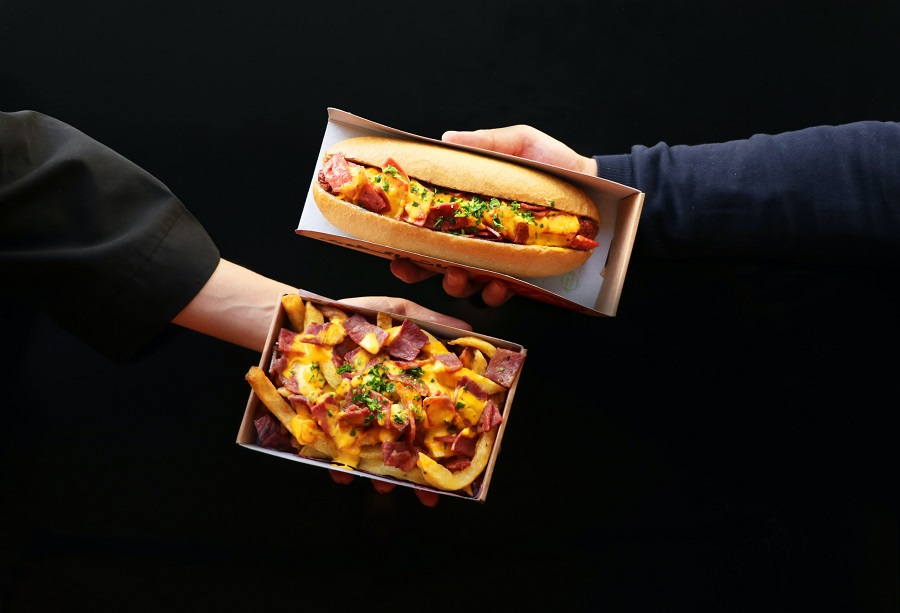 When you first start off, a good temporary hot dog stand can just be a foldable table and slow cooker or electric grill, along with a cooler full of sodas and water. Be sure to set up some containers full of condiment packets and napkins to let your customers pick whatever they need. As long as you have your permits on hand, you can easily do this at your local flea or farmers markets.
But even when you can finally afford a cart, you'll still need an easy way to transport it. Fortunately, there are plenty of vending bikes on the market, and at very reasonable prices. You won't have to attach them to your car or spend money on gas, and everything can be stored in one place while you're traveling.
Start Your Hot Dog Business with Help from Ferla Bikes
Our Ferla Mini vending bike is the perfect option for new food vendors and can be easily transformed into a hot dog cart. It's lightweight, reasonably affordable, and has plenty of features such as an extra large storage space and extendable counters. Furthermore, you can add on pedal assist in order to make it easier to maneuver.
A hot dog cart business is the perfect opportunity for you to earn extra income on the side, and Ferla can help make that happen. Contact us today to learn more about our incredible products and start your new business venture today.