How to Start a Food Cart Business: Detailed Steps
There is no better time than the present to start a food cart business. Street food is no longer an option people only grab when they are in a hurry or have limited options. Food carts, food bicycles, and food trucks have become popular, sought-out options for hungry customers around the globe. In the United States, mobile food businesses represented a 1.4 billion market in 2022 and are projected to continue growing. With all the potential surrounding mobile food markets, it's easy to see why learning how to start a food cart business has become desirable for entrepreneurs and beginners.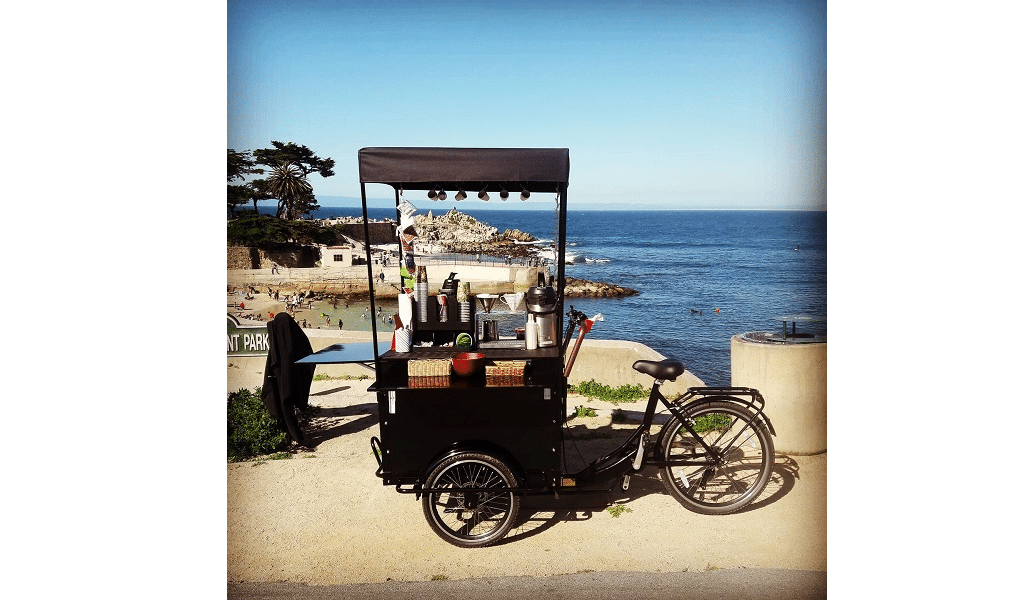 Let's explore some of the things to consider when starting a food cart with wheels: 
Mobile food cart offerings have come a long way over the years. Historically, a street food cart kitchen was associated with menu items like burgers, hot dogs, popcorn, doughnuts, or ice cream. While classic menu items are still popular and offer high-profit margins, there is also a significant market for other types of food like sushi, tacos, empanadas, nachos, french fries, crepes, coffee/tea, and shaved ice, among others. The popularity of food cart offerings largely depends on location, availability of ingredients, and customer type.
Food Cart Business Benefits and Requirements
Starting a food cart business has many benefits, like becoming your own boss with low startup costs, minimum experience, less risk, and location flexibility. Mobile food businesses also have the potential to bring in huge profits and business growth. Although there is unlimited potential for success, a lot of hard work and research are involved in reaching these goals. For motivated people, starting a food cart with wheels can be a true entrepreneur's dream.
Legal Requirements for Starting Food Cart Business
Local legal requirements are one of the most important areas to research when starting a mobile food business. The principal regulations to research are health, vehicle requirements, and zoning laws. Permits and license requirements will vary depending on the type of street food cart purchased. Every city, state, or county will also have unique rules and laws that mobile food carts must follow to avoid expensive fines or closure.
Food Bike or Street Food Cart?
Both food bikes and carts are desirable options when learning how to sell street food. Deciding between purchasing a bike or a street food cart will depend on multiple factors such as space requirements, budget, and menu options. A food bike is the most mobile, eco-friendly option, while a food cart offers more storage, equipment, and selling space.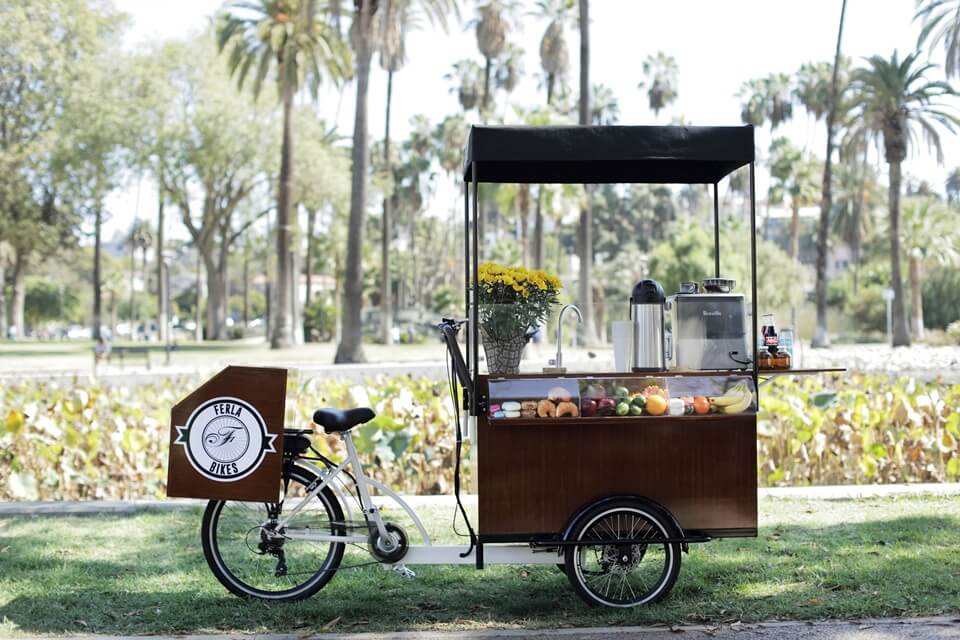 Building a budget for a food cart business is another crucial step toward success. Business budgets are updated regularly and include both one-time and recurring costs. A budget plan will include everything from the initial street food stand purchase to recurring food supplies, equipment, insurance costs, permits, payroll, etc.
Building A Food Cart Business Plan
A comprehensive business plan is one of the most vital steps in starting food cart ideas. A business plan is a roadmap to follow from the beginning and throughout. It should include information about a company, including, but not limited to, industry, customer, and competitive analysis, marketing and operations plans, legal structure type, and financial details on startup costs, projected expenses, and returns.
How To Start a Food Cart Business Marketing Plan/Strategy
Marketing is any business's promotional voice, which means a strong marketing plan can make or break the profit margins. A food cart business marketing plan should be a part of the business plan and will include how to spread the word about the cart and the products offered through channels like word-of-mouth, social media, print, influencer marketing, and paid ads. 
Finding The Best Food Cart Equipment
The operation's heart is the equipment that runs a street food stand. No matter the budget, a mobile food vendor should invest in the highest quality cart they can work into the budget. The initial investment in top-quality equipment will save costs over time in repairs or upgrades. It also protects the business from potential income loss from accidents, faulty gear, or functionality not up to code. There are also important factors to consider, like power availability for locations and the size of cold food storage. Newer street food cart models may offer better amenities like solar panels for power and larger storage areas. 
How to Sell Street Food 
After completing all the planning and paperwork, it's time to find the perfect selling locations. Ideal locations will be available for vendor permits, cost-effective, and offer high traffic of potential customers. There are many ways to find the best spots, by exploring the local scene, researching online, or joining food vendor advocacy groups and social media forums.
New mobile food cart businesses need to get exposure to their brand and products as fast and cost-effective as possible. Joining the vendor list at local events like farmer's markets, fairs, and festivals is an excellent way to get early exposure and sales. Participating in local events is a great way to get featured on more established social media pages and promotion sites. These events also allow food cart owners to meet and network with fellow street food cart vendors in the area who know their way around the local scene, which is invaluable.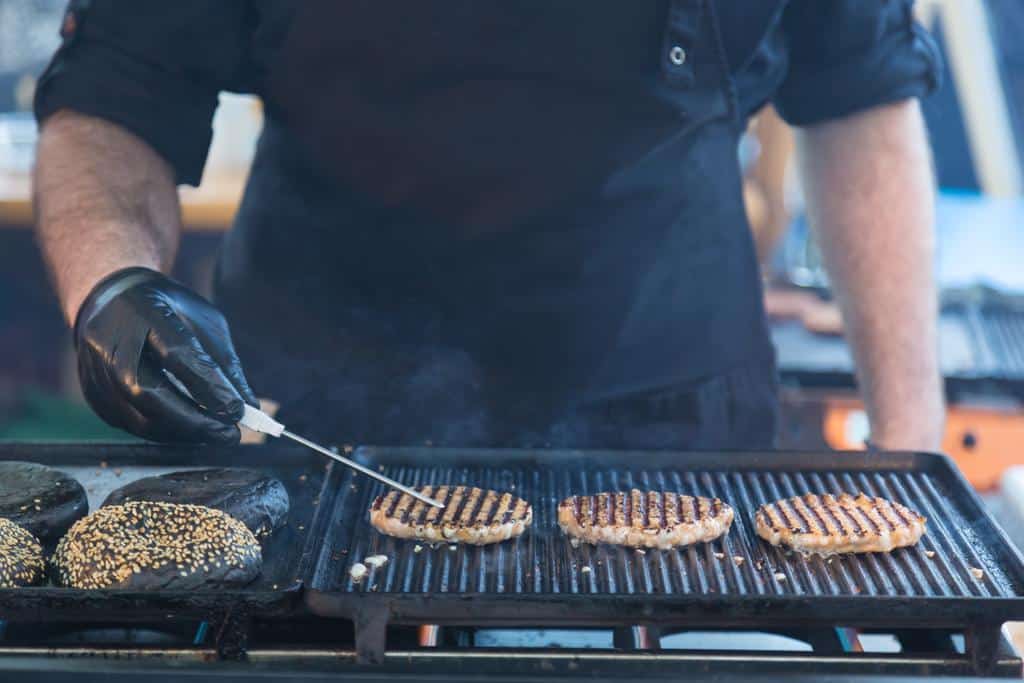 Ferla Bikes Love: User Reviews that Win Hearts
"I was quite impressed with the customer service. I called in just to ask a few questions and Steven handled my call with expertise and in a friendly manner (no rush), this is a company I can trust. The support really gave me relief! The only thing I can suggest is to have extra bike accessories ready to ship. I'll be glad to continue to with my purchases of my very own Ferla X soon. Can't wait to launch my business."
— Prince Awhaitey  ★★★★★
"I am a small business owner and currently own the Ferla Glacier X. We've had our bike for over 2 years now and just recently needed a replacement part. Steven at Ferla was efficient in helping get the part to me in time for my next event. Someone from the Ferla team went out of their way to hand deliver it to UPS and ship it over night. I appreciate the great communication and timeliness of this matter. Without their help I would've lost out on all of that weekends revenue."
— Taylor Tinsley  ★★★★★
A few reviews from instagram:
 

 

View this post on Instagram

 
 

 

View this post on Instagram

 
 

 

View this post on Instagram

 
Benefits of Ferla Food Carts and Bikes
As discussed above, finding top-quality equipment is one of the best investments a new street food stand can make. Ferla carts are not only the most innovative, technologically advanced, sustainable options for sale on the market but are also affordable and offer a variety of benefits, including: 
Temperature Controlled Battery-Operated Freezers

Draft Or Ice Cream Dispensers

Sinks

Light And Flexible Solar Panel Systems 

Pedal Assist

Extendable Counter Spaces

Customizable Grills

Customizable Coffee Brew Set Ups

All Terrain Tires

Extensive Storage Space Options
At Ferla, we understand what mobile food businesses need and support them with our customizable food carts and bikes. No matter what street food stand is vending, Ferla will work with a company to create a unique cart that will fulfill every need for many years.