Efficient Planning: How To Start A Business During COVID & Other Challenging Times
Whether you've been planning to start a business for years, or find yourself in need of a new line of income — times are tight for everybody, and so it's essential to be efficient. The majority of us who have dreams aren't sitting on a large pile of seed money. In contrast, the United States is home to a crippling level of student debt, and it's no secret that COVID-19 has wreaked havoc on the economy.
These simple facts are enough to discourage any rational person at first. However, if there's one thing the pandemic has showcased, it's ingenuity. From an influx in delivery, to inventive window-drop-off rigs — businesses have had to learn to cut costs, and maneuver to survive. Those who are starting up right now need to study from the same playbook.
Using our Ferla Vending Bikes & Carts as a touchstone, we're going to use this post to discuss how to invest wisely in a new venture, and how to optimize it for your brand and the times.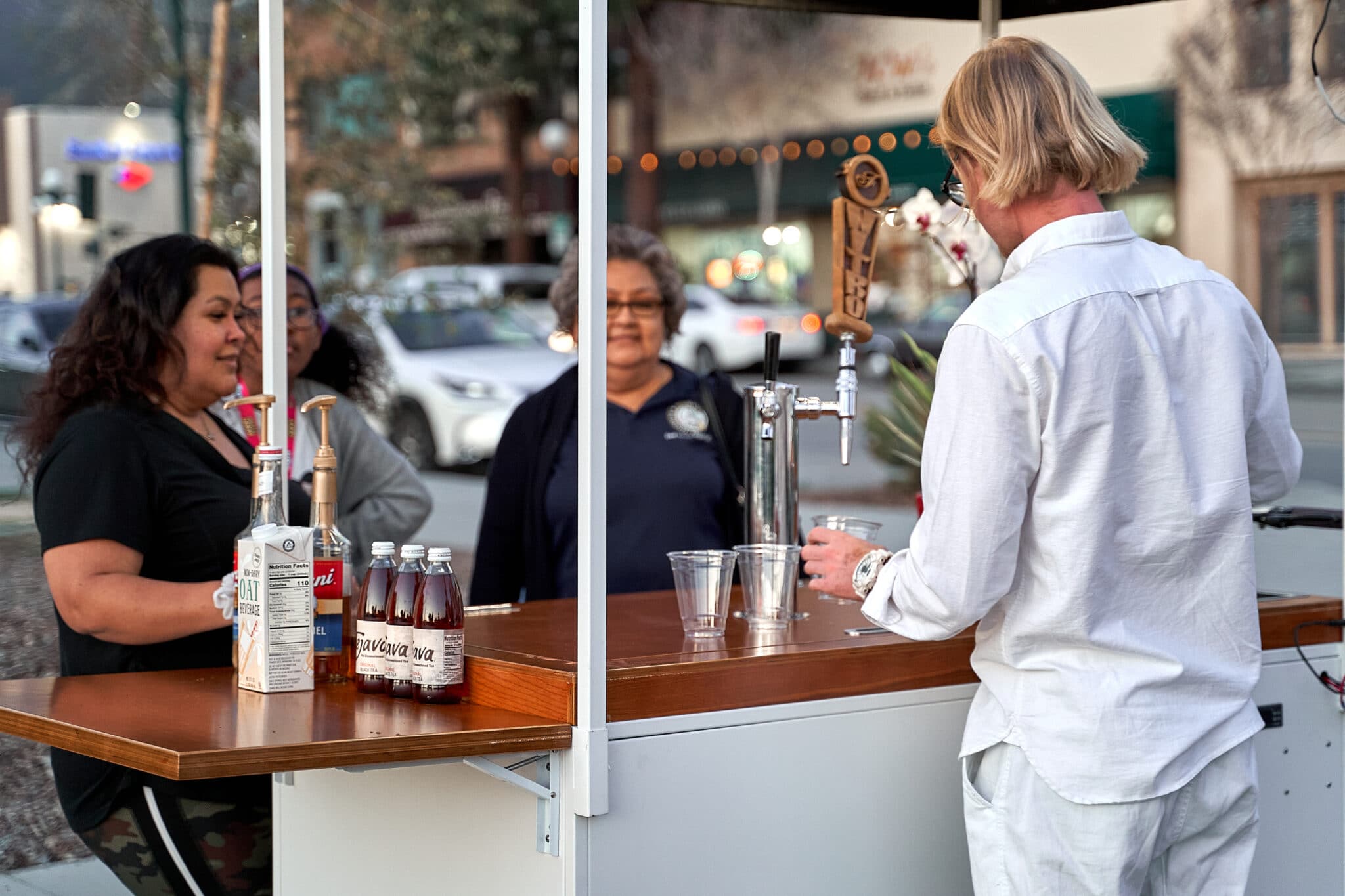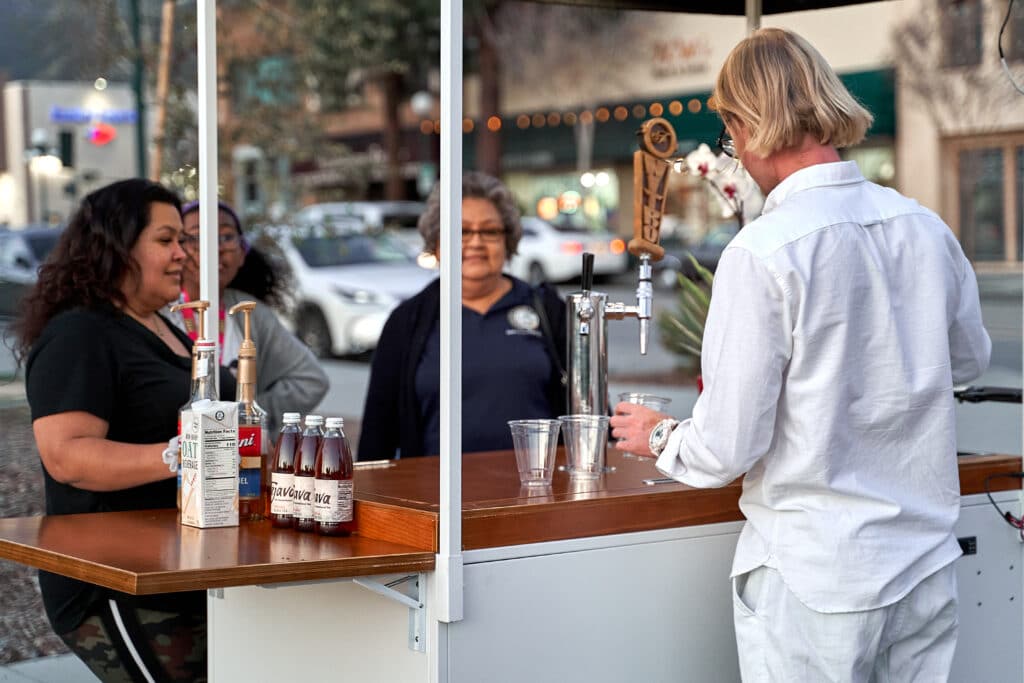 Investing With Sense & Purpose
It's relatively common knowledge that starting a business is very expensive, especially in big cities. Even so, it can still be shocking for the average dreamer when you start googling. To help streamline the process, we're going to look at some general costs of starting a regular restaurant, cafe, or retail business, and then how those compare to starting up with a Ferla.

According to Colliers, in the third quarter of 2019, "Asking rents [in Greater Los Angeles, CA] were highest in Los Angeles at $2.51 PSF NNN." To put it in perspective, let's say you rented a 1500-foot space, which when you add kitchen, bathrooms, and tables becomes small fast — you're looking at a base monthly rate of $3,765. We say base, because that "NNN" next to the figure stands for Net, Net, Net, or triple net. This means the renter must also pay property taxes, property insurance, and common area maintenance. 
Add all of this up, and then spend it in your imagination in the first month of your future business. Then imagine having to make all of that again by your second month just to stay afloat. That is a tough, stressful ask. For the budding barista, resilient restaurateur
Introducing Ferla Vending Bikes & Carts

You can take the same average, base monthly rent for commercial space in Los Angeles, subtract a bit of money, or add some, and set yourself up to own your own mobile business venue. Our line of Ferla Vending Bikes and Carts range from $2,299 – $5,999, each with a number of enviable add-ons and attachments available too. 
Imagine, let's say the intimidating costs of your new restaurant bury you within two months. In that same amount of time, no matter how much of a limb you go out on, that same investment could leave you owning one super-decked out Ferla, multiple Ferlas, and with more left over for product-launch costs.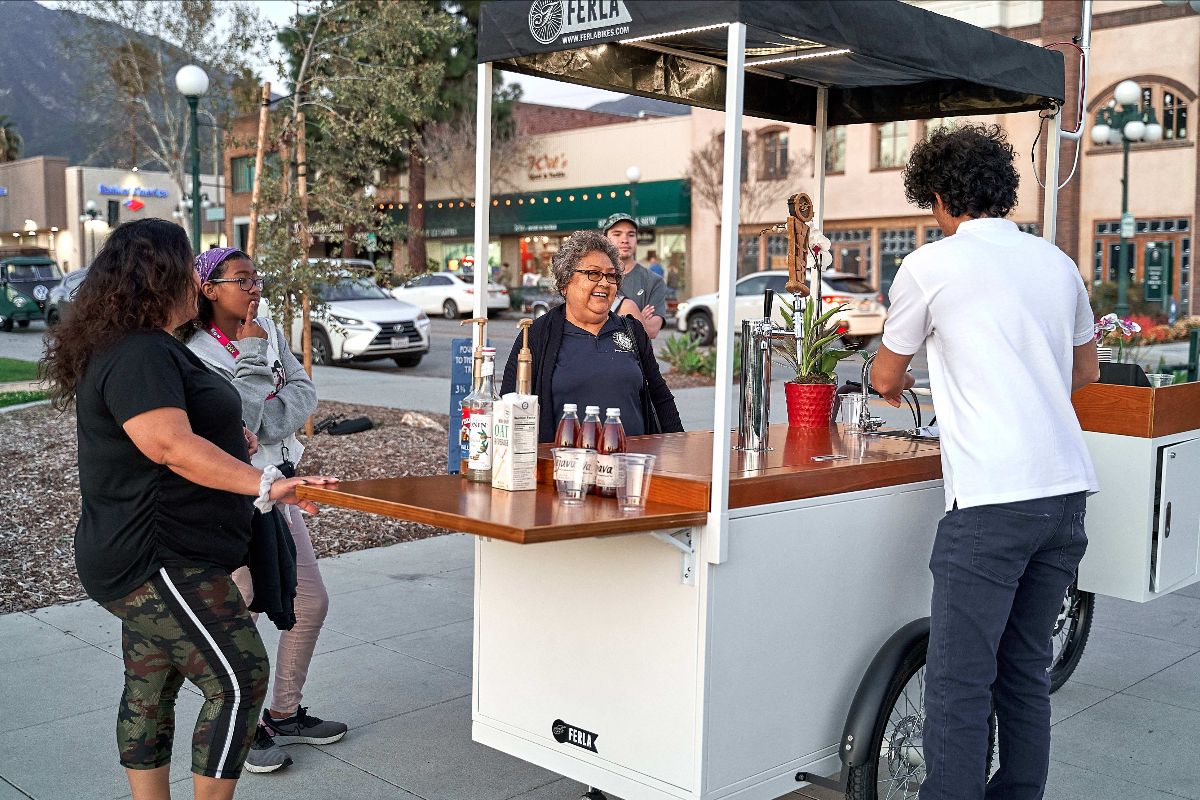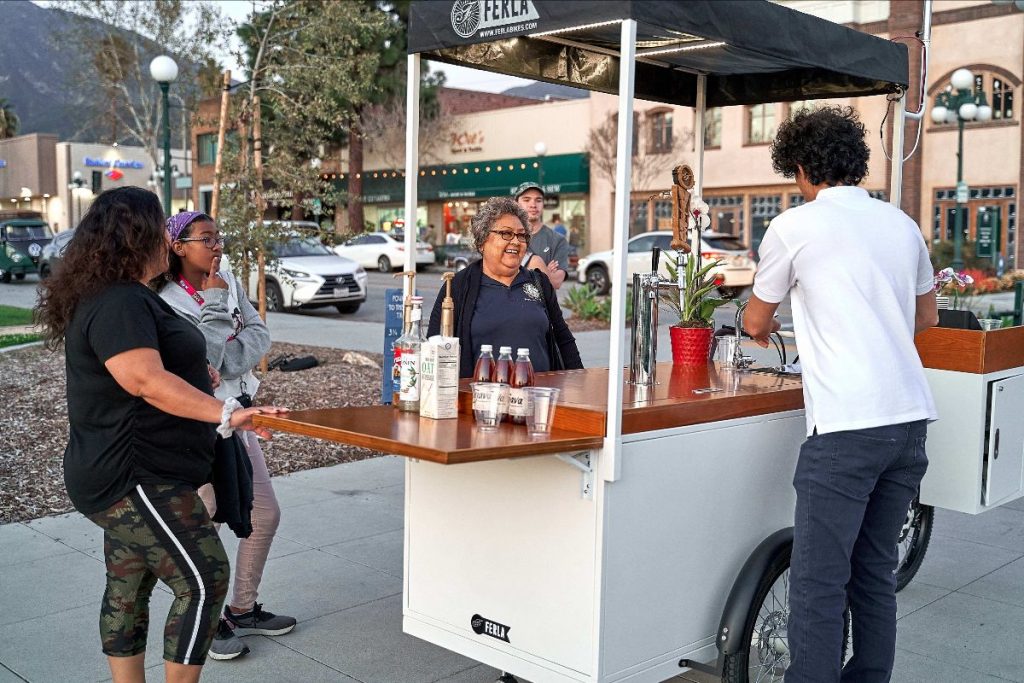 Saving For A Ferla Is Surprisingly Manageable 
Even with rates designed to be far more affordable than a brick-and-mortar, we recognize that Ferla Bikes still cost more than a lot of us have in the bank account. Luckily, the figures are attainable even for those who are still at square one. Having to save just a few thousand dollars to get a business concept off the ground, and out onto the street in a quality fashion is a pretty desirable option for entrepreneurs, in our opinion. 
Here are some tips to fast earn the money to kickstart your mobile business:
Simply Start Saving
For those who have an income, or ongoing dispensable expenses — now is always the best time to tighten the belt. Many people work office jobs they hate, save up for large vacations, and then spend their only couple of weeks per year spending that money. What if for one, or two years, those folks put their vacation money aside? Maybe they'd make some other adjustments too, and then put all of their saved money towards a Ferla vending bike. This could be a chance for them to explore their long love for high-grade coffee, or artisanal ice cream. It could offer them a chance to take their art out into the world and sell it in a professional fashion. 
Regardless, once up and running with a Ferla Vending Bike or Cart — that same person who used to save all their money for vacation can lock up and take one whenever they want. Fresh air, passion, and profit all add up to a beneficial, worthwhile investment. 
Finance Your Vending Bike & Cart With Ferla 
Another example of how we prioritize the upstart more so than brick and mortar retailers — each of Ferla's Vending Bikes & Carts is available to purchase through a financing plan. This offers a major relief to businesses getting off the ground. 
Some examples of our financing rates include the 2020 Ferla Ice Cream Cart, which is available at a base price of $4,200, with financing as low as $141/month.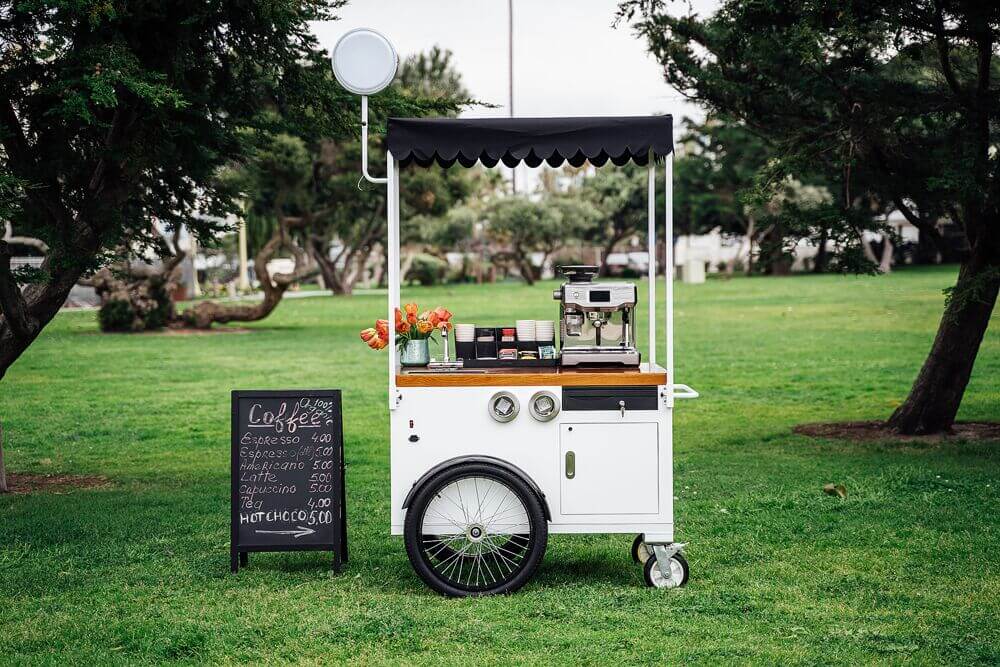 The Ferla Mini Compact Bike is one of our more affordable options with a base price of 2,999 and financing as low as $75/month.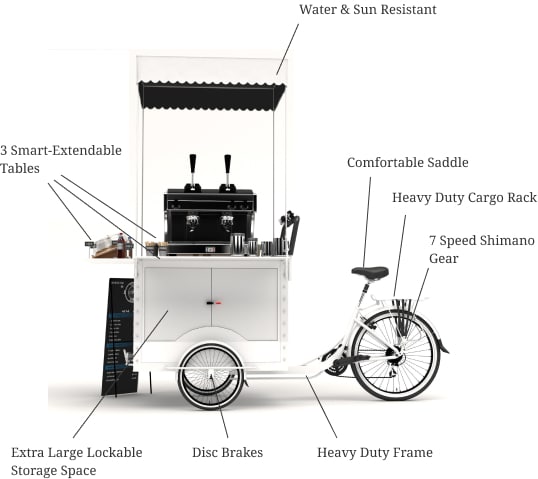 For those who have no capital, but want to get going on their dreams as soon as possible, this is one of few reliable paths. Imagine how simple it might be to cut out unnecessary monthly bills for things like streaming services and lifestyle subscriptions to free up just seventy-five bucks a month for a business venue.

Return On Investment
The reason we keep harping on the affordability of Ferla Vending Bikes & Carts is because of what that means for a startup's ROI — Return On Investment. Let's look closer at the advantages.

Approximate Investment To Start Cafe:
Base Monthly Rent –  $3,765.
Security Deposit – $3,765.
Tax Rate – 1.75% of property value, $17,500 for one-million dollar property.
This list of start-up costs for a cafe in Los Angeles reaches nearly $25,000 before even getting to product, packaging, cleaning supplies, employees, certifications, licenses, etc. These prices are also based on averages, and go up if you want to start up in a popular neighborhood, which obviously will help you earn more money. 
Let's look at what an aspiring cafe owner, restaurateur, or mobile business owner could do with $25,000 at Ferla.

Our newest, most expensive model — The Ferla X Glacier Edition costs $5,999, and comes with an optional Freezer Package for $950, an E-Bike Pedal Assist Package for $1,000, and Solar Power for $750. That is our most optimized business bike model, and it totals out at $7,749. A mobile business vending permit in Los Angeles is $541 for a full year.
So, after just over $8,000, the startup that chooses a Ferla X Glacier over a brick and mortar in Los Angeles is ready to invest the rest of its $25,000 on product, marketing, packaging, as well as more Ferla Bikes And Carts. That business can operate anywhere in town, and it only needs to make an achievable ROI once, with no second, third, or subsequent months of rent due. 
Experiential Marketing & Other Distinct Advantages Of Having Mobile Business Vendors
The freedom of funds, lower overhead, higher profits, and a mobile business all amount to even more opportunity. While perfect for startups, our vending bikes and carts also have a long history of serving established brands in a number of ways. Tiffany & Co. — the iconic jewelry brand — once custom ordered a Ferla Mini Cart for a pop-up in Beverly Hills promoting their new restaurant The Blue Box Cafe.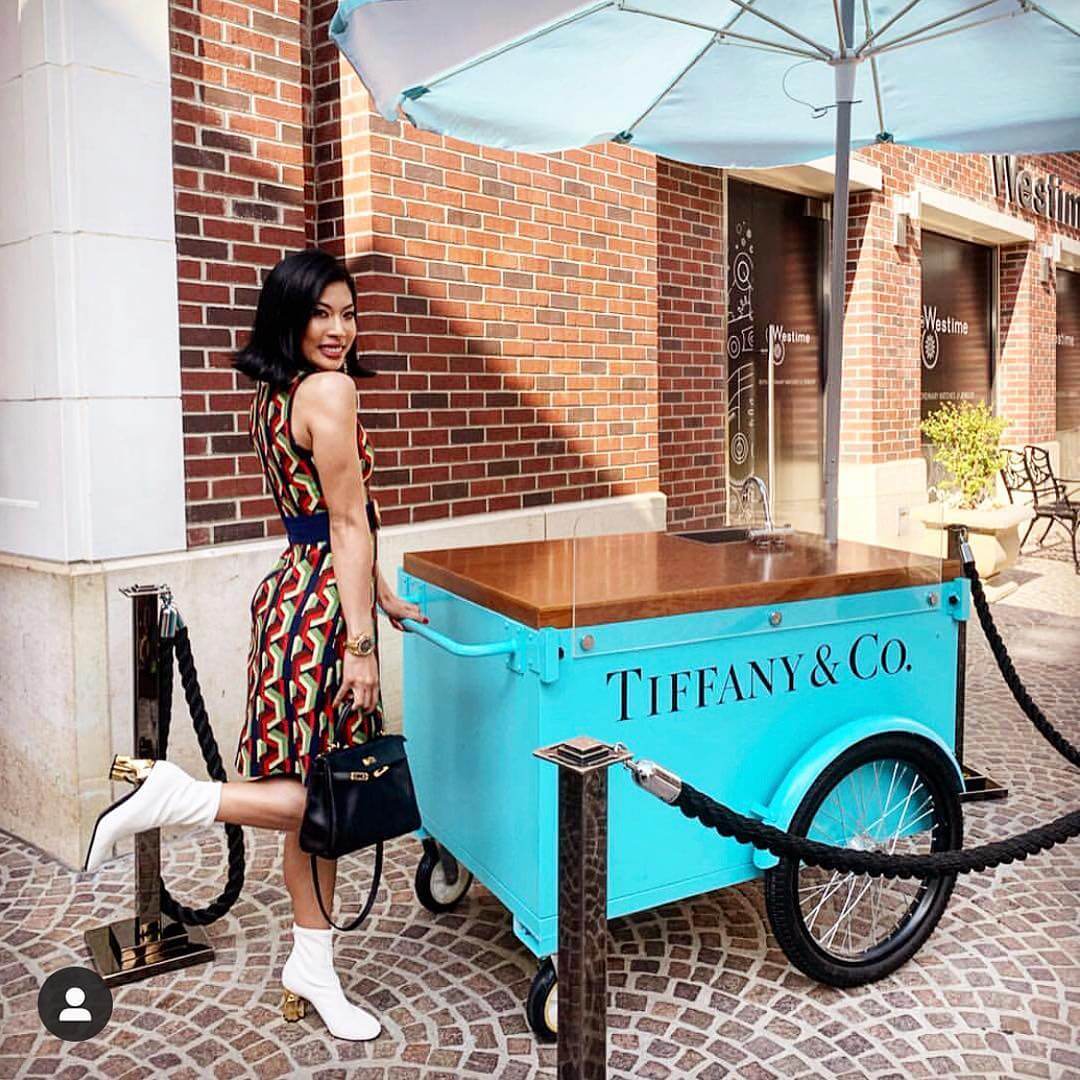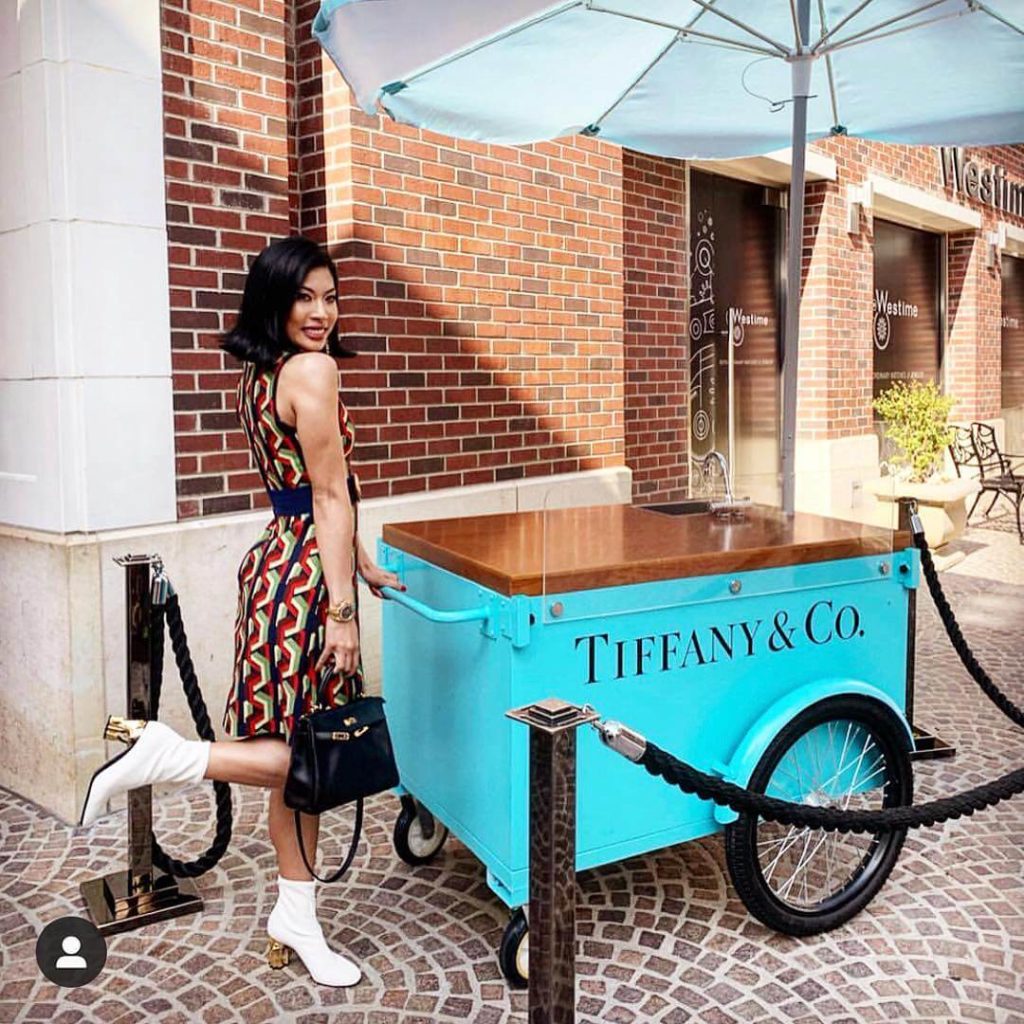 We've also provided custom builds for experiential marketing campaigns by other iconic brands including Lululemon, Sugarfina, and Jameson. These collaborations are examples of how not only startups, but established businesses, and growing brands can all utilize our mobile business venues. Regardless of how established or new a company is, the benefits of going out into the world with a new product, interacting with people, and demonstrating its value are limitless.

While a distinct and worthy tool for all business owner's, we'll circle back to startups as the thread of this piece and say, the experiential marketing opportunities that await with Ferla Vending Bikes and Carts are plentiful. Activate a new product by handing out free samples, take your digital platform to a physical space, bring people joy in the package of your brand, and do it with ease on a Ferla. 
How To Start A Business 
There are countless ways to start a business. Brick and mortars do serve a purpose, and they will hopefully rebound with full steam once the pandemic has passed. Always for most, and until then for even more — be sure to look to us for affordable, quality, and standout vehicles to take your business out onto the street, and then wherever it needs to go to survive, and ultimately thrive. 
And check out our guides:
Follow Along With Ferla
For those who are interested in the benefits of our vending bikes, mobile businesses, startups, and experiential marketing — be sure to follow along on the Ferla Bikes Blog, as well as on Facebook, Instagram, and Twitter.